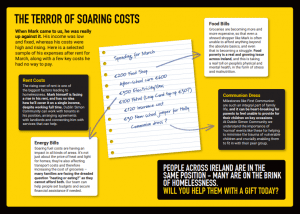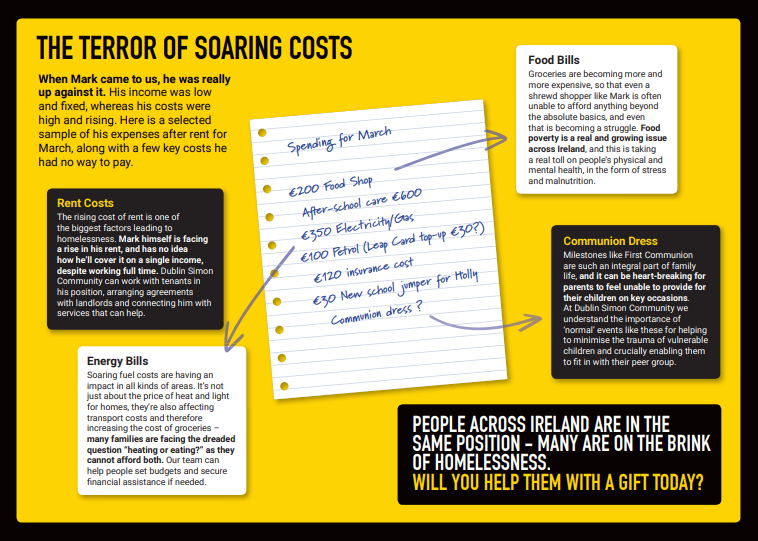 Mark is the father of two little girls who was devastated by the recent death of his wife. Mark found that the grief he felt was compounded by the mounting stress of running a household on a single income.
He's doing all he can to cut costs. Buying the cheapest groceries he can, for example. He's considered selling his car and maybe cancelling the home internet – taking his girls to the library to do their homework instead. Meanwhile, there's so much he'd like to be able to afford, ranging from birthday parties for his daughters to counselling sessions to help them deal with the loss of their mum.
"We lost Sandra suddenly last year. We were together since we were 15. As I'm sure plenty will tell you, it's hard enough to lose the love of your life in a flash like that – add two little girls, Covid and managing a household to the mix, and it's impossible.
"I never thought I was on a bad wage, but after losing Sandra's income I was really starting to feel the pinch. The money I was on was flying out the window. The rent, the bills, childminding fees, groceries, petrol, car insurance. We're due a rent increase soon as well – I've been too afraid to ask how much. I've been looking online and there's nothing out there that we can afford."
'I'm terrified…'
"I'm terrified of what will happen to me and my girls. I can't even bear to think of the word "homeless". I get a pain in my chest when I think about it and have started to have panic attacks.
"I reached out to Dublin Simon Community and this has made a world of difference – even making the call gave me some bit of relief. I hope they can help me and my family. I don't know how much more we can take."
Mark is a wonderful Dad. He's just consumed with worry, wondering how he can keep looking after his girls. Mark's daughters – Holly and Emma – are traumatised from losing their mother. There aren't many days that don't end in tears, and having to see their dad worry is a cruel twist.
Mark's daughter Holly, who's almost seven, has her First Communion coming up in May. Holly has great memories of her big sister Emma having her own Communion celebrations – the dress, the cake, the party, the bouncy castle. But that was a few years ago, and this are very different for the family now. Mark has no idea if he can even afford the dress Holly would love for her Communion.
Lifeline from Dublin Simon
Fortunately, Mark reached out to Dublin Simon's tenancy support team for help. We provide this service as a lifeline for people in exactly this situation, providing thousands of people with vital support every year. When someone like Mark gets in touch – frantic, stressed, fearful – our team will sit down and talk with them, get a sense of the struggles and fears they're facing. From there we will find ways to help by drawing up a tailored support plan.
With Mark, for example, there are supports he may qualify for and we'll help him access these to secure much needed income. Crucially, we will advocate for Mark with his landlord to help prevent him from losing his home, supporting him to find a way to cover his rent.
This Easter, we urgently need your help. With your support, Dublin Simon will do anything we can for Mark to alleviate the pressure, including vital mental health support through our Sure Steps counselling service. We even have a fund which is there to provide for children's specific needs like a desk for homework, school costs or sports equipment. Mark will be able to access that fund to buy Holly's Communion dress. We understand how important things like that are, to help a child who's been through so much.
Rising costs
Rising costs are affecting us all, and rents have been consistently increasing with little sign of this trend reversing. This has been a major factor driving the homelessness crisis that has gripped our country for years now. Inflation is at a 20-year high, and house prices are expected to rise by at least another 5% in 2022. We've seen so many people – individuals as well as families – lose their homes and end up on the street or in emergency accommodation. It's heart-breaking, and it's getting worse.
The cost of living is now one of the highest in Europe, and this is putting people under extraordinary pressure, exacerbated by the ongoing impact of the Covid-19 pandemic and the devastating war in Ukraine. We are facing into a period of great uncertainty that will put many more people at risk of homelessness.
Please, if you can, make a donation today to help keep people like Mark and his girls in their home, where they belong.
https://www.dubsimon.ie/wp-content/uploads/2022/04/Untitled-design-1.png
500
500
Aisling Harmey
https://www.dubsimon.ie/wp-content/uploads/2023/01/CHY5963-9.png
Aisling Harmey
2022-04-15 12:14:23
2022-04-15 12:14:23
Will You Help People Like Mark?