A Message from Sam McGuinness, on behalf of Dublin Simon Community
A message from Sam McGuinness, on behalf of Dublin Simon Community
Following the recent media reports I would like to assure you that funds donated to Dublin Simon Community do not pay any salary or pension top ups, nor do we provide company cars, bonuses or any other perks or entitlements.
All staff are offered an optional, defined contribution pension scheme, the maximum contribution to which is 5%.
All staff have had a pay and increment freeze since 2008, with a recent salary adjustment of €750 per annum, effective July 2016. My salary is remains at €93,338.
We have also reduced salaries and payscales to manage our payroll costs. We do not, nor can we afford to, pay public service payscales and our pay levels are less than similar roles in the Public service. There are also no fees paid to our voluntary board members.
Through a series of measures, including Food for Simon, making our buildings more energy efficient to save on energy bills, managing our staff mix plus other savings, we have reduced our overheads.
Since 2008 we have seen our HSE grants reduced cumulatively by 22%, yet we continue to increase the quality and number of services we provide, in response to increased demand, to people who are homeless or at risk of becoming homeless. We have only managed to do this by taking the measures outlined to reduce our costs.
We are continuously grateful for the generosity of Simon supporters. Through donations, fundraising events and campaigns, combined with the commitment of the business community we are able to satisfy the continuing demand for increased services in Dublin, Kildare, Wicklow, Meath, Louth, Cavan and Monaghan.
Our aim at Dublin Simon Community is to empower people to access, secure and retain a home of their own by reducing the reliance on short-term emergency accommodation and providing permanent supported housing for people to sustain a home in their local community; and we know we can't do it alone.
If there is anything else that I can assist you with please do not hesitate to contact me. For more information please see our independently audited annual accounts, by Grant Thornton.
Sam McGuinness
Dublin Simon Community CEO
Finances
89% of all our income goes directly towards our homeless services. The remaining goes on raising funds and support services.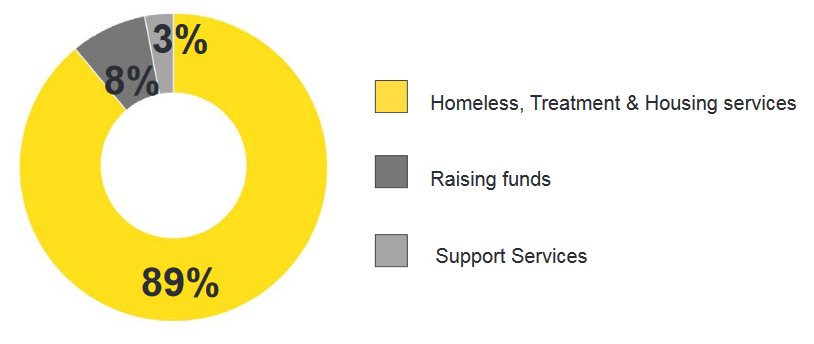 89% of all our income goes directly towards our homeless services. The remaining goes on raising funds and support services. For more information please see our audited financial statements below:
© 2020 Dublin Simon Community | Charity Registration: No. 20009892 | Charity Number: CHY 5963