Sam's Welcome:
While in many ways the year has gotten off to a great start, this month was a disappointing one in terms of homelessness figures. The January 2020 report by the Department of Housing, Planning and Local Government recorded 7,278 people in emergency accommodation in Dublin, up from 6,821 in December 2019 and 6,964 in January 2019.
This increase is driven by a frustrating rise in single homelessness, which is in turn driven by the diminishing supply of affordable and available one-bedroom units. While family homelessness has seen a downward trend over the last four months, the numbers for January 2020 are effectively on par with those of January 2019 at 1,201.
However, there is evidence to support a promising slow-down in the growth of homelessness year-on-year, which we hope will lead to more reductions in the number of people experiencing homelessness in the coming months. While this seasonal fluctuation is disheartening, it is important not to allow it to undermine the impact of the vital work each of you is doing to rebuild lives every day.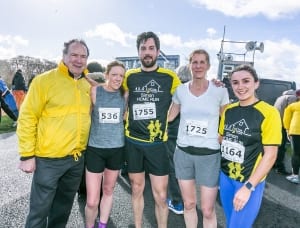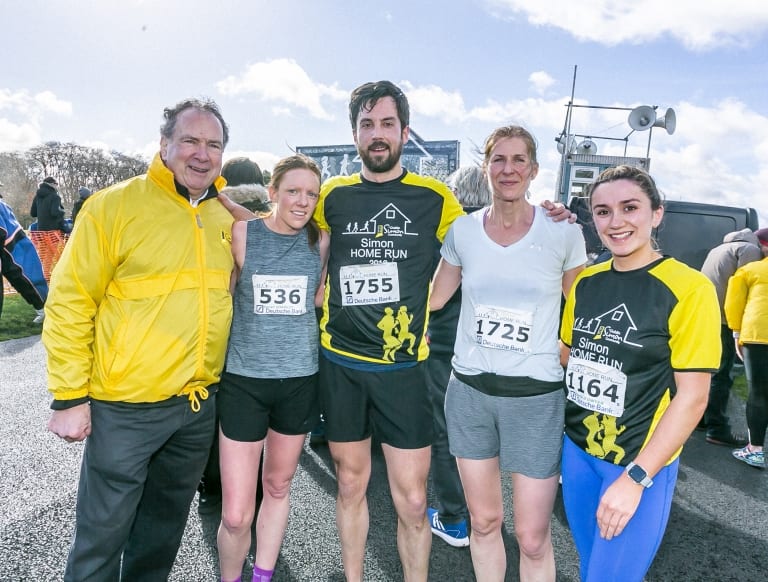 The 37th annual Simon Home Run will be taking place on Saturday 7th March at 10.30am. The Fundraising team have been working tirelessly to put together what promises to be a fantastic family day out with face painting and kids' entertainment, live music, food and refreshments in the Simon tented village. The Simon Home Run has always enjoyed a great turnout from staff both on and off the racetrack and we expect this year to be no different. Be sure to bring your family and friends along to support and have some fun too.
Looking forward to seeing you all there,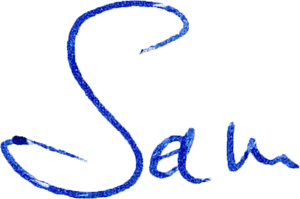 World Health Organisation: Year of the Nurse
2020 is the World Health Organisation (WHO) International Year of the Nurse. We want to celebrate our amazing nurses by publishing articles written by members of the nursing team, showcasing their great skills and diversity!
Integrating Nursing Care and Social Care to provide Holistic Care to Clients accessing the Blood Borne Virus Unit, Treatment Services Ushers Island
By Sebi Ugustin & Lorna Crea, Nurses
Clients admitted to Dublin Simon Community Blood Borne Virus Unit (BBVU) have a blood borne virus, addiction issues and other complex health needs. Homelessness, chaotic life style, extreme weather conditions and addiction can lead to multiple medical conditions (COPD, chest infection, seizure, injuries from fall/assault, unhealed /untreated wounds, high blood pressure, DVT, malnutrition, low BMI, dental problems) and mental health conditions, such as depression or anxiety disorders. Similarly, clients accessing the BBVU will have a range of social care needs: such as access to entitlements (medical card, social welfare, suitable accommodation). Clients may also require support to access services in their community (addiction support, GP care dental care) and/or support to integrate/reintegrate into the community. Working with the aim of addressing their needs holistically requires the multidisciplinary approach of Nursing and Social Care intervention, nurses work with clients to meet health needs while the Project worker and support staff work with clients to meet social care goals. Once a client referral is received, the Liaison Project Worker supports their access to the service by collaborating with their GP prescriber, methadone clinic and accommodation service. While also linking with the client to maintain their motivation to enter the unit.
The team in the BBV unit provide an integrated, systematic, client- centered, drug use reduction approach to client care.
On the day of admission, the nursing team and GP categorize and prioritise the medical care needs, formulate care plans, and review them as required. Many BBVU clients express a desire to reduce their drug use on admission. Nurses observe the client in the first 24-72 hours for signs and symptoms of withdrawal. This observation is supported by PW and Operational staff, who report changes in presentation/behaviour to the Nursing staff. Clients who use drugs like heroin/cocaine often experience intense cravings when admitted. Empathetic support and observation of behaviour by the full team help them engage with the stabilisation process. The PW and support staff with input from the nursing team run a Reduce the Use programme to support clients reduce their drug use. This includes weekly groups, drugs and cravings diaries, and ongoing one to one/group addiction support and relapse prevention.
Nursing staff also prioritise HIV and Hepatitis C/B stabilisation by facilitating initiation, engagement or re-engagement with Infectious Disease clinics like Guide at St James's hospital/Mater. For many of our clients, adhering to BBV medication while in active addiction can be challenging. PW and support staff support clients to attend appointments. Often the simple act of attending a clinic appointment with a client can remove a huge amount of fear and anxiety that a client may have. Nursing staff confirm the dates for follow-ups with clients and, alongside the PW team, support and encourage them to attend these appointments. Nurses educate clients around their treatment and a plan is put in place by nursing staff and the PW to ensure that the client has systems in place on discharge to continue to take their Hep C medication, which might include DOTS (directly observed therapy) at their pharmacy. The Project worker will ensure that accommodation and addiction support is in place to make this plan more robust.
For many clients who inject drugs DVT (Deep Vain Thrombosis) is common, so symptoms are observed with lower limbs measurements tools. Nurses are trained and proficient in wound care: recognizing the type of wound and which dressing material is the most appropriate. Diet management and monitoring of clients nutritional status is a large part of Nursing care on the BBVU. The Project worker and support staff/ Full-time volunteers support the Nurses to monitor this by filling in diet charts and encouraging clients to make healthy choices when going to the canteen for lunch.
Clients accessing the BBVU can have varying mental health needs, such as depression, anxiety, schizophrenia, drug-related psychosis, and personality disorder. Working with a client experiencing mental ill health is a collaborative team effort in the BBVU; Nursing and Social care staff discuss changes to client presentation and behaviour and handovers and throughout shifts. When deterioration is noted, the multidisciplinary team work to support client safety and promote a safe, calming environment. The nursing staff provide medication as required and liaise with GPs and prescribers, while the Project Worker and support staff liaise with Sure Steps counselling services and carry out safety measures such as room swaps, increased Health and Safety checks and room checks, as required.
The Project Worker and support staff on the BBVU work with clients to move on to further addiction treatment as part of the community integration process. Further treatment options vary based on client wishes and desire for addiction treatment, ranging from day programmes to full residential treatment programmes. Clients are also encouraged by support staff and FTVs to attend social outings (anything from going for a coffee to a cinema or museum trip) during their stay on the BBVU, as part of their holistic, community integration care.
In preparation for discharge the project worker works with the client to seek or ensure appropriate accommodation for move on. This is usually client led; they may request accommodations that are more stable, either in terms of drug use, or duration of stay. In some cases, the PW will work with a client to transition to their own accommodation – which has been secured in conjunction with other agencies such as Housing First.  At discharge, the nursing team send discharge letters to GPs, referrers, and methadone clinics to inform them of client progress, follow-on care needs and upcoming appointments. The Project Worker ensures external Key/Case workers are aware of any outstanding items or appointments that need to addressed.
By Sebi Ugustin & Lorna Crea, Nurses Ushers Island
Simon Home Run
WHERE: Phoenix Park
WHEN: Saturday 7th March
This year's 5 mile (8k) run will take place on Saturday 7th March at 10.30am and promises fun for all the family, with food and children's entertainment in the tented village and a novelty prize for the fastest buggy across the finish line. All registered runners will also be in with a chance of winning a €1,000 cash prize, which has kindly been donated by a corporate supporter.
You and your friends and family can avail of our discount easily by following the below steps:
1.Visit homerun.ie
2.Complete form as normal
3.When you come to discount code follow the below steps –
Simon employee/volunteer/client enter discount code SIMONSTAFF20
Friend of family enter discount code SIMONFRIENDS20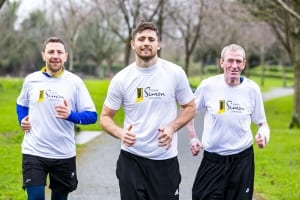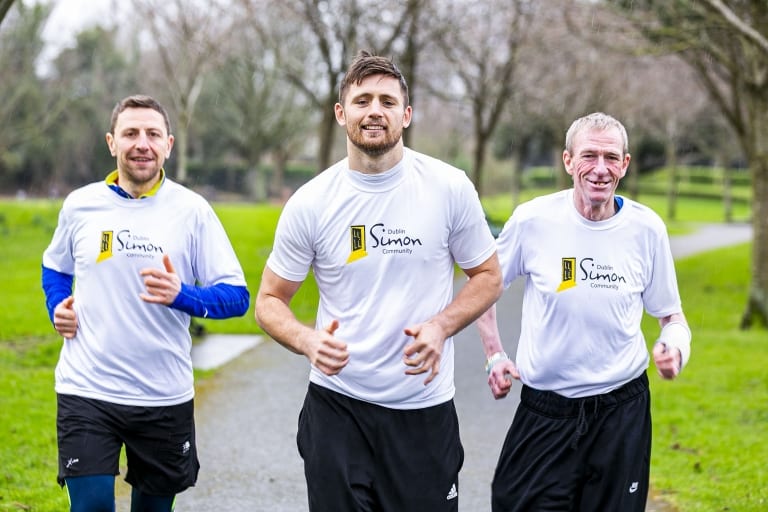 When you register it's just €5 extra to order a t-shirt!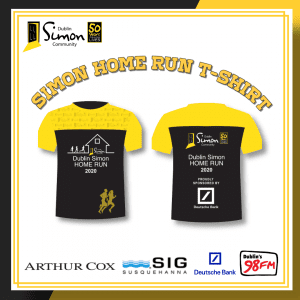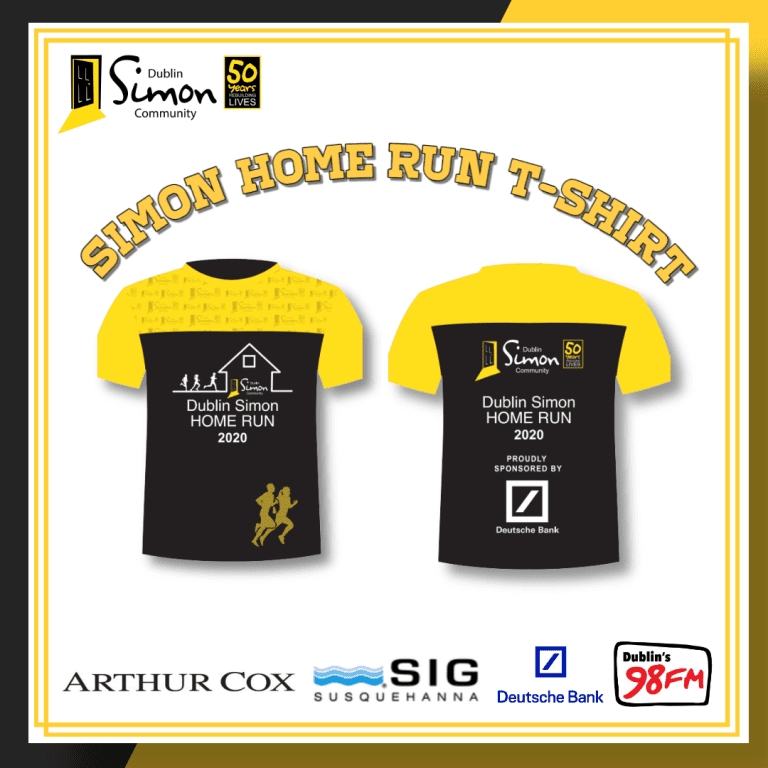 Best of luck with the training and looking forward to seeing you all there!
Employee Recognition 2019
As well as at our Peer Recognition, which happens mid-year at Community Day, throughout the year Managers also have the opportunity to recognise members of their team locally when extra effort is made by individuals in their team and someone goes above and beyond for the clients, the service, on a project, or for manager or for the team.
The following employees were recognised for their outstanding work during 2019:
Louise O'Donnell – Emergency Services Administrator
Deborah Fox – Carman's Hall
Anna Makipaa – Carman's Hall
Jennifer McCarthy – Carman's Hall
Sabrina O'Toole – Harcourt Street
Glen O'Callaghan – Harcourt Street
Raquel Escalante – Harcourt Street
Bill Mitchell – Harcourt Street
Dean Harte – Harcourt Street (Student Placement)
Elayne Redmond – Maple House
Elizabeth Onibokun – Maple House
Claire O'Neill – Riversdale
Noel Dorrington – Riversdale
Valerie Donegan – Riversdale
Brian Gilmore – Sean Mac/ Maple Apts.
Akvile Kentraite – Oak House
Conor Cahill – Oak House
Karen Peakin – Clonskeagh
Katie Donohue – DSC Shops
Charlotte Morkken – Volunteer Officer
Christy Kavanagh – Facilities
Megan Fitzpatrick – SLI
Faye Byrne – HR
We appreciate the work each and every employee puts into their role, we look forward to seeing plenty of new names on this list during 2020.
Dublin Simon Community's New Football Jerseys
Dublin Simon Community football jerseys were sponsored by RSA and the they were made by Adrenaline Sportswear at a reduced rate.
Dublin Simon Community Health and Wellbeing is a unique service working with the homeless addressing inequity in access to the benefit of exercise in society.
We use the power of sport, health education and physical activity to not only provide physical and mental benefits but to foster a sense of community, connection and a support networks in a safe space for the homeless community.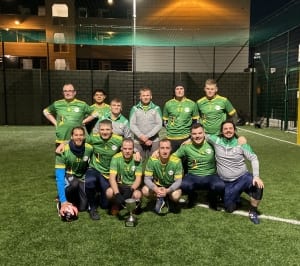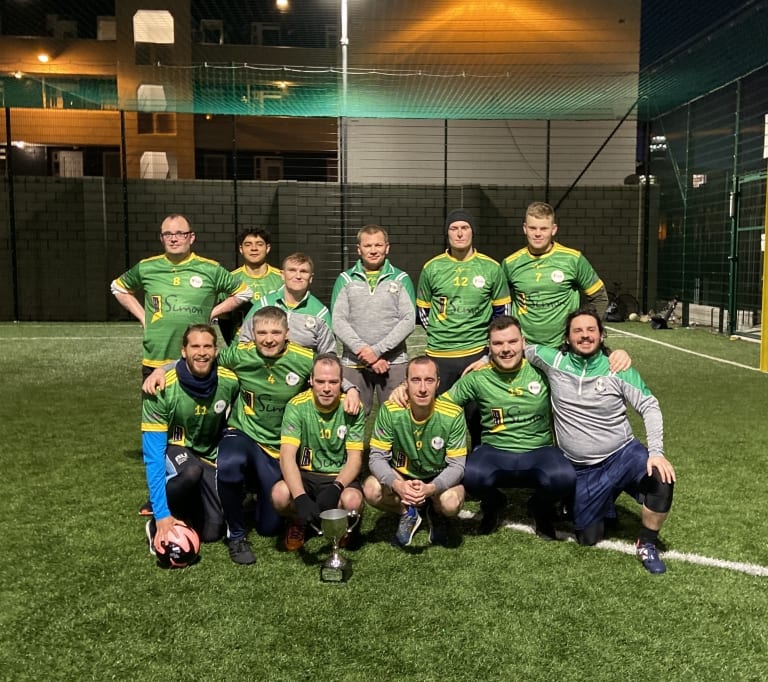 For more information on our Health & Wellbeing program, go to our website: https://www.dubsimon.ie/what-we-do/treatment/simon-counselling-service/
The Power of Meditation
By Asha Thomas, Staff Nurse, Step Up Step Down Intermediate Care Unit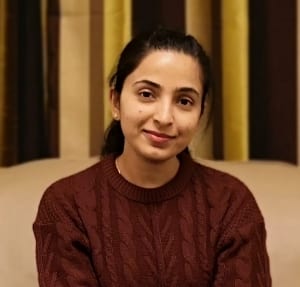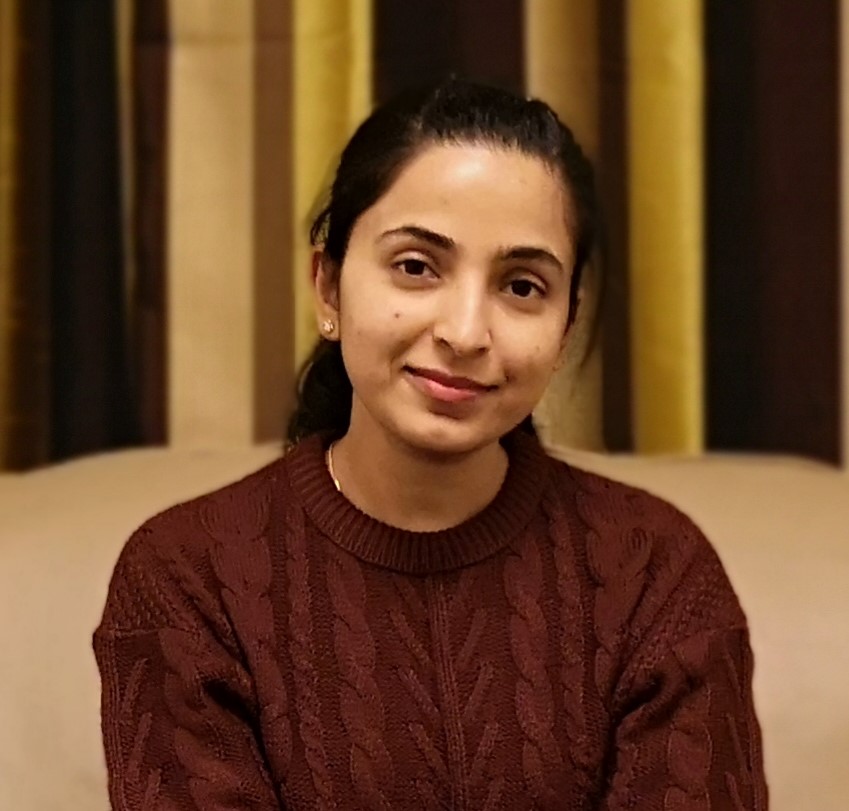 Introduction
Our entire life time is conquered by tension, stress, confusion, anger and a lot more. In the busy schedule of life we forget who we are, what we are, why we are, which means the purpose and meaning for life. These all happens because we don't have a calm and peaceful mind. The mind is always wandering and it's difficult to control /concentrate a mind. The life tests us in every stage life and most of us fails. It's mainly because of our approach towards the situations in life and the level of acceptance. If we have a strong, calm and positive mind, I think most of our problems are solved. The best way to achieve this is through regular meditation. Meditation can be an effective form of stress reduction and has the potential to improve quality of life. Meditation is effortless. Meditation enables one to focus on the present moment rather than dwell on the unchangeable past or undetermined future. The effect of meditation and relaxation techniques is that the release of catecholamine and other stress hormones are reduced and parasympathetic activity is increased.
What is meditation?
Meditation is popularly perceived to be any activity in which the individual's attention is primarily focused on a repetitious cognitive activity. It is called 'thoughtless awareness'. This is a state in which the excessive and stress producing activity of the mind is neutralized without reducing alertness and effectiveness. Meditation is a holistic approach. In meditation, the mind is clear, relaxed, and inwardly focused. When you meditate, you are fully awake and alert, but your mind is not focused on the external world or on the events taking place around you. Meditation requires an inner state that is still and one-pointed so that the mind becomes silent. When the mind is silent and no longer distracts you, meditation deepens.
Meditation is very simple. It is simply attending. You can begin by attending to your breath, and then if a thought comes, attend to it, notice it, be open to it—and it will pass. Then you can come back to the breath. Your normal response is to react to all your thoughts, and this keeps you ever busy in a sea of confusion. Meditation teaches you to attend to what is taking place within without reacting, and this makes all the difference. It brings you freedom from the mind and its meandering.
How to do meditation in a simple way:
Find a place in your home where you can sit comfortably without being disturbed, preferably somewhere that you can use regularly. You can sit on the ground, can use a chair or sit anywhere as long as you are comfortable.  Try and ensure that you minimize the potential for distractions by e.g. turning on the answering machine before you start off.
Once you are settled, slowly close your eyes.
Place your hands on your knees, foot touching the floor and sit straight.
Keep a smile on your face.
Focus on your breathe. Feel the air going in and coming out. Breathe normally and relax
The mind will start wandering after sometime. But try to bring back and concentrate only on your breathe.
Try to concentrate for about 10 minutes. Keep the smiling face.
Finally take a deep breathe in and breathe out.
Rub your hands together and place the palm above the eye lids. Do it thrice.
Now open your eyes very slowly.
This meditation can be practiced for a minute also. It can be practiced anywhere. Practicing meditation in the morning makes us relaxed, calm and full of positive energy throughout the day.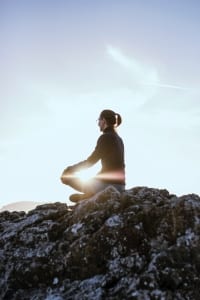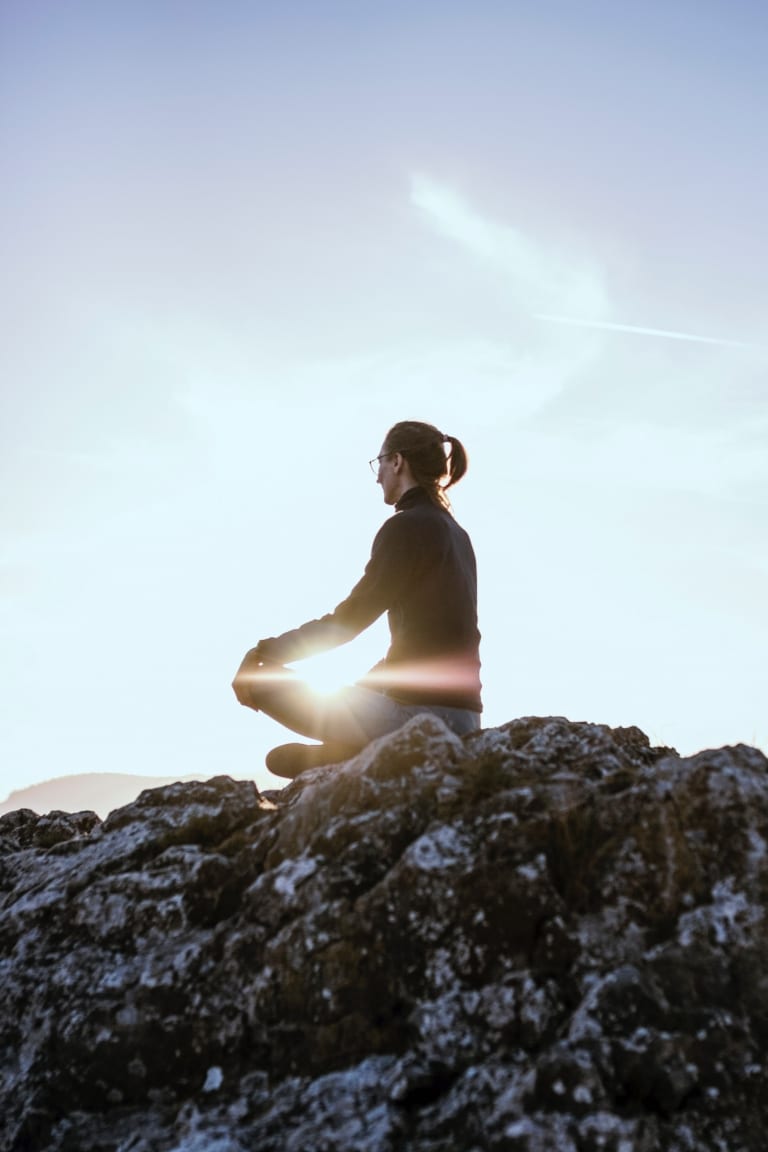 "Have patience and do your practice systematically. Every action has a reaction. If you sow a seed today, you don't reap the fruit tomorrow, but eventually you will. It takes time to see results; be gentle with yourself".
By Asha Thomas, Staff Nurse, Step Up Step Down Intermediate Care Unit 
Emergency Accomodation Services Pics
Here are some pictures of recent activities that went on in our Emergency Accommodation Services.
Groups run this month in one of our emergency services included training clients how to use life saving Naloxone, and an art group.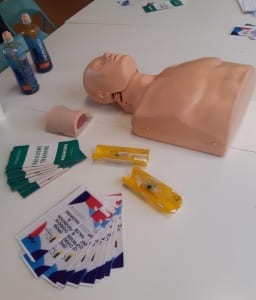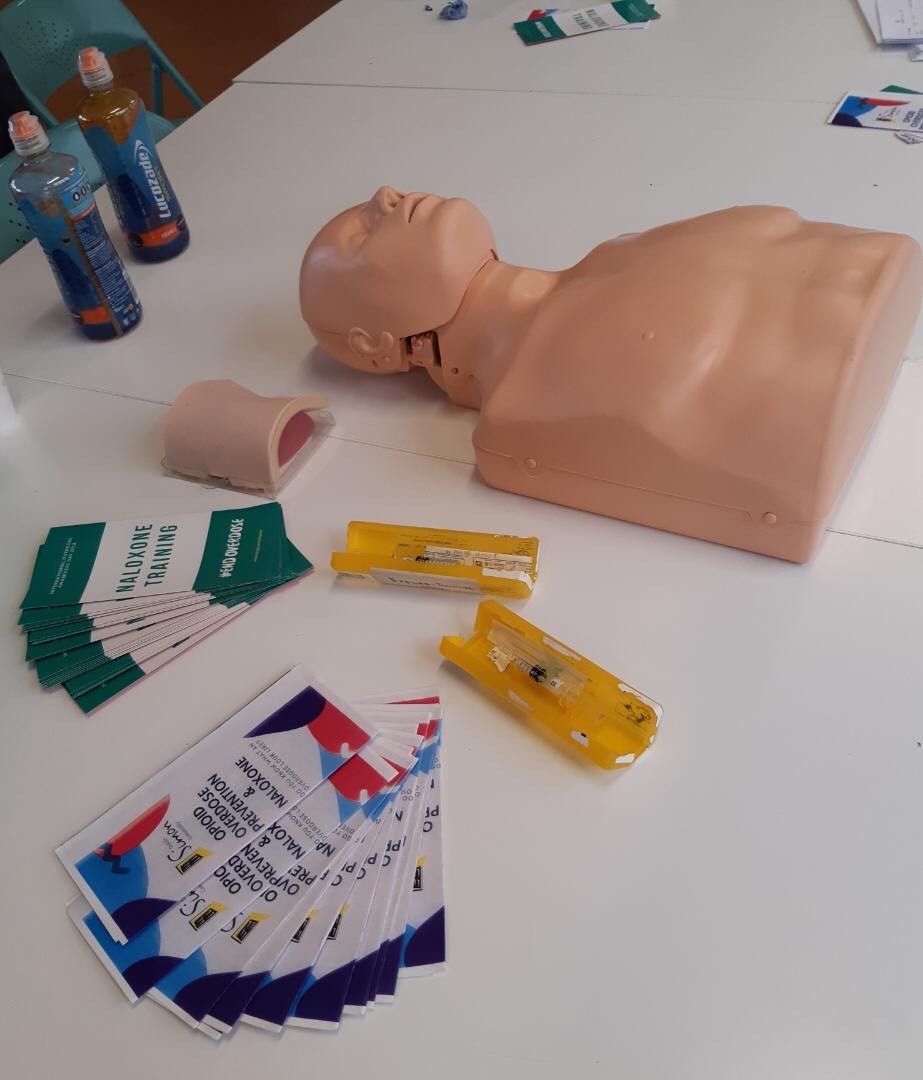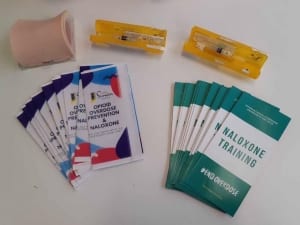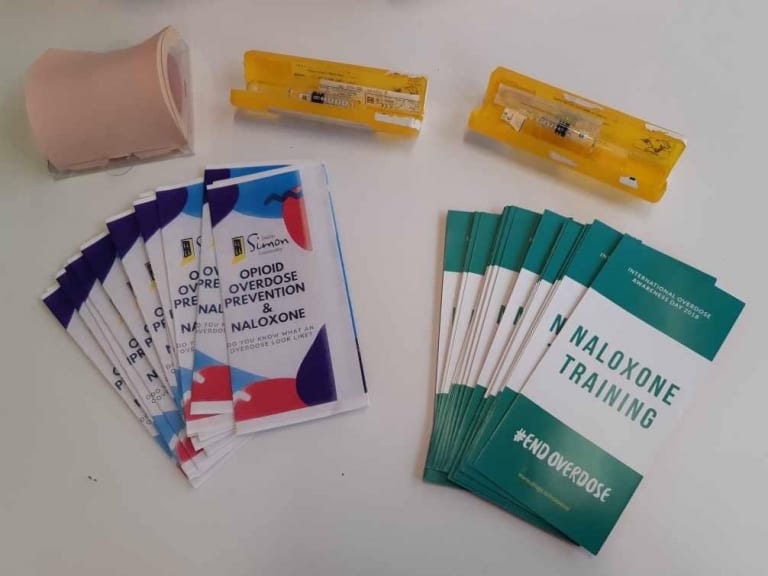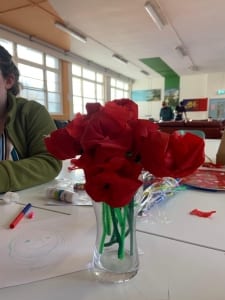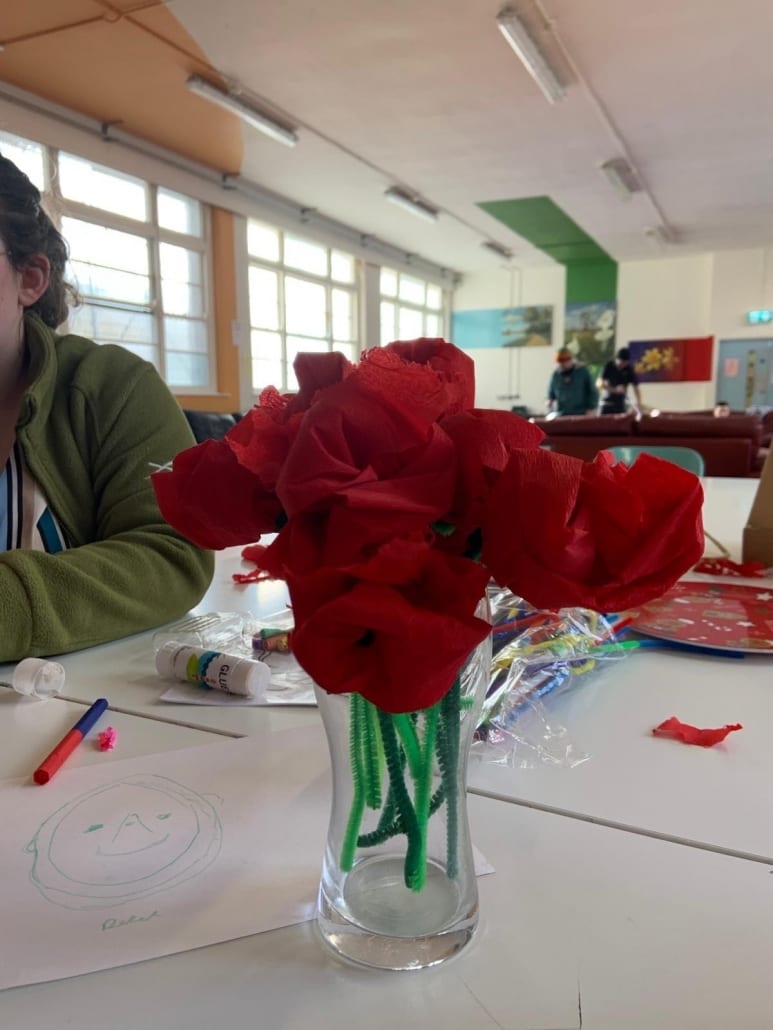 On Valentines Day, clients in one of our emergency service's made pink smoothies and cupcakes.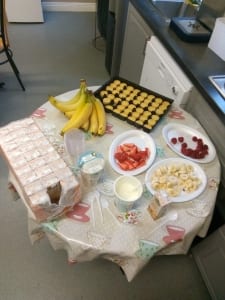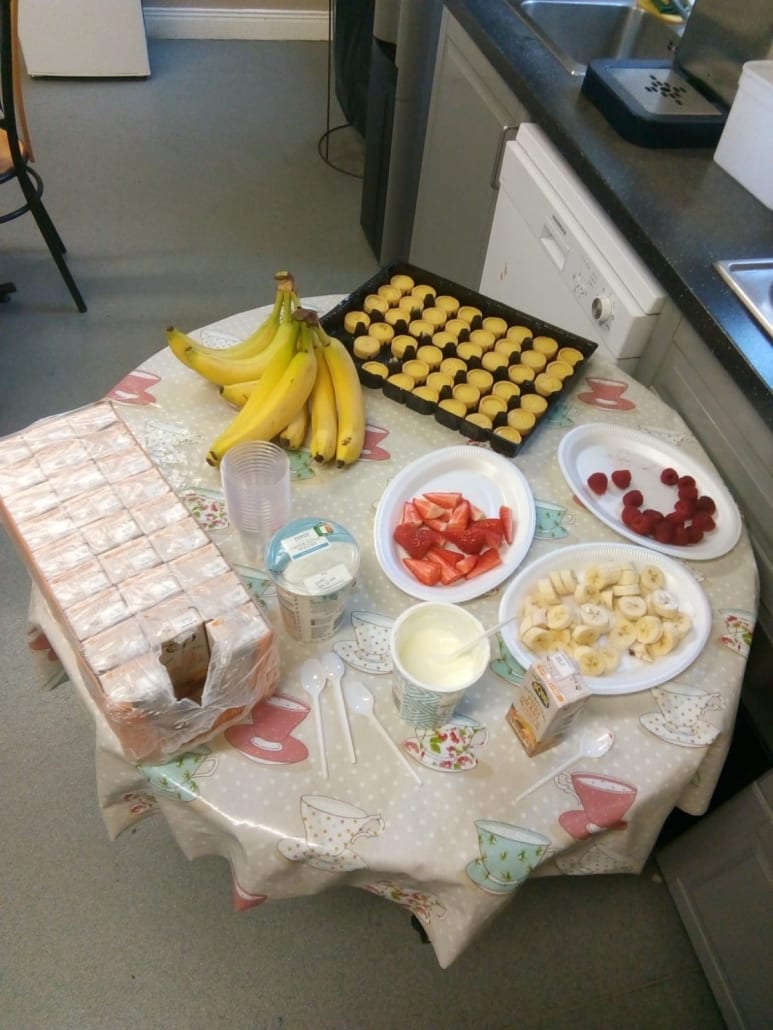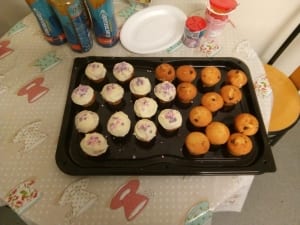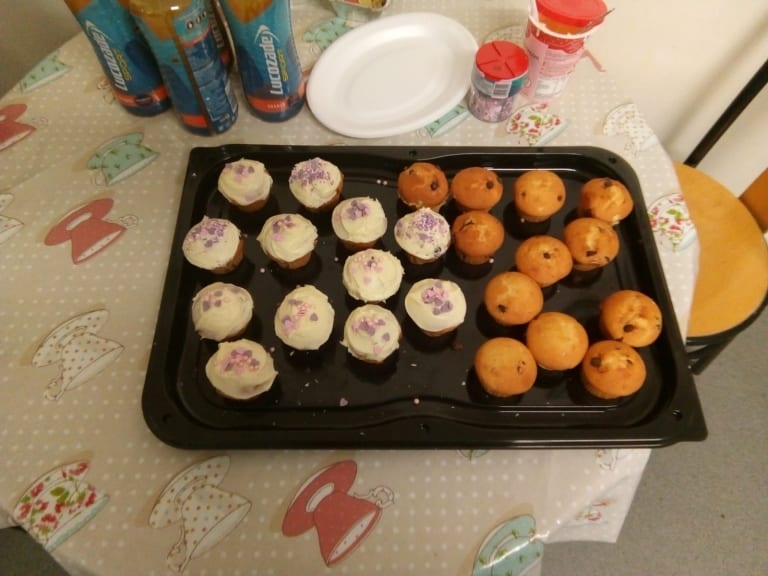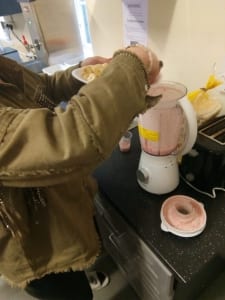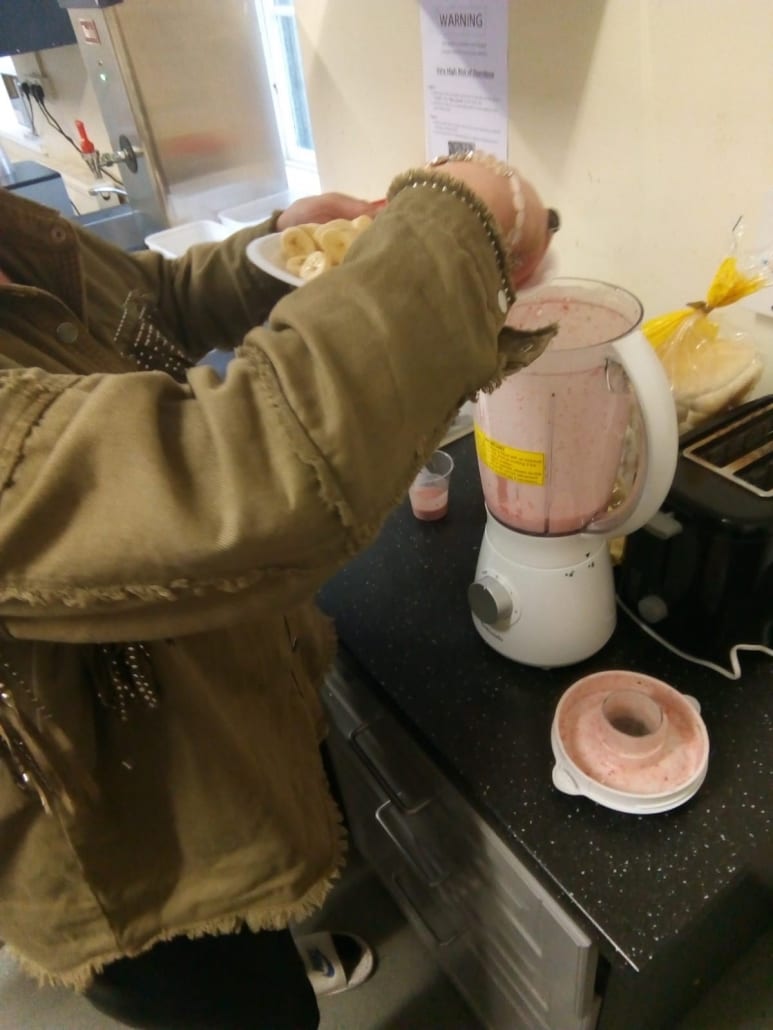 While one of our other services went with coffee and pancakes.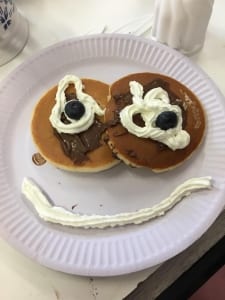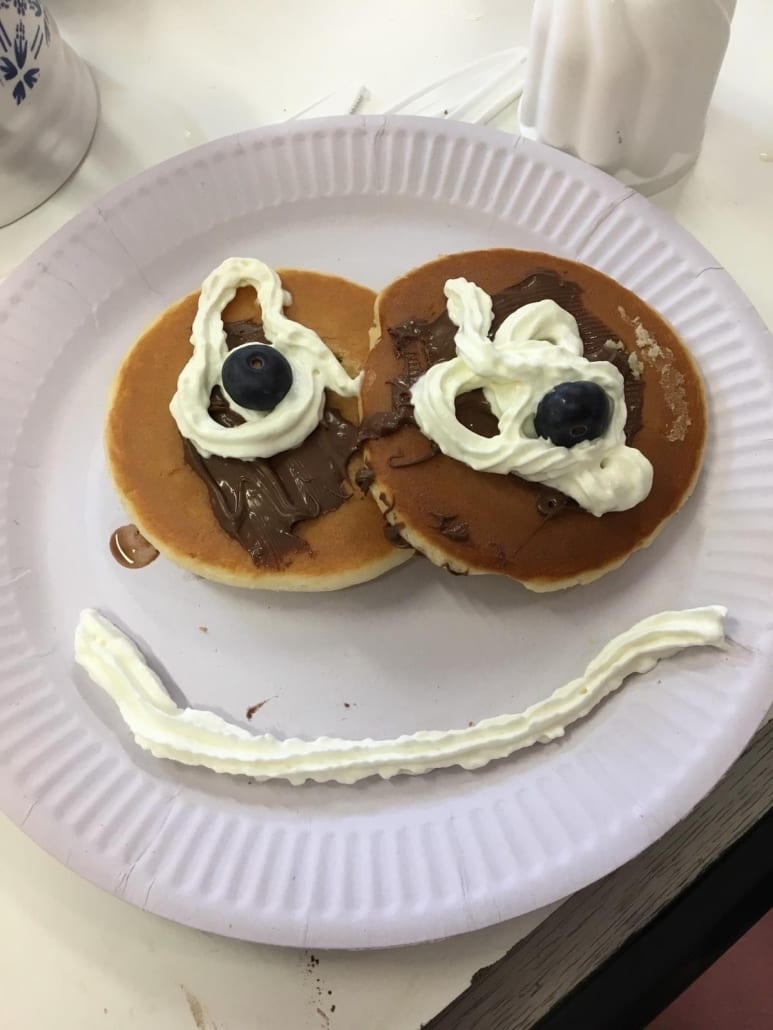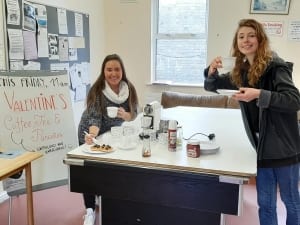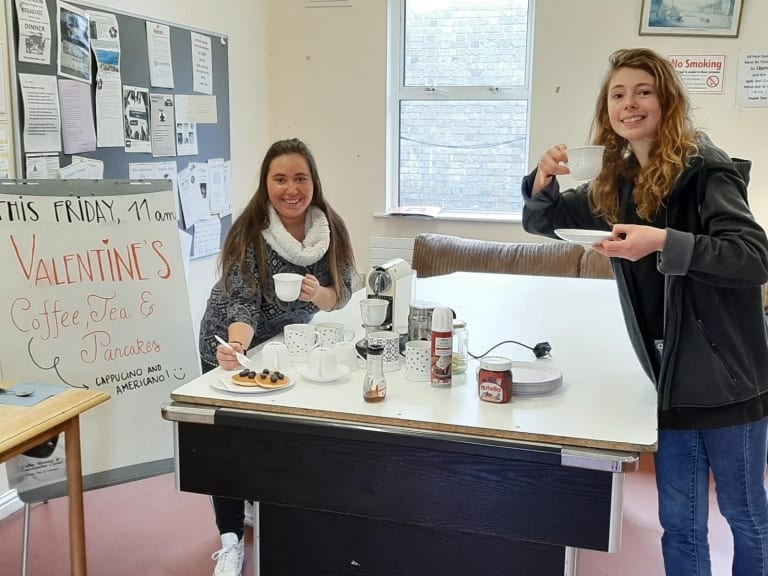 For Pancake Tuesday our clients had the option of fresh strawberries, peanut butter, nutella, banana, maple syrup and lemon & sugar. YUM!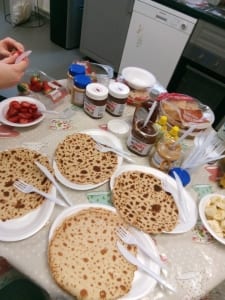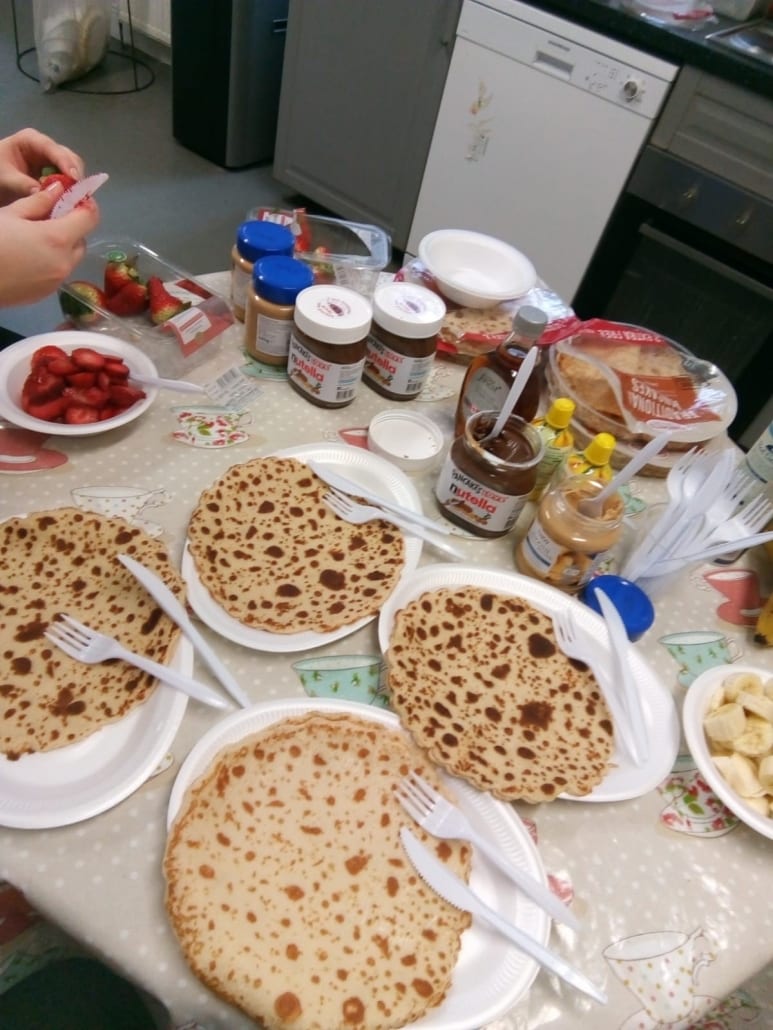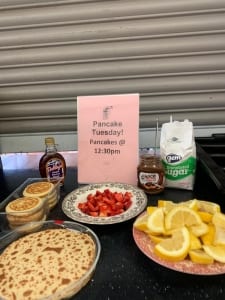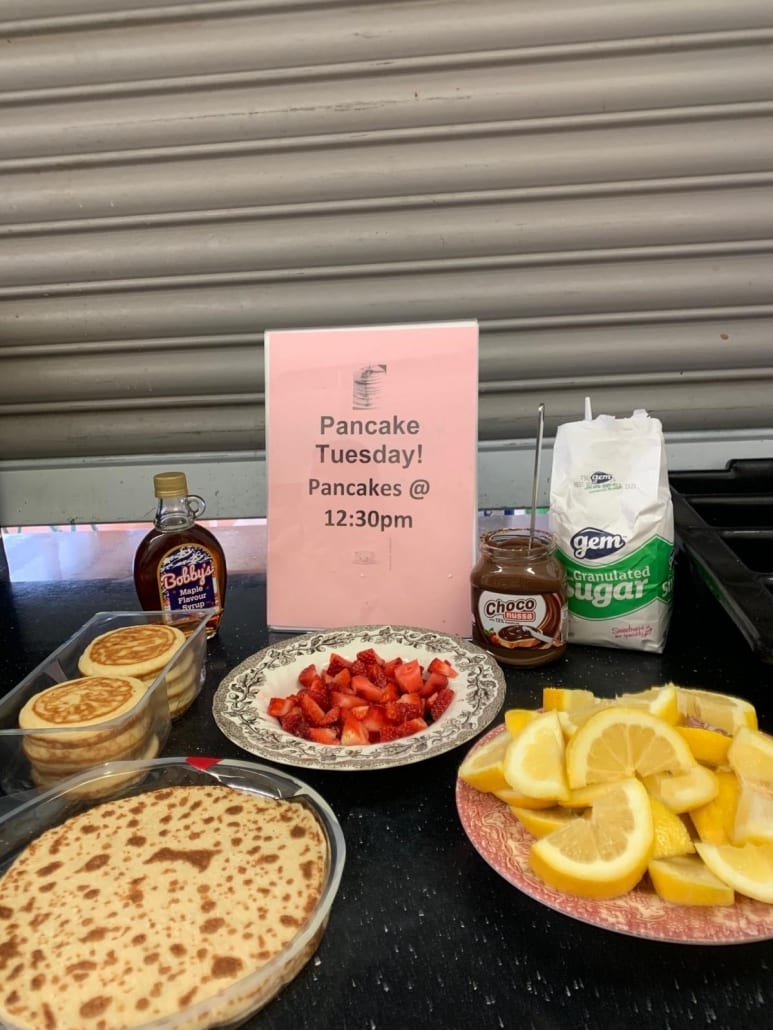 Jingle Jangle Album
The SOLAS Workplace Choir & the Mountjoy Prison Inhouse Voices Choir who collaborated to produce the hit Christmas album 'Jingle Jangle' raised over €15,000 for Dublin Simon Community from the sales of the album.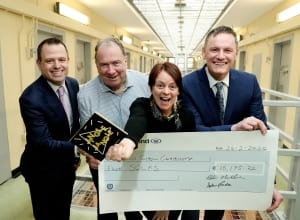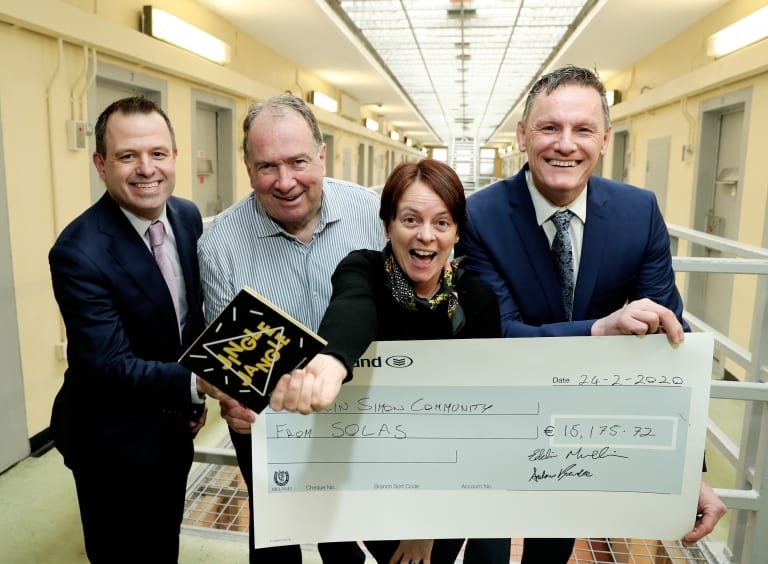 For more information on the Jingle Jangle album: https://www.dubsimon.ie/news/jingle-jangle/
Exciting news from the shops!
The Shops Pop Up at the Home Run
The Shops team are back at the Home Run again this year! Stop by to pick up some bargain branded sportswear, we have everything from Adidas to Northface for men and women. We will also some childrenswear available on the day. If you forget your hat, scarf or gloves, have no fear these will be on sale too!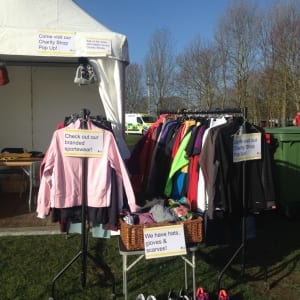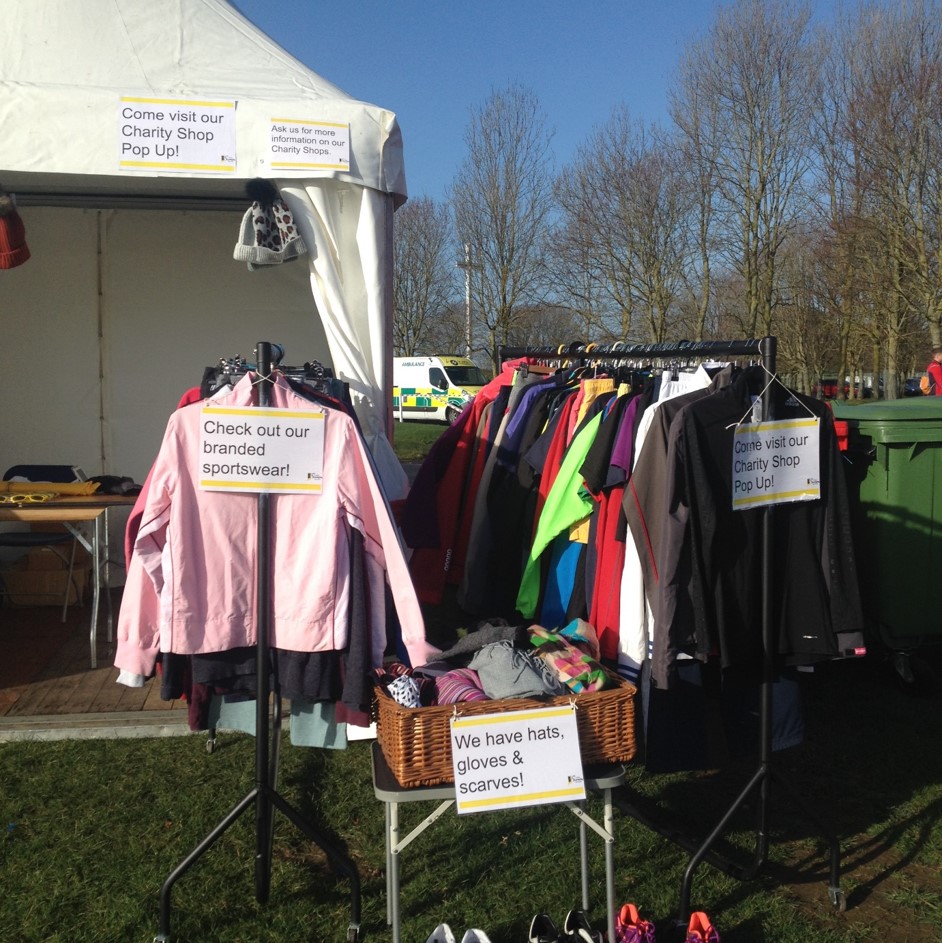 Included in the pictures is Stella McCartney for Adidas, Adidas, Under Armour, Nike, Northface and Ellesse stock.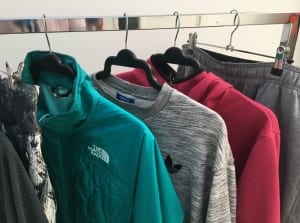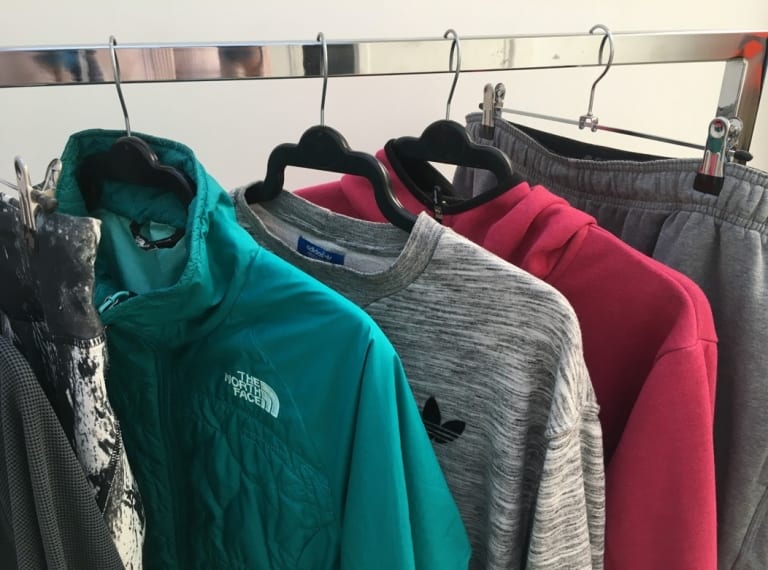 You can now buy books, CD's and dresses from Dublin Simon Community through Thriftify.ie! Shopping for a good cause from the comfort of your couch
https://www.thriftify.ie/fashion/women/clothing.html?charity_outlet_id=4171
Dates for your Diary
Dates for your Diary: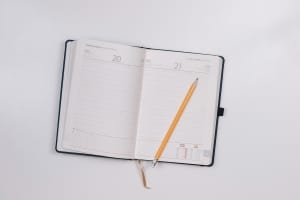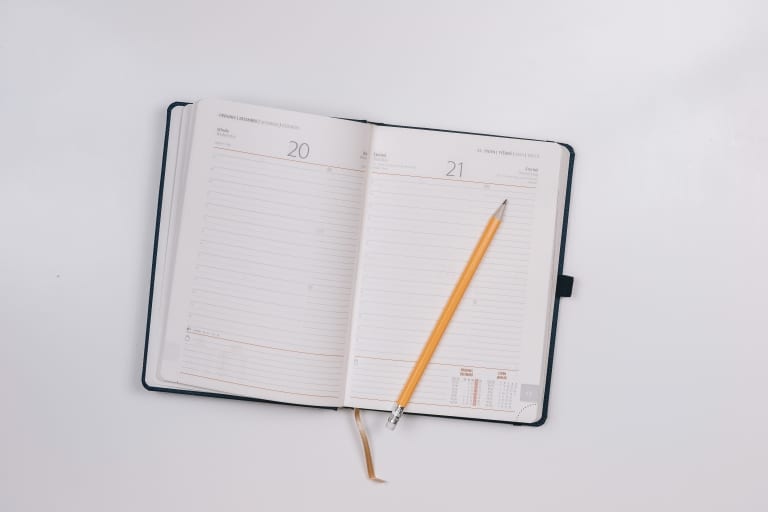 Simon Home Run – March 7th
International Women's Day – March 8th
St Patrick's Day – March 17th
Mother's Day – March 22nd
World Health Day – April 7th
Easter Sunday – April 12th
Longest Day – 21st June
© 2023 Dublin Simon Community | Charity Registration: No. 20009892 | Charity Number: CHY 5963