Sam's Welcome:
The government has increased restrictions on businesses, services and movement and has confirmed that this partial lock-down will continue until at least the 19th of April. These are extraordinary times, but thankfully, our community is made up of extraordinary people who have a vital job to do. I can only admire the willingness ​to adapt, providing the same high-quality services while closely following HSE and government advice and guidelines.
Services are doing excellent work educating our clients and residents and have introduced several helpful techniques to facilitate and encourage best practice. Where possible, counselling is being provided remotely and Client Development are keeping clients entertained with information and activity packs while maintaining physical distancing. Staff have been demonstrating terrific community spirit, going the extra mile with maintaining flexibility. As always, our dedicated volunteers have been instrumental in enabling us to switch to our new normal.
Fundraising has responded quickly to developments by launching an emergency appeal for food and donations. The public support we have received so far has been heart warming, with food donations pouring in from the food and hospitality sector. Our corporate partners have demonstrated their commitment yet again with Zendesk and Microsoft amongst many others supporting our community with everything from infrastructure to meals, furniture and items for our services.
Many staff have moved to work in frontline services. This flexibility and solidarity is terrific. I am appreciative of all this teamwork and willingness, you response to this challenge is admired. Personally, I am proud of your unselfish commitment and admire your generosity and humanity.
Each of us continuing to pull together is what will get us through this new normal.
Mind yourselves,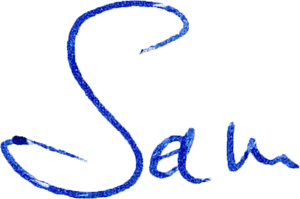 WHO Year of the Nurse
Dublin Simon Nurses on the Frontline During Covid-19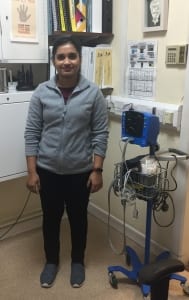 Jisha Mohan, Staff Nurse
Coronavirus is no challenge to us because we are using every possible technique to control it. Our clients know that the virus is dangerous, but they aren't worried because they know we will protect them. They are employing the handwashing techniques and social distancing, and we are running their errands on their behalf to keep them safe inside. The clients aren't leaving the service. To help with boredom, we are providing food, series, books and art materials for the people interested in art.
I initially felt some worry about the coronavirus, but this is a crucial situation and we need to face it. We are the armed forces of the health service. We need to fight and we need to do the best this tie. This is my time to prove myself as a healthcare professional. We overcame plague and cholera and we will overcome this I'm sure.
We have discussed it as a team – the coronavirus, the consequences, everything. We have support from the HSE, Sláinte and the Mater hospital and we are ready to fight and are prepared for anything.
By Jisha Mohan, Staff Nurse, Dublin Simon Community
Nurse Elsa Sonia Varghese
In Step-Up Step-Down, we work mainly with vulnerable homeless people who have medical issues, breathing issues, hypertension or need their dressings changed regularly. Some may also have addiction issues.
A lot of our clients come from rough sleeping. Step-Up Step-Down provides a safe place for clients to recover when they come out of hospital. That would not be there for them if we did not stay open during Covid-19.
Nursing is my passion and this type of nursing suits me. We are mainly working with people who feel very isolated. The patients I treated in my general nursing job, they had someone – friends and family to talk to. When you get a chance to speak with the clients here, get talking, you realise that they need someone to express their feelings to and you are that person. It's hard to explain that type of job satisfaction.
We have extended Step-Up Step-Down to include 20 more beds. This will mean 36 beds will be available in acute hospitals for those in need due to Covid-19. Previously we used to do handovers with all staff. Now, only two nurses are allowed in the nurses' station and handovers are happening over the phone. We are using gloves when touching the clients and are cleaning the equipment we use with alcohol, like the blood pressure cuff, after each use. We are keeping our distance and giving our clients space where possible during all procedures.
Some clients are conscious of Covid-19 – they use the hand sanitiser and they ask us for it. Others are not so aware – so we need to really take care of them.
by Elsa Sonia Varghese, Nurse
Coping with the Emotional Impact of Covid-19: Some Tips from the Sure Steps Counselling Service
These are scary times and many clients of the Dublin Simon Community Sure Steps Counselling Service have expressed anxiety about Covid-19.
With the help of our wonderful supporters Buck & Hound and Conor Merriman, the Sure Steps team have developed this booklet for our clients, featuring tips for coping with the emotional impact of Covid-19.
Please feel free to download and print this booklet if you or someone you know needs a little help coping with anxiety during this time.
You can find the booklet HERE.
Emergency Appeal Campaign with Game of Thrones Actor
Dublin Simon Community's fundraising team worked with creative agency BBDO on a hard-hitting emergency appeal campaign to raise awareness and fundraise to keep vital services running during the Covid-19 pandemic.
The appeal launched this week on social and radio and uses common social messages about social distancing and working from home to show how difficult life is for those who are vulnerable and experiencing homelessness.
We are delighted to say that Game of Thrones actor Liam Cunningham also came on board at short notice, donating his vocal talents to our radio ad for the campaign.  You will hear this ad via our social channels or on national radio over the coming weeks.
BBDO also delivered their considerable creative talents at no charge to Dublin Simon Community and we are immensely grateful to all of those who have made this campaign possible.
Please share this campaign on social media and ask your friends and family to do the same.
Check out the ad HERE!
Supporting Hospitals During Covid-19
Supporting Hospitals During Covid-19
by Niamh Murphy, Step-Up Step-Down Manager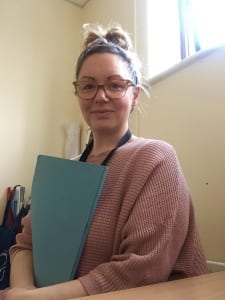 Like everyone at the moment, Dublin Simon Community is flexing and adapting in response to the Covid-19 crisis to protect our clients, staff, volunteers and the wider community. While Ireland is already seeing exponential growth in the number of confirmed cases, we are very conscious that this is still the 'calm before the storm', as Mr Varadkar said on St Patrick's Day, and that hospitals will come under increasing pressure in the weeks ahead.
In response, we at Dublin Simon are supporting hospitals during this pandemic by providing 20 medical "step down" beds for people experiencing homelessness who are currently in hospital and now need less acute medical attention. To do this, we will be expanding our "Step-Up Step-Down" unit, which we run at our Usher's Island treatment facility. The increased bed count will mean that 36 beds will be available in acute hospitals for those in need due to Covid-19.
The effects of homelessness and rough sleeping in particular can lead to many physical and mental health issues, with some individuals requiring medical attention on a regular basis. Our "Step-Up Step-Down" unit is staffed now by extra nurses who are fully equipped to deal with these specific cases and provide patients with the wraparound supports they need while also facilitating the release of acute hospital beds.
Additionally, across our services, Dublin Simon Community has closely followed HSE recommendations and has rolled out detailed action plans to protect clients, volunteers and staff and prevent the spread of Covid-19. We have also identified 25 isolation rooms, launched an internal awareness campaign, increased cleaning regimes and provided some Personal Protection Equipment such as masks, gloves and hand sanitiser to clients and staff. 
We feel the expansion of our "Step-Up Step-Down" service is in the best interest of the vulnerable people we work with as hospitals become increasingly populated by Covid-19 patients and also hope it will support the brave hospital staff working around the clock to save more lives.
by Niamh Murphy, Step-Up Step-Down Manager
Client Development Activity Packs
Now that group activities have been postponed the Client Development team have been working hard on alternative ways to facilitate activities for clients (and staff!) whilst maintaining social distancing.
A daily activity pack is being emailed to clients and services as a way to keep active, creative and promote overall wellbeing. Client Development have teamed up with the Sure Steps Counselling Service, the Dublin Castle Education Team and the National Adult Literacy Agency (NALA) to provide fun, engaging and supportive content in each pack.
The packs include daily affirmations, mindfulness colouring, creative challenges, health and wellbeing activities, crosswords, self-care tips and much more!
Now, more than ever, the Client Development team want to support Dublin Simon clients and staff to take time for their physical and mental wellbeing. Request your activity pack today by emailing cd@dubsimon.ie!
View Activity Pack HERE!
Social Quiz-tancing For Simon
Join Dublin Simon Community and their fundraising team on their first venture into the virtual quiz world. Coming to you live from our Facebook page on Wednesday 1st April at 8pm, gather the gang (remotely) and compete with each other from the comfort of your very own couch. Staying in is the new going out!
With all of us WFH and confined to seeing family and friends through the lens of a social media app or the a socially distanced 2M, we are all craving some healthy competition and well earned bragging rights amongst friends and family. It couldn't be easier to get involved; head on over to our Facebook page where the event will be streamed live from 7:45pm with the quiz kicking off at 8pm.
Follow the link to the Eventbrite page
HERE
to sign up!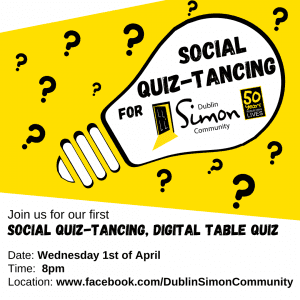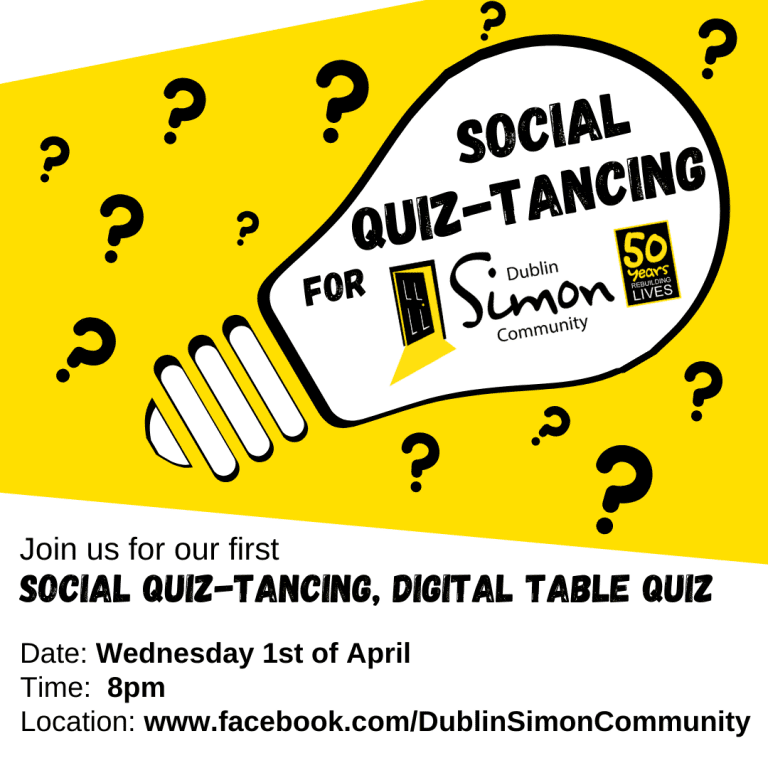 Simon Home Run 2020
People of all ages gathered in the Phoenix Park on Saturday 7th March for the 37th annual Simon Home Run, which aims to raise vital funds for people at risk of or experiencing homelessness in Dublin, Wicklow, Kildare, Meath, Louth, Cavan and Monaghan.
It was an amazing event which was a reflection of the dedication and community of both the organisers and the participants.
Runners and walkers of all ages and fitness levels participated in the 5 mile (8k) race and were even joined by some buggies and dogs on the race track. While many took part just for fun, there was some healthy competition in the air as prizes were awarded for first, second and third place.
Among those "going for gold" were the members of the Dublin Simon Community running club, led by Physical Activity, Health and Wellbeing Supervisor JT Treanor, who said:
"Events like this are great because they engage all members of our community – staff, volunteers, supporters and clients. There are a number of clients in the Dublin Simon running club who I work with regularly on their physical fitness and overall wellbeing. There has been a great buzz at our training sessions over the past few weeks in the lead-up to this morning."
The Simon tented village had plenty of entertainment for runners and spectators alike, with main sponsor Deutschebank providing a Kids' Zone hosted by familiar faces Mickey and Minnie Mouse who were joined by Offbeat donuts, Last Lap Café and Be Well Physio, which provided post-run sports massages. Attendees relaxed with teas and coffees after the race to the live performance of U-band.
Speaking at the event, Dublin Simon Community CEO, Sam McGuinness said:
"We would like to give our warmest thanks to our committed supporters who came out in their droves on a cold Saturday morning to join our community in supporting those who never get a day off from their plight. The vital funds raised by our runners, walkers, joggers and dogs today will go a long way in helping to rebuild the lives of people trapped in the relentless despair and anxiety of homelessness."
1st: Tim Grummel
2nd: Laura Shaughnessy
3rd: Robin Mooney
1st: Tim Grummel
2nd: Robin Mooney
3rd: Parick Tallon
1st: Laura Shaughnessy
2nd: Charlotte Connolly
3rd: Adelle Heskins
Fastest Buggy Challenge Winner:
Kevin O'Hanrahan & Rua O'Hanrahan
To see the images from the 2020 Simon Home Run, Click Here.
Health and Wellbeing at the Home Run
The Home Run saw a massive representation by the Health and Wellbeing team with over 30  clients taking part. Many of the group had been training with the Dublin Simon social running club every Tuesday evenings at 5.45pm in Croppie Acre park leading up to the event and were keenly anticipating the day.
The whole group had a great day out with clients walking, jogging and some running very impressive times. Everyone was in great form after the event and we are already planning to take part in more fun runs in the summer.
The Dublin Simon social running club was started in 2019 and is open to all staff and clients. The group is a great way to improve your running and health no matter your ability or experience with participants ranging from their 20's to 60's. We especially encourage  anyone who has never ran before to come and give it a go.
Sessions are hosted weekly by JT of the Health and Wellbeing service and are primarily designed for beginners. When the Health and Wellbeing service returns to normality we hope to see even more new faces out to take part in this fun, community orientated group over the summer months and we can have an even greater turn out in the Home Run 2021.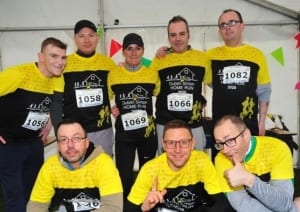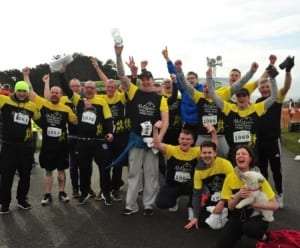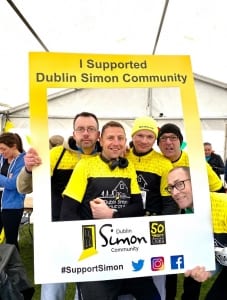 Volunteer Profile
Marika Chkhikvadze
Full-Time Volunteer, Client Development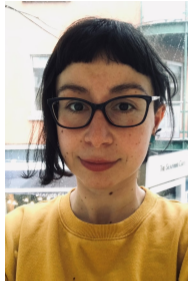 I am Marika, 27 years old, from Tbilisi, Georgia. I studied Animation in Tbilisi State Academy of Arts.
When did you start in Dublin Simon?
I started at the end of October.
What do you enjoy most about your work?
I enjoy working with clients, seeing them grow and discover their own potential and sharing my experience with them.
What does your role involve?
I work in Client Development. I go to different services to do art or yoga classes. I am also engaged with dance class on Mondays.
Tell us something about yourself?
I am curious and interested in many different things: nature, science, philosophy, art and so on, but there is not enough time to learn all.
Do you have anything exciting happening in your service?
From May we will have new gardening classes in Airfield Estate. I am looking forward to it.
Shops Team Update
Following our Shops closures earlier this month in the wake of Covid-19 measures some of our team have been in the warehouse sorting through our donations to find useful items for our services. The team have been working hard getting clothing to those who need it in the services. They have also been responding to requests through our Stock@dubsimon.ie email. We have had requests for books, DVD's, bedding, art materials, board games and more. If your service needs any of these items, please do not hesitate to contact the above email or ring Katie, our Shops Supervisor (086 775 8747), for more information.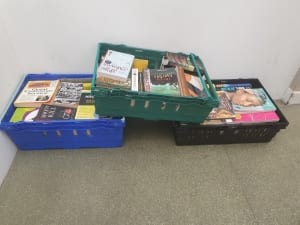 Poetry Corner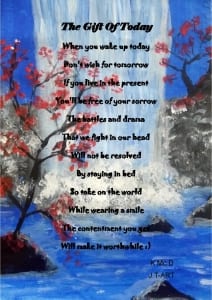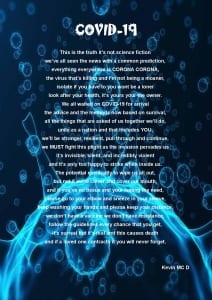 © 2023 Dublin Simon Community | Charity Registration: No. 20009892 | Charity Number: CHY 5963