Sam's Welcome:
My thanks to everyone who volunteered over the Christmas season, helping us raise funds. Looking forward to 2020 being a great year for all of us.
Ahead of the General Election 2020, we launched our asks for politicians to address the homelessness and housing crisis. We are calling on people to advocate on behalf of those experiencing homelessness in our community. With these asks, you can challenge your election candidate when they canvas door-to-door.
The asks include: build social and affordable housing, keep families and individuals in homes, provide affordable rent for all, increase access to treatment services.
A new group, Home for Good, has been established to campaign on constitutional issues relating to the right to a home, including a referendum on the issue. The Simon Communities are heavily involved in getting the group up and running so keep your eye on it.
January is about us launching our Simon Home Run, which is now in its 37th year, and is the longest running charity run in the Phoenix Park. This year's 5 mile (8k) run will take place on Saturday 7th March at 10.30am and promises fun for all the family, with food and children's entertainment in the tented village and a novelty prize for the fastest buggy across the finish line. All registered runners will also be in with a chance of winning a €1,000 cash prize, which has kindly been donated by a corporate supporter.
Best of luck with the training and looking forward to seeing you all there!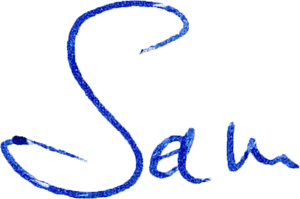 World Health Organization: Year of the Nurse
2020 marks the start of the World Health Organisation (WHO) International Year of the Nurse. We want to celebrate our amazing nursing team by publishing a nurse profile each month, showcasing their great skills and diversity!
This month, we meet Jubin Cherian.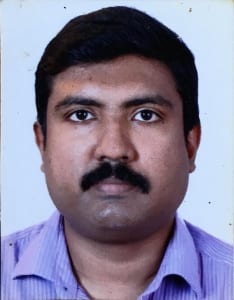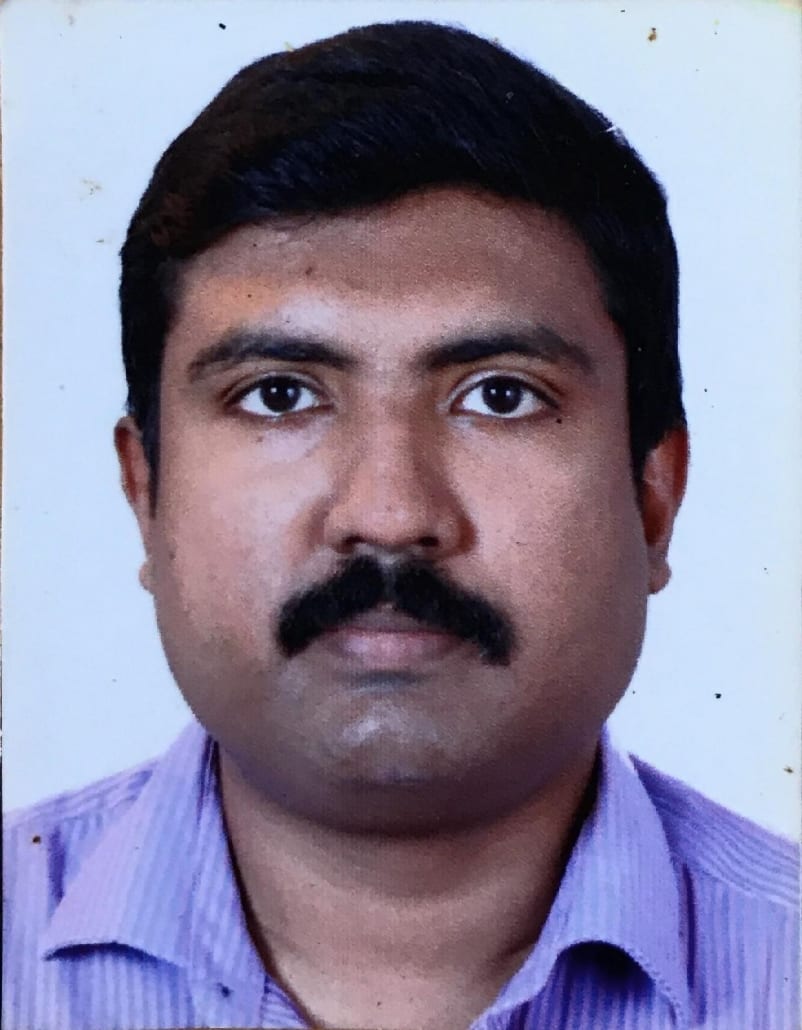 Jubin has been working as a staff nurse in Treatment services, Dublin Simon Community for the last 2 years and 6 months.
Skills/Experience
I have experience in the field of clinical management of clients undergoing alcohol detox and drug stabilization. I use my basic nursing skills to assess, understand and manage the physical health issues in relation to chronic alcohol/drug use of the clients admitted in to Dublin Simon Community treatment services. I use the best of my communication skills to address the mental health/ behavioural concerns of the clients. I use the best of my motivation skill to instill hope to our clients fighting with addiction.
Prior to my employment in Dublin Simon Community; I was working as a staff nurse in Critical Care Unit for 2 years. I have 4 years of experience working in the field of Nursing education; was working as an assistant Professor in one of the Nursing college in India
What Service do you work in?
I am currently working in Residential Detox unit in Dublin Simon Community treatment services.
Residential Detox unit in Dublin Simon Community; primarily offers medical detox from alcohol and benzodiazepines for clients with addictions to those. This unit also provides medical support for the co morbidities of our clients. The unit also helps our client to link with other DSC services like  art groups, meditation, gym etc.
Overall, the staff in the unit support the clients to settle down in terms of their physical health, mental health and social well-being and re-links them to the mainstream of the society.
What skills do you bring to Dublin Simon?

I bring my clinical expertise, leadership and management skills, communication skill, technical skill to deal with clients' data and teaching skill.
What does your day/evening/night usually look like?
While I am on shifts in my work place I like every moment I am spending here. My working hours would be more engaged in dealing with the clients in the unit. My colleagues and managers are highly supportive and encouraging. I am always trying to update myself in relation to my knowledge, skill and attitude towards homelessness and addiction care day by day.
What's your favourite part of working in your service?
Hearing the news about the achievements of our ex-clients; those who have attended the detox programme. A lot of our ex-clients in the detox unit have abstained from illicit substances, recovered from serious health issues like Hepatitis C and Cirrhosis of liver, stabilized in terms of their mental health, linked with other rehabilitation services for stopping drug use completely, re-engaged with their occupation and have re-entered back into the main stream society. These good-news stories are really encouraging for all the staff .
Describe a positive memory that you have from working with Dublin Simon Community?
Dublin Simon Community organises the "Simon Home Run" every year as a fund raising event. I got a chance to be a part of the event. A lot of our previous clients attended the event too. Some of them came to me and told me how Dublin Simon Community had positively changed their life. They expressed their gratitude and love to the entire DSC team. That was something I will never forget.
Jubin recently published an article: Diet and Recovery from alcohol addiction
Most of the people never take care the importance of nutrition while they start with alcohol detox. It is essential to help our body to detox from alcohol. Good diet will help in multiple ways to recover from alcohol. This article explains about how diet facilitates a speedy and safe recovery from alcohol addiction through four sections they are; the objectives of nutritional management in recovery from alcohol, dietary management of alcohol related withdrawals, dietary recommendations for people recovering from alcohol addiction and some sample recipes for cleansing liver.
You can read the full article by Jubin HERE!
Simon Home Run
WHERE: Phoenix Park
WHEN: Saturday 7th March
This year's 5 mile (8k) run will take place on Saturday 7th March at 10.30am and promises fun for all the family, with food and children's entertainment in the tented village and a novelty prize for the fastest buggy across the finish line. All registered runners will also be in with a chance of winning a €1,000 cash prize, which has kindly been donated by a corporate supporter.
You and your friends and family can avail of our discount easily by following the below steps:
1.Visit homerun.ie
2.Complete form as normal
3.When you come to discount code follow the below steps –
Simon employee/volunteer/client enter discount code SIMONSTAFF20
Friend of family enter discount code SIMONFRIENDS20
When you register it's just €5 extra to order a t-shirt!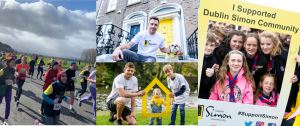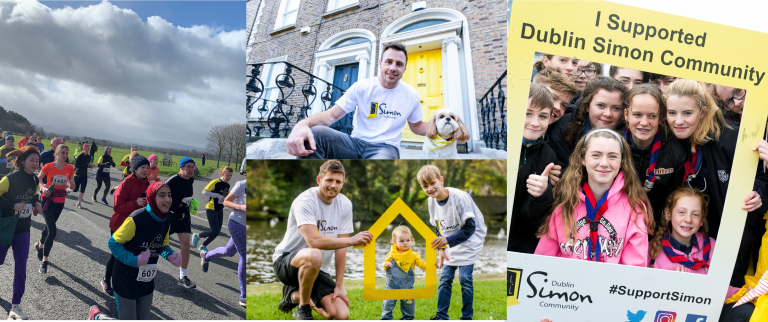 Best of luck with the training and looking forward to seeing you all there!
Client Development Services
The organisations three teams – 'Participation & Development'; 'Health & Wellbeing' and 'Social Enterprise/Shops' are now merged into one team led by Manager Sharon Keogh. The new title of the team is 'Client Development Services'.
This allows the team to have a collective title and follows from the new title of our function – Regional, Settlement and Client Development (RSCD).
A reminder of what the Client Development Team leads on:
Education & Arts – Literacy, computer educational supports, Meaningful Activities programmes, Art Projects including Scrappy but Happy, Song writing project   (PW Anna West)
Client Involvement– Client Volunteer programme, Client Action Group, Speak Out, Client's Eye, Education Grant (PW Denise Roche)
Health & Wellbeing – Gym and classes, Sports groups, QQI training in Health & Wellbeing for clients, Health Promotion Workshops, Corporate Activity days (Supervisor JT Treanor)
Shops & Social enterprise – Camden Street shop, Thomas Street shop, Chapelizod Warehouse shops section, Corporate days in shops/Warehouse, Client training & employability in shops (Supervisor Katie Donohoe)
Employability –coordination of client employability strategic plan.
Function: Regional, Settlement and Client Development (RSCD)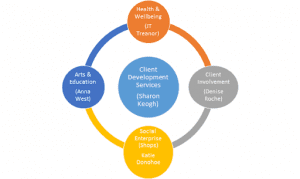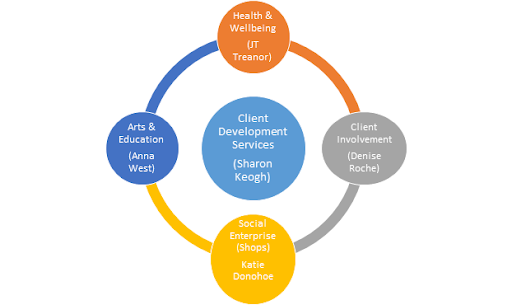 Updates:
Health & Wellbeing
2020 has seen the commencement of self-defence classes by the Health and Wellbeing service.
These classes are designed for beginners male and female to build self-confidence, fitness and have some fun. Classes are coached by Dave a brown belt Jiu Jitsu coach with ten years' experience.
A new block of runners and walkers are preparing for the upcoming Home Run. The Health and Wellbeing service are hosting intro running sessions every Tuesday at 5pm in Croppie acre (5min walk from Ushers or Red Cow). These are open to all staff and clients and are a fun way to get moving and get fitter as the evenings are getting brighter.
If any Dublin Simon clients/staff are interested in trying these classes out please contact JT Treanor in the Health and wellbeing service.
Shops
Well done to the Shops team who achieved their highest annual sales to date of €274,052 in 2019. This was the result of fantastic teamwork!!
Throughout 2019 we have had 20 clients gaining work experience and training with us in the shops. At the start of 2020 we currently have 11 clients working or volunteering with us. This is a very important role of the shops to provide these opportunities with the team fully engaged and committed to providing a supportive environment.
The Shops team collaborated with the Participation & Development team to create Christmas magic in the windows of our Camden Street shop in December. Lisa from the Camden Street shop wanted to create drama in her Christmas windows and thought red curtains would be the perfect way to frame the glittering Christmas dresses and gifts on display. It seemed the best way to achieve these dramatic curtains would be to paint them. A participant from one of the P&D art classes offered to paint the windows. As you can see from the photos, the result really was magical. People were coming in off the street to comment on the windows and it wasn't unusual to see people stopping to look at the window during December with a smile across their face.
Client Development Services would like to thank everyone who supported the Scrappy but Happy exhibition in Powerscourt Centre. The exhibition ran from 13th November and was extended to run throughout December due to popular demand. It was a sell out show raising a total of €1,180 which will go back into supporting our clients and our services. The artwork and poetry struck a chord with passersby and truly highlighted the creative talents of our clients. Artwork sold has since been shipped as far as California! Collaboration between Client Development, Strategy and Development, Community and Events and Communications added to the exhibitions success. We would also like to thank Powerscourt Centre for being so accommodating in offering us their incredible venue for this special exhibition.
The Client's Eye is a Dublin Simon Community quarterly newsletter distributed to homeless services. We are looking for content to publish in the 2020 spring edition of the Client's Eye, which will be printed in March. The content can include poetry, creative writing, artwork, jokes, recipes, stories or more. Please encourage clients in your service to send us any written pieces or artwork that they may have.  The Client Development Team would be happy to meet with clients to assist them in editing their written pieces. Please do not hesitate to contact us if you have any questions.
The deadline for making a submission is Friday 28th February.
Contact us on phone 01 635 4884 or email pd@dubsimon.ie. Thank you!
By Sharon Keogh, Client Development Services Manager
#GetTheNumberDown
Ahead of #GE2020, Dublin Simon has four asks for politicians to address our homelessness and housing crisis. Before trusting candidates with your vote, please ensure they commit to addressing these urgent priorities. #GetTheNumberDown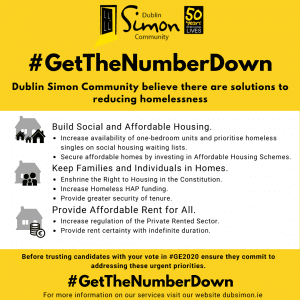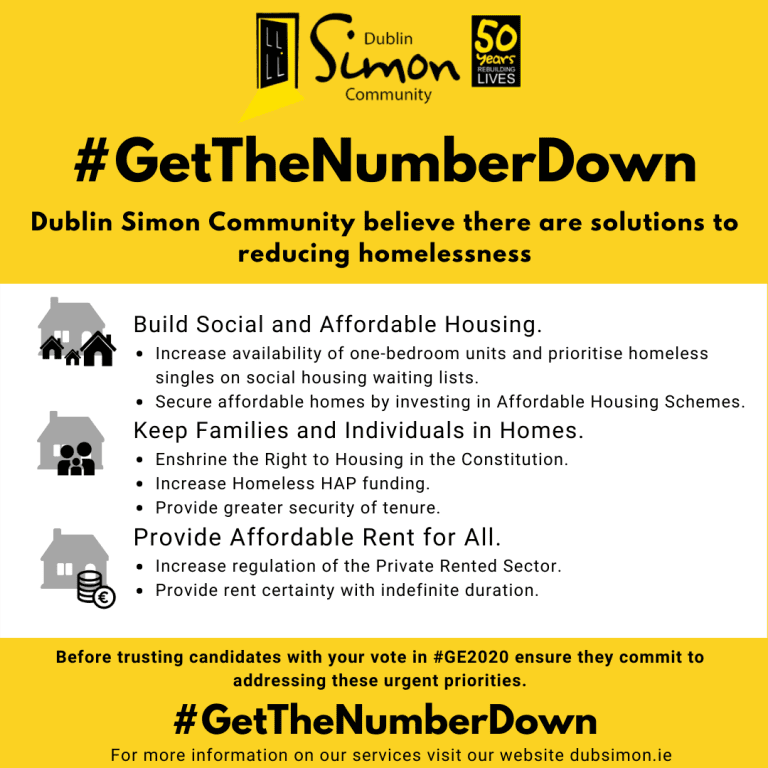 Tonight over 1,000 men women & children have a home in our housing & accommodation units. We have plans to build one bed units to provide homes. #ASK & #SHARE with your election candidate to get the homeless number down.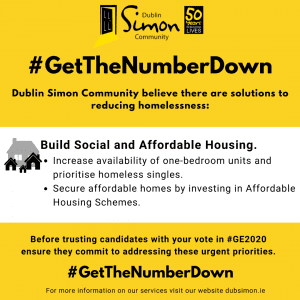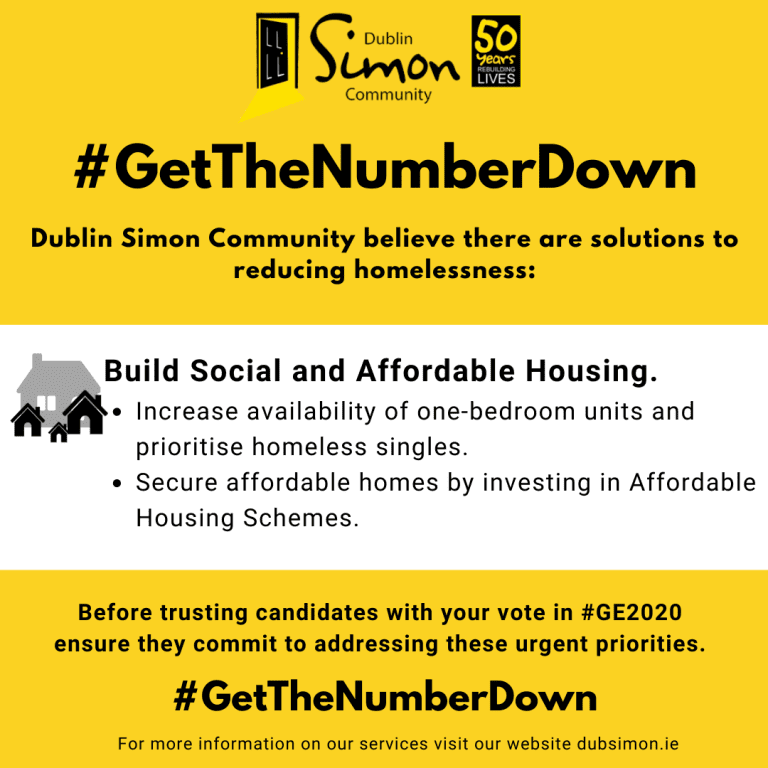 3,404 men, women & children were supported from being in emergency accommodation in 2018 by Dublin Simon. We prevented over 600 households and families from losing their home last year by helping them secure HAP and securing other accommodation.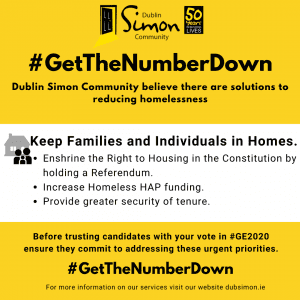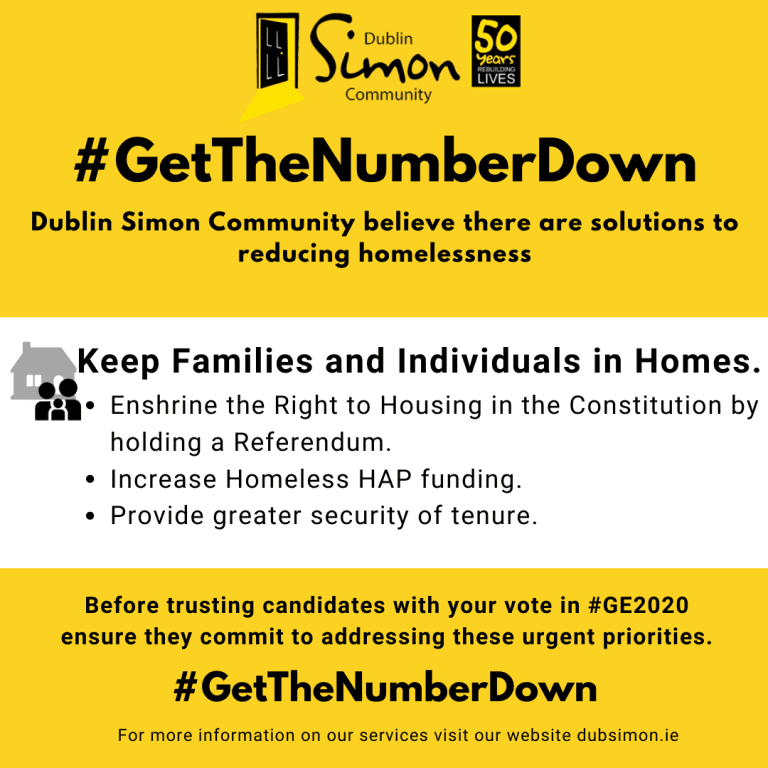 Dublin Simon resettled 2,131 men, women and children out of homelessness and into homes mainly through the Rental sector with HAP payment support. Greater security for a tenant is required.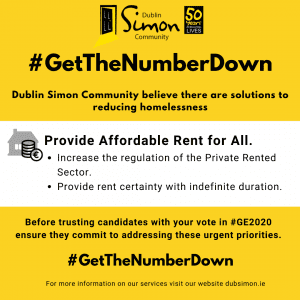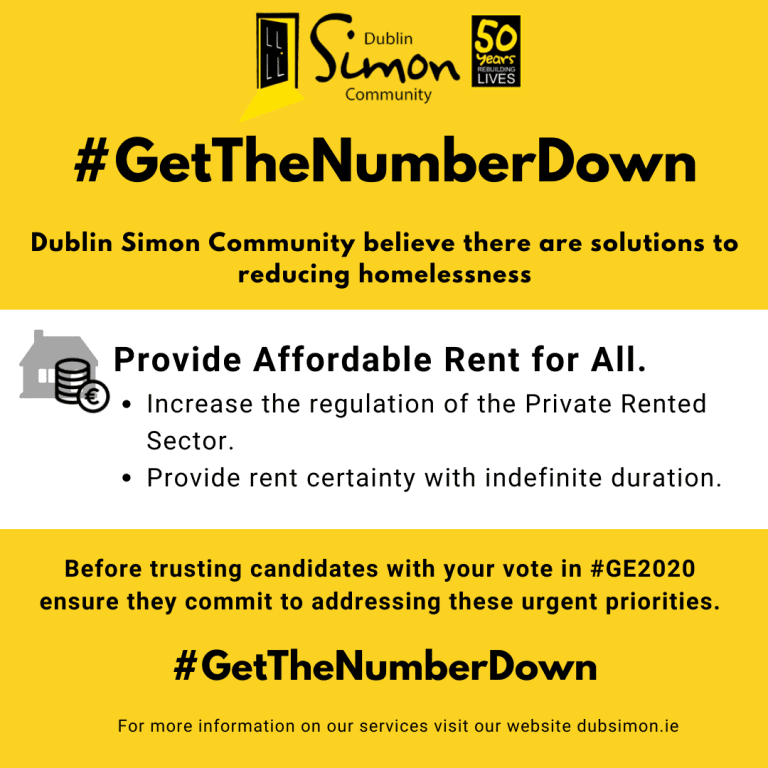 1,087 people accessed our Medical Residential Treatment and Recovery as well as our Aftercare, our Homeless Action Team and our Sure Steps Counselling services.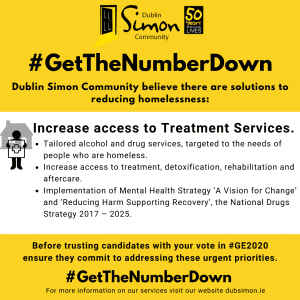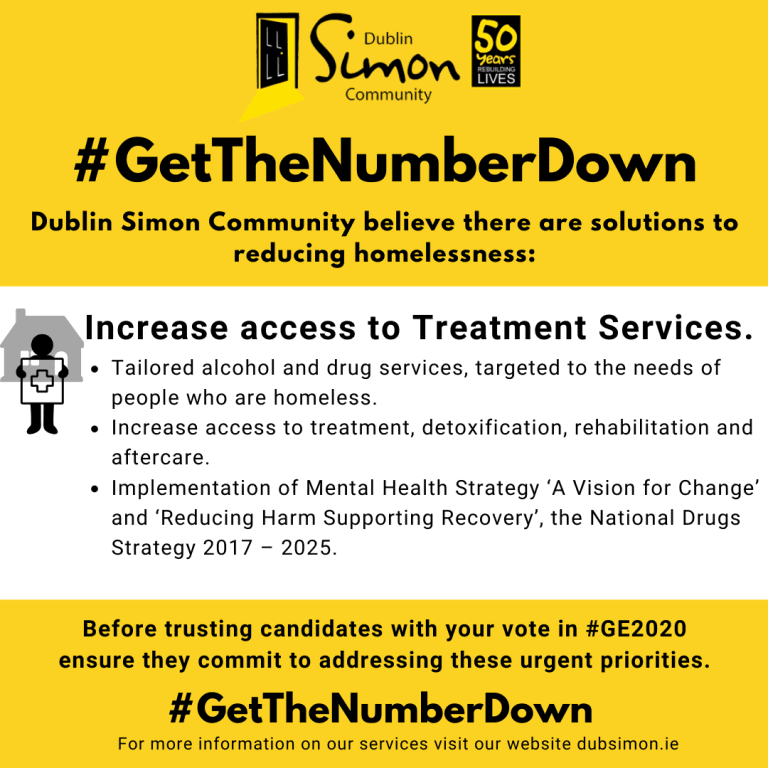 Sure Steps Counselling Service Information Stand
We hosted an information stand on our suicide prevention service in Croke Park this month. We wanted to connect services in the community who are providing suicide prevention services.
The Dublin Simon Community Sure Steps Counselling Service supports client in Dublin, Wicklow, Kildare and Meath who are exposed to homelessness to identify and connect to their inner strengths and develop psychological coping skills as a result of engaging with evidence based therapeutic counselling interventions and supports.
Since the service was established in 2012 referrals to the service have increased from 58 in 2012 to 390 in 2018.
Clients received over 2,438 hours of 1:1 counselling and mental health support from Sure Steps Counsellors who work across our services in the last year.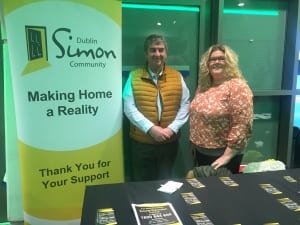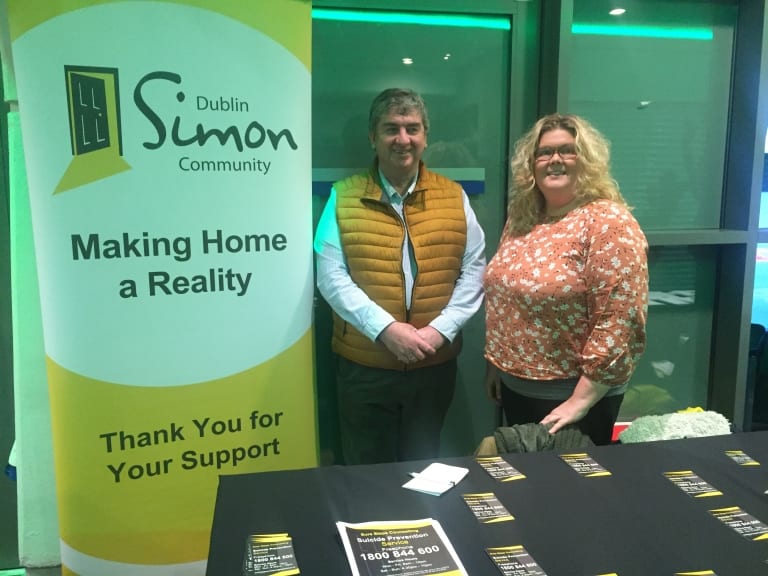 For more information on our Simon Counseling Service, go to our website: https://www.dubsimon.ie/what-we-do/treatment/simon-counselling-service/
Day In The Life Of: An Outreach Supervisor
Roisin Casey, Outreach Supervisor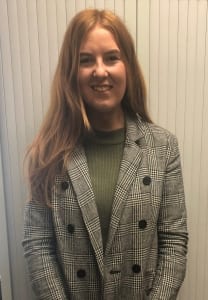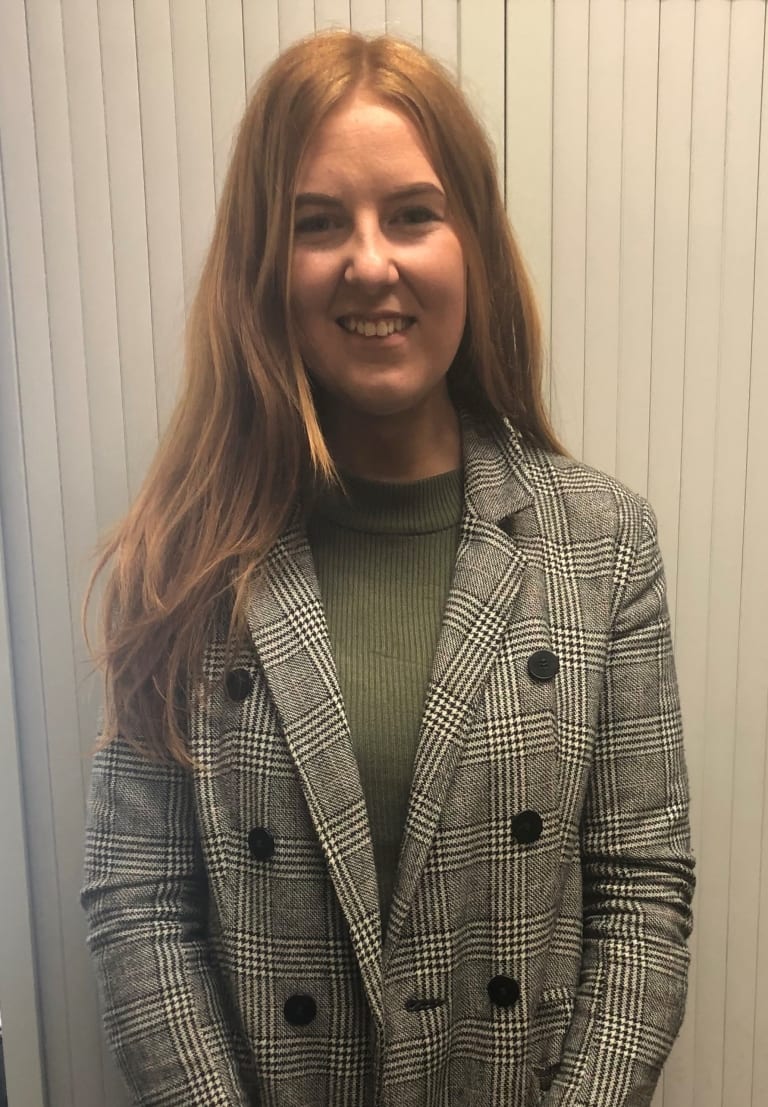 What does someone in outreach do?
Our team engage with rough sleepers daily from 7am-1am. We meet clients where they're at and work with them on their presenting needs, whether that's accommodation, detox, mental or physical health etc. No day is the same on outreach to be honest every individual we meet is unique. We are partly funded by the DRHE so we have around 40 beds a night -we would target individuals bedding down and offer them one of our beds.
A huge part of our job is advocacy and sign posting so we working closely with the four local authorities in order to ensure clients aren't falling through the cracks and support clients around accessing more stable accommodation.
We also work in partnership with Safetynet on Tuesday and Thursday on our Mobile Health Unit. On the unit is a nurse and a GP, we would target  rough sleepers we've met throughout the week and ensure they are getting the medical attention they need. Our team deliver an emergency needle provision service daily- we work off a harm reduction approach and deliver key information and advice regarding safer injecting, tolerance, overdose, naloxone etc.
What is your favourite part of working in outreach
For me personally its seeing rough sleepers move into long term accommodation or out of homelessness. Unfortunately you don't see it that often  because they're so entrenched in their rough sleeping so it's a long process. On the outreach team we have to celebrate the small outcomes or at least what seem small to others,  if someone is an entrenched rough sleeper for years and they try accommodation for even a night it's a huge step for the individual and our team, so it keeps us motivated and eager to motivate the individual to keep going.
Christmas Day in Social CLub
On Christmas Day we opened Social Club for our clients. This was organised by a team of dedicated volunteers from the Wednesday Social club and one of the volunteers Graham who works in Penneys HO. Graham organised with their caterers to provide us with turkey/ham dinners, soup and chocolate cake for the day as well as all these beautiful and festive table decorations.
We also opened New Year's Day ⭐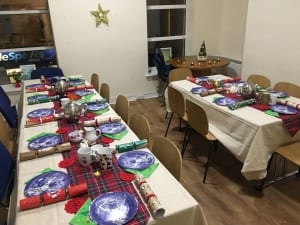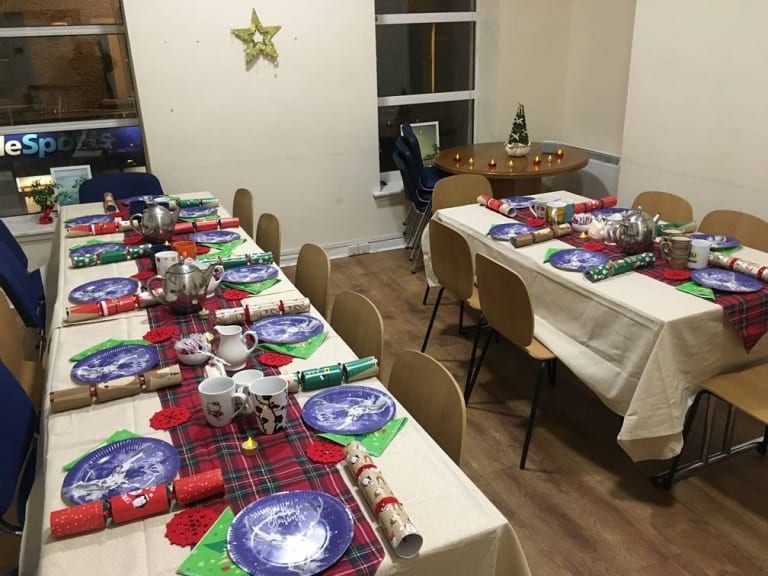 Our Social Club volunteers commit 3.5hrs every week, 52 weeks a year. If you would like to learn more about volunteering with Dublin Simon, go to our website: https://www.dubsimon.ie/get-involved/volunteer/
Camden Street Shop Christmas Window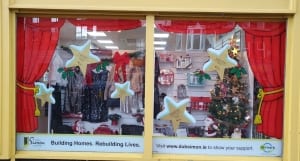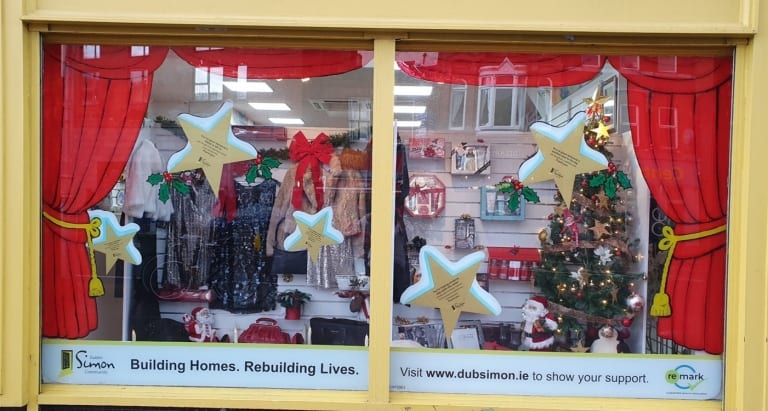 Dates for your Diary
Dates for your Diary: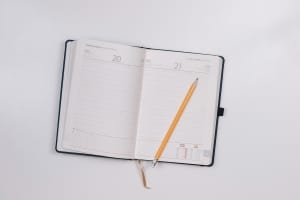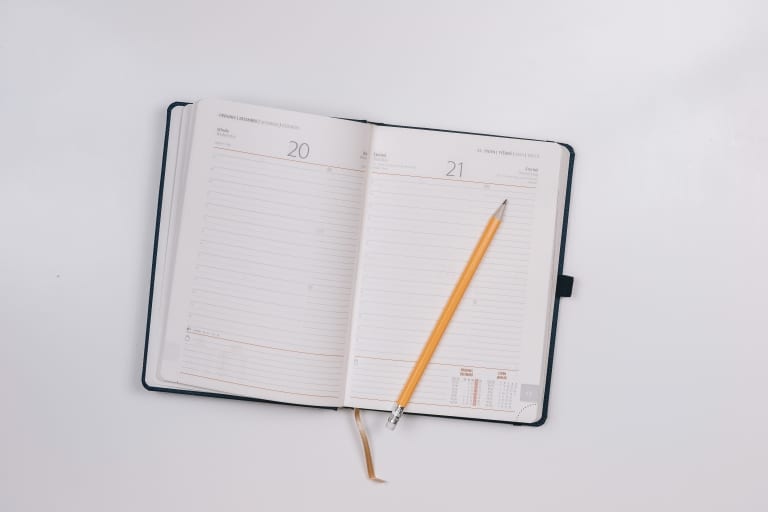 Simon Home Run – March 7th

Simon Home Run Signature Logo
Could all volunteers & staff please change their signature image to this. Right click – Save Image As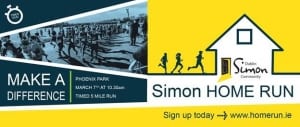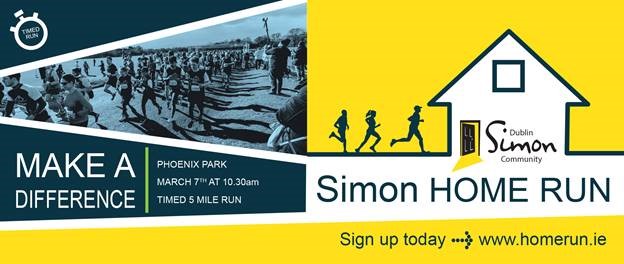 Thank You!
© 2023 Dublin Simon Community | Charity Registration: No. 20009892 | Charity Number: CHY 5963