Dublin Simon Community provides a Residential Recovery service across multiple locations for clients who have come through its detox and treatment programmes in Usher's Island. Recovery Manager Sharon Remidianakis gives an update on how the Recovery service at Ellen Hall is managing during Covid-19.
The Recovery programme involves a series of group sessions including the Recovery and Relapse Prevention Group (Monday afternoon) and a Life Skills Group (Thursday afternoon). The purpose of the Recovery and Relapse prevention group is to explore the psychology of addiction and sobriety through a 12–week programme. It focuses on the client's recovery journey and developing tools to prevent relapse such as mindfulness, gratitude, journaling, utilising external supports etc. The life skills modules are designed to touch on the areas of health, technology, employment, advocacy and education. Both groups are mandatory and all residents (up to 15) would attend.
Due to the Covid-19 pandemic and the need for physical distancing, we have had to review and make changes to our Recovery Group Programme and practice. We divided the group room to allow participants to be 2 meters apart as per the guidelines, which you can see in the above picture.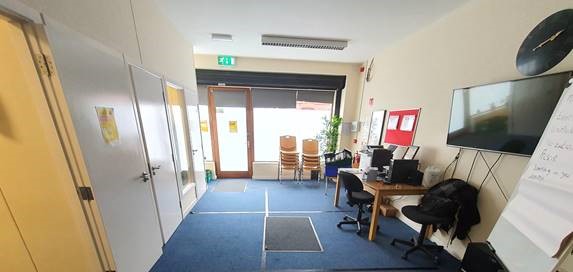 Ellen Hall Group Room – 2 meter areas marked out.
The Recovery service has a kick start meeting every morning as a way of informing clients of the events of the day and to energise and give a structure to the client's day. This takes place every weekday morning for 30 minutes. The Kick start is also mandatory, and all residents would usually attend at the same time. We have continued with the kick starts every weekday morning, dividing our client group so that we now have Kickstarts with three individual groups at 9.30am 9.45am and 10am to reduce the number of participants in each group to adhere to the social distancing guidelines. We have introduced meditation at the end of each kick start via YouTube videos to help with anxiety and stress at this time.
We have to put a pause on all of our other recovery groups both internal and external so to support our Recovery clients. Paul Mathews, one of the Keyworkers in Ellen Hall has started e-mailing all our Ellen Hall clients at the beginning of each week with online resources that will support our clients' personal development and wellbeing. Each Thursday we send an e-mail with resources related to their Recovery and consists of the following:
A classic book on psychology or self-development in pdf so that the clients can build up a library of books that can help them throughout their life. Last weeks was The Magic of Thinking Big by David Schwartz.
A minimum of 5 YouTube videos made up of Ted Talks and other relevant recovery or psychology topics.
I

nteresting

 online articles. Last 

weeks was dealing with anxie

ty during the Covid-19 pandemic and also Articles on well-being, psychology or recovery and last weeks was on emotions.

Paul has also recorded a video group each week that he would normally present in a live group setting which would include modules on relapse prevention and positive psychology
In conjunction with Aishling, our Art therapist, we have organised one to one Zoom sessions with Clients each Friday continuing the themes from live Art therapy sessions. The feedback has been very positive from the clients and we will continue to refine the content to make it more relevant based on the feedback that is received.
https://www.dubsimon.ie/wp-content/uploads/2020/04/dubsimon.png
831
895
Yoon Jeong Cho
https://www.dubsimon.ie/wp-content/uploads/2023/01/CHY5963-9.png
Yoon Jeong Cho
2020-04-21 15:46:35
2020-05-07 13:28:08
Changes to the Group programme at Ellen Hall