Your support can Rebuild Lives.

Thanks to our supporters our clients will have our community kindness by their side from the minute they enter our service. Every story is different and together with their key worker, they can develop goals that are unique to them, addressing what they need to move forward.
You can help provide these vital services by making a donation.
For people like Danny, after seven years without a place to call home, having a support team that encouraged him and believed in him meant everything as he started to rebuild his life. Read Danny's Story below.
Danny's Story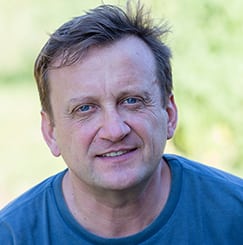 Danny* experienced homelessness for seven years after he could no longer afford his rent. Today, because of you and the commitment of people like you, Danny has received vital support from our treatment services and is looking forward to getting back to work.
"I was literally at rock bottom before I came into the Simon Community. I was seven years out on the streets, in and out of places. I had been renting and the landlord put the rent up and I just couldn't pay it.
"I was sleeping in the Phoenix Park and I went deep into depression. I just wanted to be on my own, I wanted to be isolated I just couldn't do it anymore. There was a night shelter I used to stay in and one of the staff members said he would refer me to Simon's Alcohol Detox service.
"When I went in I was nervous but I knew in my own heart and soul that I wanted to do it. I moved through the programme and then got a place in one of their Recovery Houses. I'm still there now. It's a lovely house.
"I had a great key worker Eleanor going through treatment. I could really trust her and I was able to tell her everything. I think in order to get the problem sorted you need to pull it from the root and work back up. She put me in touch with a counsellor Blathnaid from Simon's Sure Steps."
"I could feel myself changing. I was really starting to like myself again."
"My counsellor was brilliant. We just got on. I used to go and meet her in one of Simon's Counselling Rooms in Dublin each week. She was able to connect everything. I used to say it was like unloading my filing cabinet.
"I always see the good out of a bad situation now, it wasn't always like that, I can cope now. Maybe going through those seven years of pain with homelessness showed me how bad things were. I don't know how many times I tried to give up drink or how many times I went to counselling, none of it worked out. Simon put everything in place for me in here and it worked.
"I first linked in with the Community Employment Scheme through my key worker in Recovery and I've been doing it just over a year now. I started first as a caretaker, then I did art groups out in one of our supported housing services and looked after their garden. I had always loved art as a child so I had started to do some classes with Simon and it brought all that creativity back out of me."
"People often say to me how are you so happy? I tell them, I've found myself, I've got me back."
"I've recently moved onto Simon's maintenance team and that's going fantastic. I just keep saying to myself it can't get better. My goal in life is to work for myself doing maintenance or gardening so the CE Scheme has been great for courses and putting everything in place that I need.
"This morning when I woke up, the minute I got up out of the bed I was singing, just totally full of joy. It's great to be alive I was saying to myself. Now when I look in the mirror I see the person I always wanted to be. That's how I just keep going forward and forward. There's no way I'm going back."
Support more people like Danny this autumn.
*We are committed to supporting people to get back on their feet and
move on from homelessness. While we have used his real words, Danny's
name has been changed and a stock image used to protect his identity.
Autumn Update
Learn more about changes and developments in our services and how we are responding to the current crisis in our Autumn Update.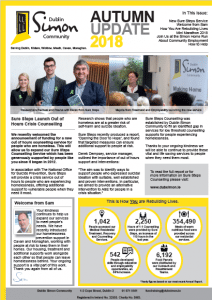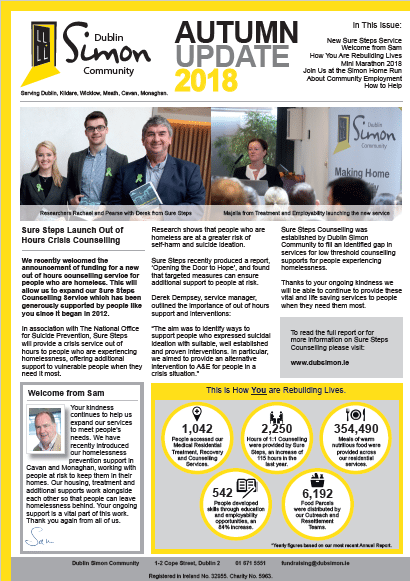 © 2023 Dublin Simon Community | Charity Registration: No. 20009892 | Charity Number: CHY 5963