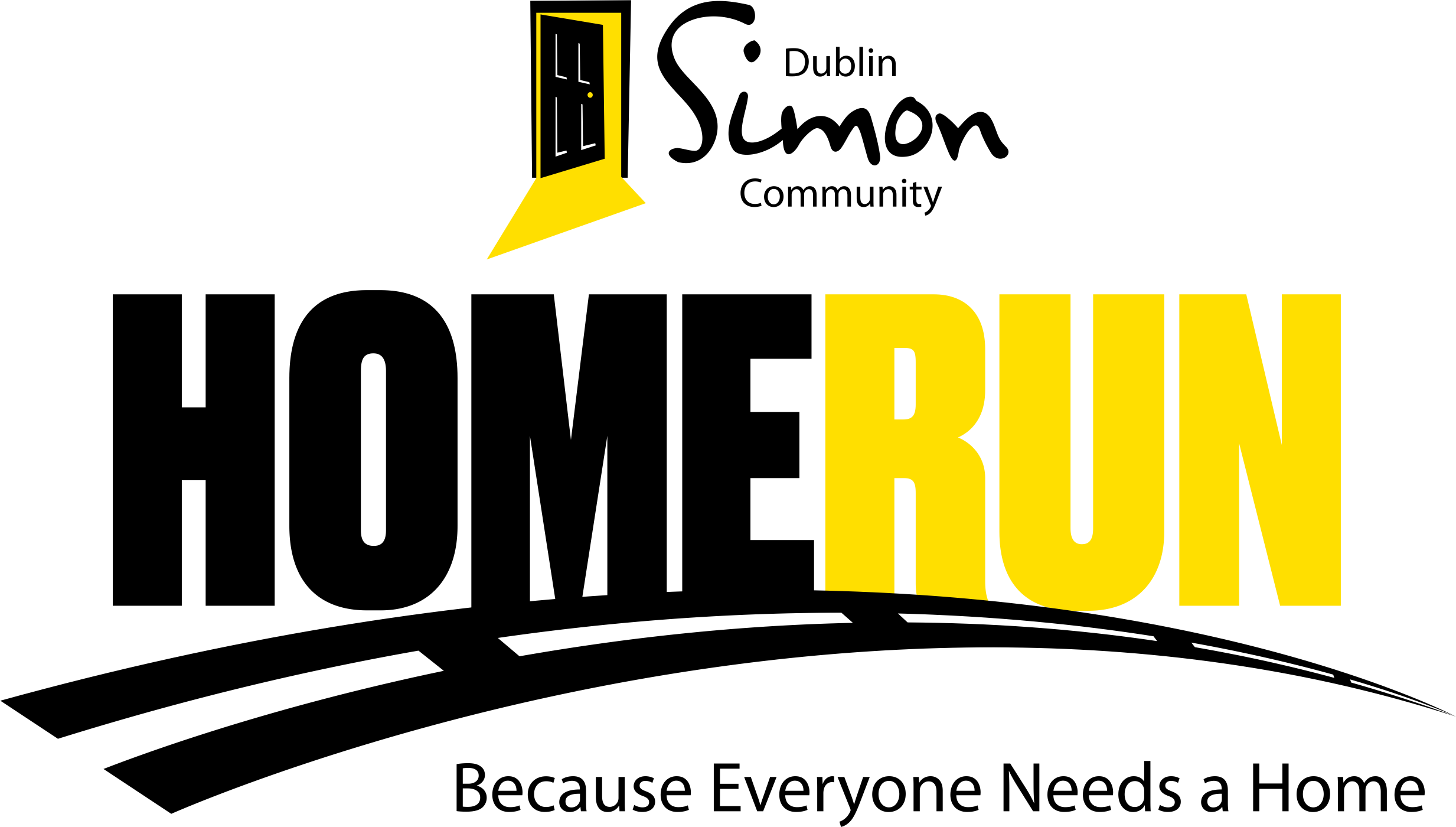 About Simon Home Run
Dublin Simon Community are delighted to announce the return of our largest and most exciting event, The Dublin Simon Home Run. 2023 marks the 40th year of our 5-mile race through our capital's beautiful Phoenix Park, taking place on 7th October.
The first Fun Run, as it was known originally, took place in 1983, making it the longest running charity event in the Phoenix Park.
This is more than just a run; each year members of the public, the business community, students, teachers, Simon Staff, volunteers and clients, take part in this fantastic event. They run, walk or jog; coming together as a community to challenge themselves and show their support for those experiencing homelessness.
Our festival village returns this year, where runners and their families can relax after the race. With live music, food and refreshments, and a host of other entertainment suitable for all ages, there's something for everyone at this year's Simon Home Run.
As you know, we are grappling with the worst homelessness and housing crisis we have seen in our over 50 years of service provision. As the rising cost of living and a shrinking rental market push more and more people into a situation they never thought they would be in. It is only with generous supporters like you that we can continue to be there for all those who come to our door.
Last year, we supported more than 6,000 people experiencing or at risk of homelessness in Dublin, Wicklow, Kildare, Meath, Louth, Cavan & Monaghan by providing services like emergency accommodation, addiction treatment, and counselling. All of these interventions support the most vulnerable in our society at every stage of their journey.
Getting there
Punctuality:
Punctuality is vital if the Home Run is to be a success. The Home Run is a professionally organised main road race and will start at 9:30am sharp.
Parking:
Parking will be located at:
Full details of available parking will be confirmed closer to the event date.  Please check the OPW website for up-to-date information regarding parking availability and restrictions within Phoenix Park.
Do not park on the route of the race or at the entrances/properties in the park, please adhere to all restrictions.
Directions:
By Car: Preferred entrance through Parkgate Street / Castleknock Gate
By Foot: Through the Chapelizod Gate.
Public Transport:
Bus Routes to the Phoenix Park: C5, C6, 26, 46A, 69
Luas: Red Line to Heuston Station, then 10 minute walk to Parkgate street entrance, and 15 minute walk to Phoenix Monument – warm up done! Please give yourself an adequate amount of time to get to the festival village.
Road Closures:
Road closures for this year TBC before the event.
About the course
The Distance: 5 Miles – 8.04672 km
The course is for any runners, joggers, walkers, people in wheelchairs, people with buggies, and everyone in between!
The Home Run starts approximately a ½ mile from the Papal Cross down Acres Road and heads towards the Phoenix Monument. It takes a left turn at the Phoenix Monument and heads up the Main Road (Chesterfield Avenue) towards Mountjoy Cross. The first mile is very flat with a very slight incline. Your only real enemy here might be wind or rain.
The Home Run then progresses to Mountjoy Cross and takes a left onto Survey Road. Again, this part of the course is flat with no hills in sight!
The road naturally progresses along Corkscrew Road and heads towards Chapelizod Gate. This part of the course is flat at the start of Mile 2 to downhill on passing Mile 3. It is by far the fastest part of the course, but don't be fooled, what goes down must eventually go up! Enjoy the downhill but reserve your strength for the last 2 miles.
Starts downhill from the entrance to the Cheshire Home, veers left and progresses along St Mary's Avenue, where a Water Station is located.
As stated earlier you are proceeding downhill at a rapid pace when you turn left onto the Kyber Road. Wheelchairs be careful as the bend is a sharp left and your speed will be at maximum here! Taking the left here leads you gently along the Kyber Pass which steadily proceeds uphill all the way up to the finish line at the triangle opposite the Papal Cross. This is a tough finish as the last ¾ mile is a steady uphill incline.
FAQ's
Q:  When is Home Run taking place?
A:  7th October 2023
Q:  Where can I register?
A: Registration is online here
Q:  What time is the race?
A:  Race starts at 9.30am sharp
Q:  Where is the Run located?
A:  Papal Cross, Phoenix Park. The start line is on the Acres Road just past the Papal cross, and registration is at the Papal Cross triangle. The course is a loop and the finish area is also located at the triangle.
Q:  What is the route?
A:  The race takes a five mile (8k) route through Phoenix Park, starting on Acres Road, turning left down Chesterfield Avenue, with the final mile up Khyber Road to the finish line. This route is exclusive to our race, no other race takes this route around the park.
Q:  Who can participate in the Home Run?
A:  Home Run is for everyone! We welcome elite runners, joggers, walkers and now even buggy pushers to come and join us on the day!
Q: How much does registration cost?
A: The cost of participation is €20 + processing fee (€2.50). There is an early bird of €15 if you register before 30th May 2023. This includes the race, timing chip, and a medal. You can purchase a special edition Home Run 40th year running top for €15 at the time of registration. There is a lucky dip of past Home Run running tops for €5 each."
Q:  How is my time measured?
A:  Our race is professionally chip timed. The chip is embedded in each runner's race number, which will be posted to them before the race. Late registrants can collect their race number on the day. Each runner's will receive their time via email shortly after the race.
Q:  Where is the disabled access?
A:  The site is accessible for people with a physical disability. If you think you might have have special requirements, please let us know by emailing events@dubsimon.ie
Q:  Will water be provided during and after the race?
A:  There will be a water stop halfway around the course and drinking water available at the finish line for runners.
Q:  Will there be music?
A:  There will be musical entertainment at the festival area at the finish line.
Q:  Will there be toilets?
A:  There will be toilet facilities onsite.
Q:  What if I need medical attention?
A:  St. John's ambulance will be on site.
Q:  Can I register in person, on the day?
A: You can register on the day at a cost of €25 per runner.
Q:  Will there be parking?
A:  There will be road closures in place to facilitate the race. Parking details will be available closer to the date.
Q:  Will there be road closures?
A:  Road closures and traffic diversions will be in place for the duration of the race. These are detailed on the signage on each gate of the park.
Q:  Can I volunteer at the Home Run?
A:  We welcome anyone who would like to volunteer as a race steward. Please contact our team at events@dubsimon.ie
Q:  What I just want to watch the race?
A:  Family and friends are encouraged to come and support the runners. After they have cheered them on, they can avail of the entertainment in the festival village.
Q:  How can I sponsor a runner?
Tips for race day
Do's:
Have a light breakfast on the morning of the Home Run.
Arrive early and relax.
Stretch your calf muscles before the start (straight legs, try to touch the floor).
Light, easy warm up before the start.
Get into the time zone that suits you (i.e. 25-40 minutes, 40-50 minutes, 50+ minutes).
Start slow and get into your natural running speed.
Walk if you get a stitch.
Bring a small bottle of water, sip slowly, do not gulp.
Have fun en route and enjoy the experience.
Remember the start of the Home Run is 700 metres from the tent village/registration area – allow 15 minutes before the 9.30am start time to walk to the start line and take your place at the starting line.
Don't's:
Do not go to the front line unless you are a serious runner. You will be blown away at the start and 5 miles is a long way if you start too fast – relax!
Do not over do the warm up. Easy warm-up is best.
Do not over drink water before the run. It will lodge in your stomach; sip slowly!
Home Run 2023
If you would like to take part in ways other that racing, you can volunteer to be one of our amazing race stewards on the day. Fill out your details below and we will be in touch.
© 2023 Dublin Simon Community | Charity Registration: No. 20009892 | Charity Number: CHY 5963