The current homeless and housing crisis has trapped men women and children in the revolving door of homelessness. Daily we are witnessing people who have come through Simon Community supported services who are ready to live independently but are unable to break from the cycle, forced to remain in unfit temporary emergency accommodation. In response to this urgent crisis, Dublin Simon Community established the Simon Capital Development Fund in 2012, using any large donations and bequests to help fund our housing programme and redevelop not fit for purpose units.
We are now working towards an aggressive 5 year strategic plan with the aim of acquiring an additional 480 bed units with the potential to help over 750 men, women and children move from homelessness to a place of their own. Since it's inception in 2016 we have provided permanent homes for over 260 adults and children who were at risk of or experiencing homelessness.
In order to finance this, we are accessing Government Grants through Capital Assistance and Leasing Schemes (CAS & CALF), the Housing Finance Agency (HFA) and through our own Simon Capital Development Fund.
200 units, housing over 250 people, will be acquired using Government Grants schemes and general leasing from landlords and local authorities.
280 units, housing up to 500 people, will be acquired using HFA Mortgage Debt and €20M from Private Donors/ The Simon Capital Development Fund.
Social Housing & Our Role
Previously, local authorities provided nearly all social housing. However, in recent years, provision has been granted to approved housing bodies. Our role is to provide specialist housing for men, women and children experiencing homelessness in Dublin, Kildare, Wicklow and Meath. Our accommodation is of the highest standard and strategically located near existing Simon support services so that clients can access the support they need to maintain their new home.
Approved Housing Bodies (also called housing associations or voluntary housing associations) are independent, not-for-profit organisations. They provide affordable rented housing for people who cannot afford to pay private sector rents or buy their own homes; or for particular groups, such as older people or homeless people. Our housing stock has continued to grow significantly year on year since being granted Approved Housing Body status in 2012.
Dublin Simon Community has a strong record of managing social housing; we offer innovative social housing solutions to local authorities, developers, HSE and voluntary organisations. Our ongoing partnerships with leading social landlords mean that we are ideally placed to share best practice and develop innovative solutions geared towards ensuring tenants and housing providers receive the best possible service and both are supported to achieve sustainable communities.
Acquisitions
PROPERTIES REQUIRED URGENTLY
Dublin Simon Community have a large number of clients looking for a place to call home
We have an operational requirement for the following in Dublin, Kildare, Wicklow and Meath:
Self Contained Units ranging from clusters of 5-30
Pre 63 and other properties that can accommodate 10-30 beds
Vacant possession required
If you have similar properties to sell please contact us urgently on 01 635 4873 or email us directly property@dubsimon.ie
The "housing crisis" is a phrase we hear so often, it has almost become meaningless. But make no mistake – this is an urgent, desperate situation and it is affecting thousands of Irish people from every background, every day. By delivering specialist short and long term housing, we are giving people a chance to regain their dignity and purpose.
By contacting us today you will help us to re-build lives.
Construction & Development
Usher's Island Redevelopment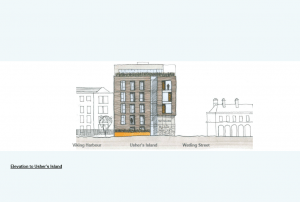 © 2020 Dublin Simon Community | Charity Registration: No. 20009892 | Charity Number: CHY 5963