Tax relief on donations of €250.00 or more means that Dublin Simon Community can make your generosity go even further to help those experiencing homelessness.
Make Your Donation Grow
| | | |
| --- | --- | --- |
| Donation amount | Tax refund amount | Total donation + tax refund |
| €250 | €112.32 | €362.32 |
| €500 | €224.64 | €724.64 |
| €1,000 | €449.28 | €1,449.28 |
For each donation totalling €250.00 or more, we can claim an extra €112.32+ in tax back from the Revenue Department. This additional funding is invaluable to keep our services running throughout the year! This amounts to 31% extra for each donation, the larger your donation, the higher the amount that we will receive back from Revenue.
Donations Made in 2016 & Subsequent Years
Click the below image to download form CHY4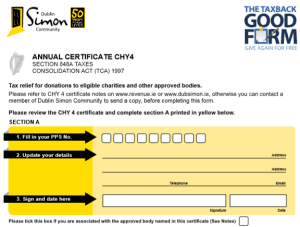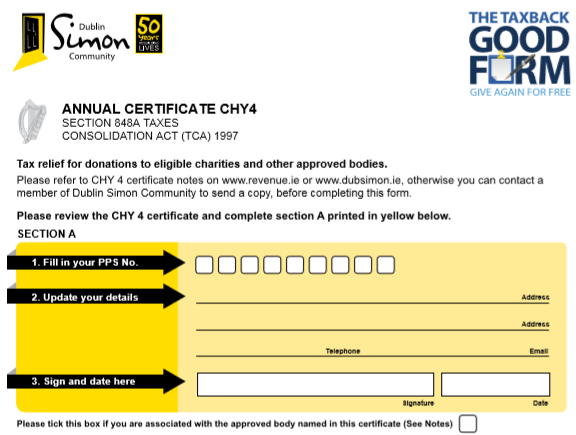 We can now claim the tax back for self-assessed tax payers as well as PAYE tax payers who have made donations totalling €250.00 or more per tax year from 2016 forward. Claiming this tax back for Dublin Simon Community applies to one-off donations or separate installments in a given tax year, such as monthly donations.
If you want to sign up for 5 years
Click the below image to download form CHY3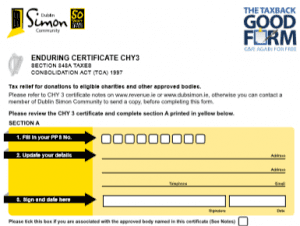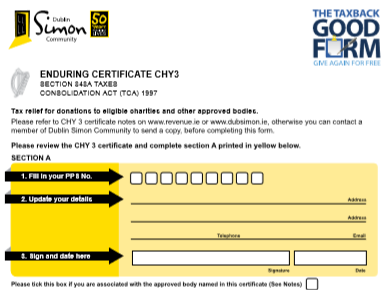 You can now sign up to give Dublin Simon Community permission to claim the tax back on your donations for the next 5 years or the previous 5 years if you have never submitted a form. This will benefit us as it will ensure less time and money is spent on administration and will be more convenient for you. It does not mean that you are committing to donate for another 5 years, it means if you do choose to donate again, we have the permission to claim the money back on your future donations.
Simply go to dublinsimontax.ie to submit your form online or download the relevant form(s) above, complete your details, sign and send back to us at the below address:
Fundraising Department
Dublin Simon Community
5 Red Cow Lane,
Smithfield, Dublin 7
If you have any questions please call us on 01-4722150 or email fundraising@dubsimon.ie for advice.
Companies who donate to Dublin Simon Community can themselves avail of tax relief on their donation as we are a registered charity, our registered charity number is 5963.
Thank You for Your Continued Support and Generosity
© 2023 Dublin Simon Community | Charity Registration: No. 20009892 | Charity Number: CHY 5963