The CE Engagement Project
Community Employment Engagement Project (CE Engagement) – a Homeless Specific CE Scheme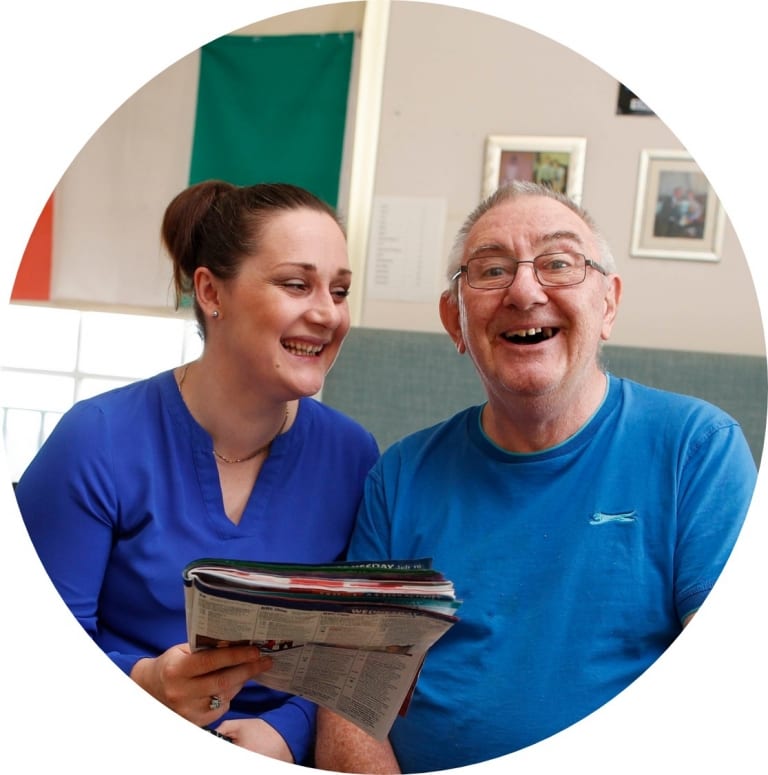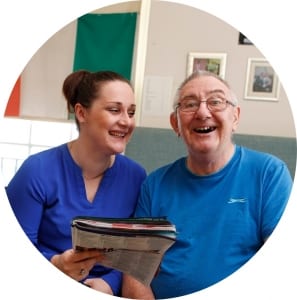 For many homeless people, work is a central part of their journey away from homelessness. It can build self-esteem, enable financial independence and bring a sense of meaning and possibility to people's lives.
CE Engagement scheme provides a part time structured employment and educational programme which consists of 1:1 support & guidance, training and variety of internal supported work placements, which appeal to different personal and professional backgrounds, and also different interests.
Adam*
"I had been out of employment a number of years as a result of my experience with being homeless. I was so fortunate to be offered a CE position that I felt was tailored to my previous experience. The initial structure that the position provided to me in my daily life was so beneficial from the outset. I have developed my interpersonal skills with colleagues and service users of the Dublin Simon Community. Prior to starting on the CE Engagement scheme my confidence and self-esteem was extremely low, and I was struggling with the guilt, shame and stigma of homelessness. Today I use that same experience to stand up in front of people and share those same experiences in a positive and I hope beneficial way for others. The training I have undertaken through the scheme is enabling me to chart out a longer term strategy to gain full employment in the labour market. I feel very confident today that I will achieve those goals."



Conor*
"It has helped me and guided me to achieve my goal, which is to get back into full time employment. I have got many certificates for courses at level 3 and level 4 which all helped me in the early stages of my CE scheme. We also did a lot of team bonding which I found to be very important. My CE scheme supervisor, was and is always there if we need to have a one to one chat about job opportunities or how you are getting on in general. The work she and her team puts in every day is huge. The opportunities and supports they put in place for us to work with have helped and will help me and all my CE scheme work colleagues to achieve our goals. For this is not just any CE scheme it's Dublin Simon Community CE Engagement scheme and it's run by staff who take pride in getting people back into a working environment and put a stamp on their future."



Julia*
"The CE scheme was a huge support for my personal development. To have a job and to work with a very well-known organization Simon Community meant a lot. Professionally all the training courses and the coaching that was provided for my role in the CE scheme helped me to have a very solid foundation for my new present employment as a Carer-I recently got. Also it allowed me to be part of the Client Action Group and Mental Health Campaign for Homeless People and contribute as a woman, migrant and a mother. I am so grateful for this opportunity I was granted."
Patrick*
"Participating in the CE scheme has given me a purpose in life and the opportunity to keep myself stable in my recovery. In the past years, I faced many personal problems which led me to lose self-esteem and self-respect as well as respect of others. Since I joined the CE Engagement scheme I got back confidence in my recovery otherwise I don't know where I would in the future. But now, I have a routine every morning and structure in my life because of the responsibilities that I have in my work placement. Personally, the CE impacts my life because it provides me with the supports that I need. It gives me the opportunity to get involved in my community, family, colleagues, neighbours etc. I feel proud of myself and can walk among people without feeling ashamed as I have a job which I feel proud of. It gives me a positive and optimistic perspective of life. It also benefits my family as they are proud of me. Professionally it gives me structure, responsibilities and also the opportunity to get trainings and continue my professional development at my pace because of my age."
*names have been changed.
History of the CE Engagement Project 
2014

Dublin Simon Community identified a gap in employability services for individuals experiencing homelessness (greater support and supervision needs)

2014

A year-long joint collaboration with the Dept of Social Protection started in the development of Community Employment Engagement Project

2014

2015 Sept

Start of a two year pilot of new Community Employment Engagement Project (13 participants, 1 CE Supervisor)

2017 Nov

Pilot was successfully conducted & scheme mainstreamed by Dept of Social Protection

2017 Nov

2018 May

Meeting with Minister for Employment Affairs and Social Protection Regina Doherty

2019 Jan

Received approval for Community Employment Engagement Project Expansion – 26 participants, 2 CEE Supervisors

2019 Jan
© 2021 Dublin Simon Community | Charity Registration: No. 20009892 | Charity Number: CHY 5963