50th Introduction 
In February 1969, a small number of volunteers made up of students from University College Dublin and Trinity College, packed up their flasks of soup and sandwiches and set out on the streets of Dublin to provide food and support to people experiencing homelessness.
Within a few short months the volunteers had set up a base on Winetavern Street, in a house owned by the Franciscans. They later moved onto Sarsfield Quay by the Liffey. This marked the beginning of Dublin Simon Community and this year we are commemorating 50 years of helping people to rebuild their lives.
Simon offered a different kind of service for those experiencing homelessness which demonstrated a more caring side to society. Simon was a community, offering a radical alternative to institutional care. The Simon Community was named after Simon of Cyrene, a figure from the New Testament who helped Jesus carry his cross. The "Simon" ethos was to be non-judgemental, to accept people as we found them and offer unconditional help – a community in it for each other.
Over the past 50 years, Simon has served people fighting for survival, robbed of humanity and dignity. They were homeless, roofless and isolated and needed nourishment, shelter, acceptance and respect. Because of the commitment of staff, volunteers and supporters like you, in the months, years and decades that passed, thousands of shattered lives have been rebuilt and saved. People are depending on us and it is because of your work that we can encourage people to get back on their feet, with Simon by their side.
Many thanks, your work is appreciated.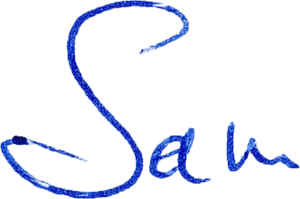 Get the Scoop on the early days...
Find out about the early days of Dublin Simon Community through stories from volunteers, clients and reports in the media.
Irish Times, 16th May 1969
"We cater for people who are not able to avail of the services offered. We must go out to them because they cannot come to us and accept them as they are, on their own conditions."
Read more quotes and stories by clicking the image below.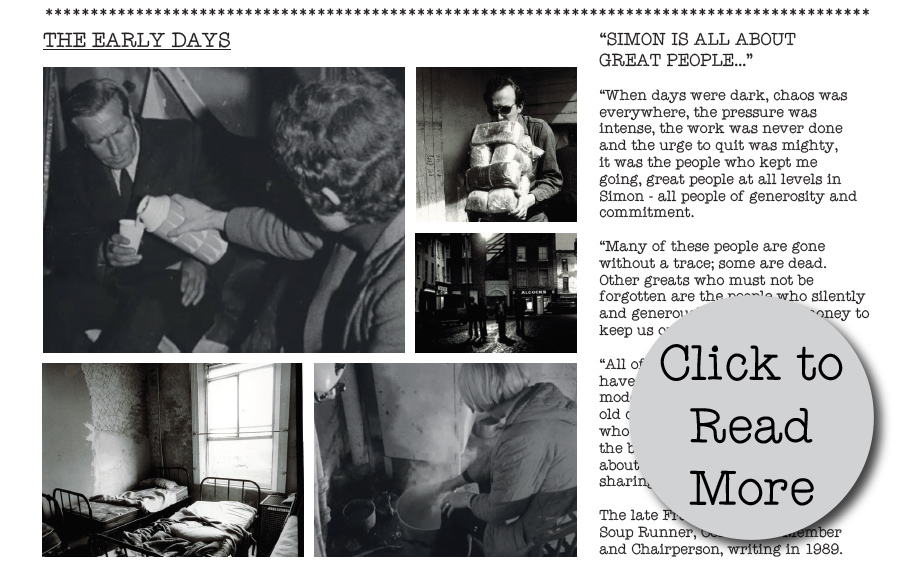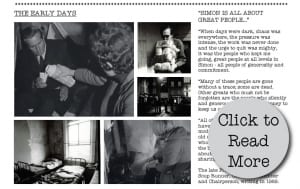 Simon Soup Run 1969
Back in 1969 when the Dublin Simon Community was first established, RTE's 'Seven Days' programme took a look at how a new group of volunteers were helping people who were homeless in Dublin city.
In this excerpt from 'Seven Days' some of the members of the Dublin Simon Community describe the work they do, and the places they look for and find the homeless.
This 'Seven Days' report by Rodney Rice was broadcast on 21 October 1969. Footage courtesy of RTE Archives.
March Activities
To celebrate the achievements and contributions of those working to prevent and alleviate homelessness and it's impact, President Michael D. Higgins invited staff and volunteers of Dublin Simon Community to Áras an Uachtaráin on St. Patrick's Day.  In his annual St Patrick's day speech, he gave special mention to the hard work of staff and volunteers:
"I am both moved and impressed, and made grateful as President of Ireland for your commitment, dedication and great compassion as you continue to give of your time, skills and human spirit of generosity to enable those who are homeless to shape and craft a future of hope and expectation, a future where they can plan, aspire and contribute to society from the shelter of a place that they can now call home."
Thank you to President Higgins and Sabina Higgins for welcoming the Dublin Simon team to Áras an Uachtaráin for St. PatricksDay⁠, ⁠in recognition of their commitment to supporting people experiencing homelessness.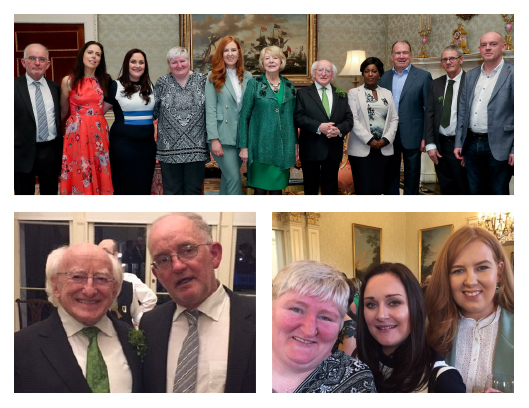 © 2020 Dublin Simon Community | Charity Registration: No. 20009892 | Charity Number: CHY 5963