Sam's Welcome:
On the 26th September, the Minster for Housing, Planning and Local Government, Eoghan Murphy, launched our Annual Review in the Mansion House, which highlighted our support for over 1,560 households (3,404 people) from being in emergency accommodation.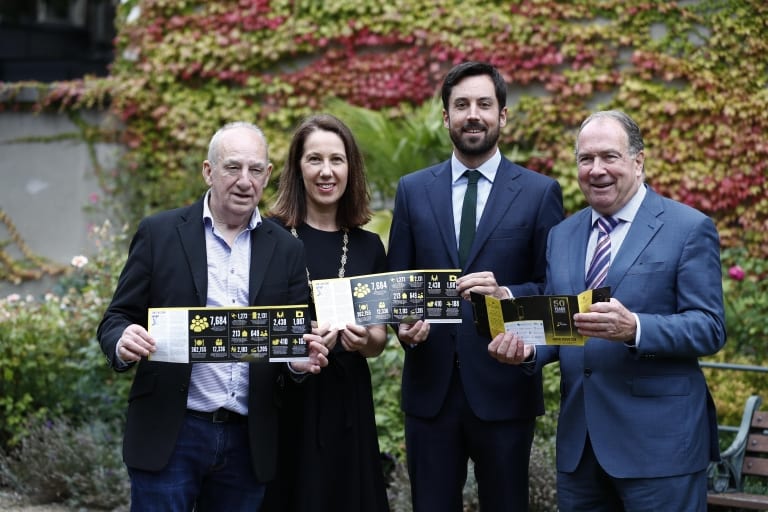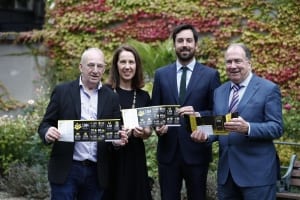 Looking back on 2018, the homeless and housing crisis tragically escalated. We continued to progress our acquisition and redevelopment plans, providing more housing options for people to move on from homelessness and into a home of their own. We established new services, such as our Suicide Prevention Service, as well as Our Step Up Step Down facility.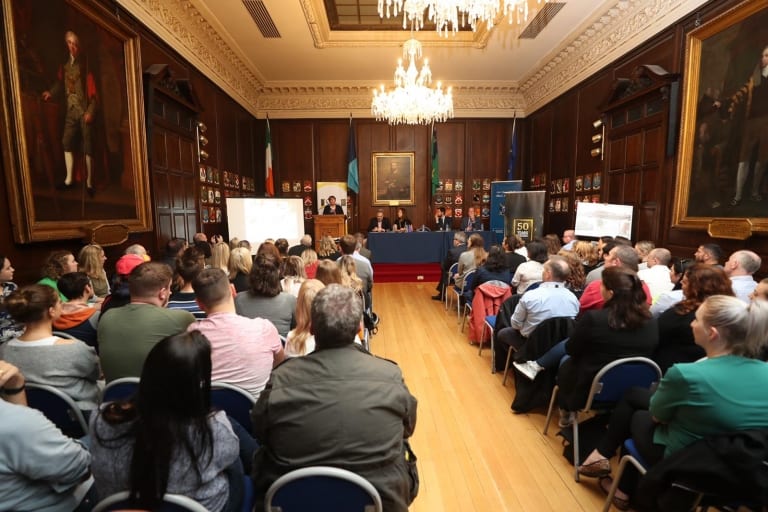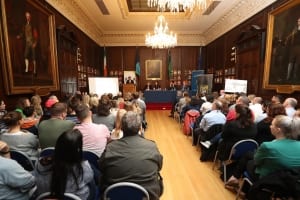 We supported 7,684 people and families across our services, a 22% increase since the previous year. 213 Residents lived in our permanent supported housing, receiving assistance with health and welfare, education and training. 649 Adults and children were housed in our independent housing.
It was also a monumental occasion as Minister for Housing, Eoghan Murphy, announced the development of our 100-bed Medical Treatment & Recovery Facility at Ushers Island.
We must acknowledge the funding support from Minister Murphy, the Department of Housing officials and Department of Health, plus the extraordinary support of Dublin City Council Deputy Chief Executive, Brendan Kenny, and senior executives of the HSE, all of whom were essential in making this happen.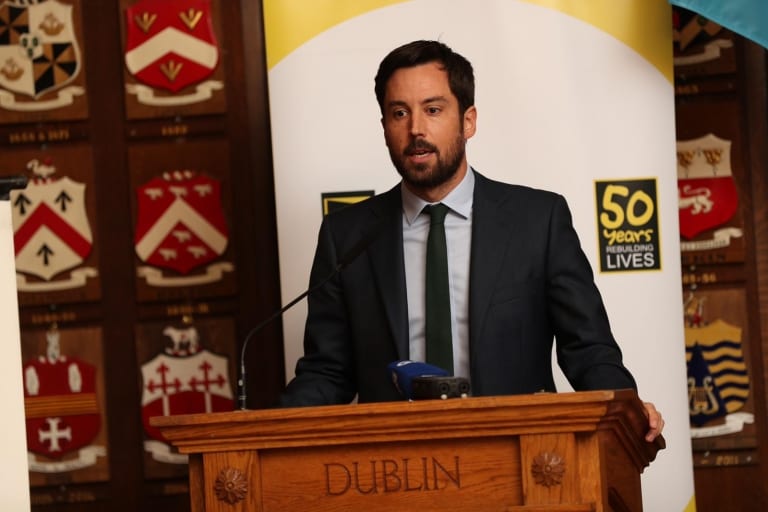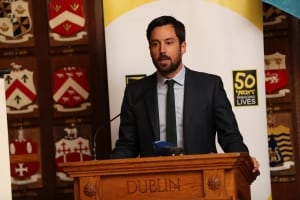 Without their continued vision and commitment this resource for people could never happen. This new purpose-built facility at Ushers Island is not about just changing lives, it will save lives.
I encourage you to read the full report here to see the full impact of our work.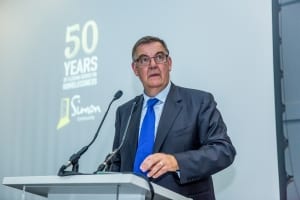 Last week we enjoyed the Business Journalist Association of Ireland (BJAI) Quiz, hosted by RTE's Bryan Dobson. Every year the event attracts some of the top names from the legal, business and communications sectors and raises more than €50,000 for us. €600,000 has been contributed by this event over the past 19 years.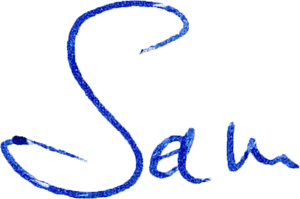 Annual Report Launch with Eoghan Murphy
MINISTER FOR HOUSING ANNOUNCES GREEN LIGHT FOR NEW 100-BED FACILITY AT LAUNCH OF DUBLIN SIMON COMMUNITY ANNUAL REVIEW
Annual Review highlights that Dublin Simon Community supported over 1,560 households (3,404 people) from being in emergency accommodation in 2018.
At the launch of the Annual Review Minister Eoghan Murphy announced the development of a 100-bed Medical Treatment & Recovery Facility at Ushers Island for people who are homeless or at risk of homelessness.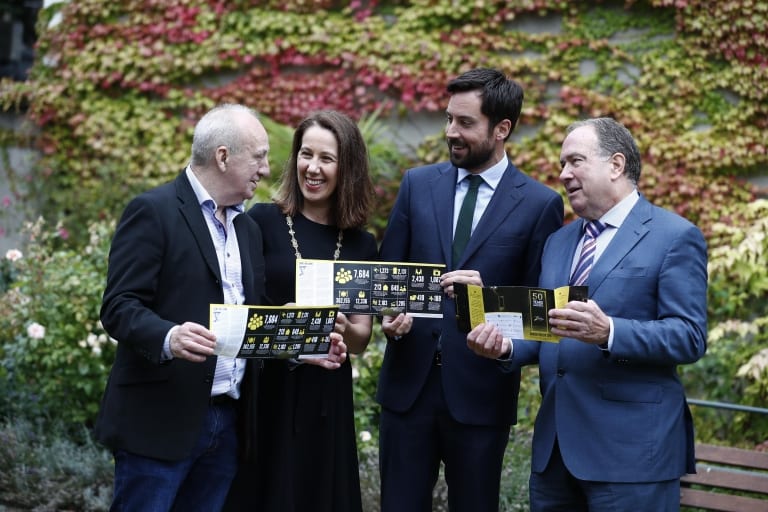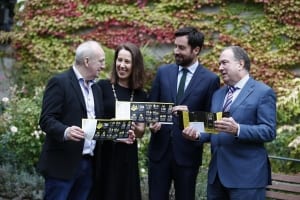 You can read the full report here to see the full impact of our work.
You can read the press release here.
Business Journalists' Quiz
The Business Journalists' Quiz is an annual fundraising event put together in collaboration between the Dublin Simon Community,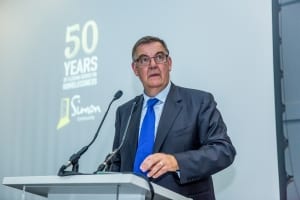 the Reputations Agency PR Firm and the Business Journalists Association of Ireland (BJAI). The event is a large-scale quiz with 40 different companies sending on teams of four to compete alongside a business journalist, with spot prizes and refreshments available throughout the evening. This year's event took place on the evening of Wednesday, 25th September in the Radisson Blu on Golden Lane, attracting over 200 attendees from over three dozen companies from the Dublin area.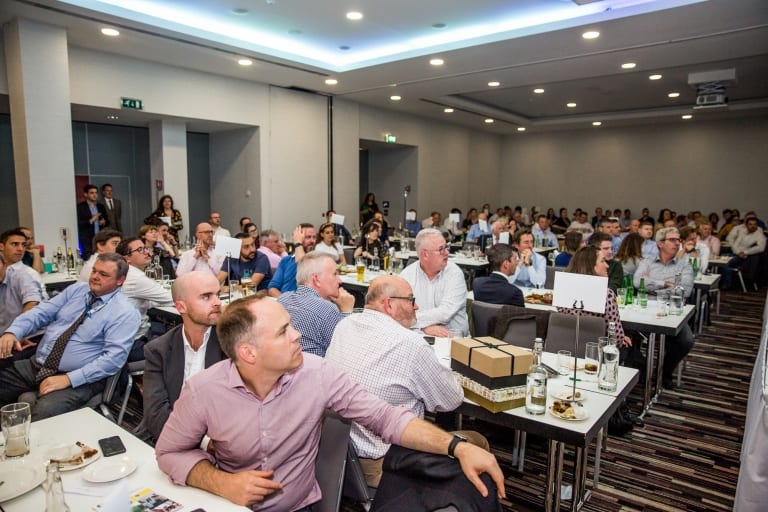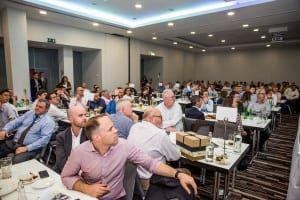 Since 2012, the BJQ has raised over €600,000. The 2019 Quiz, sponsored by An Post and the daa, brought in about €40,000 for our organisation, clients and services. The fun-filled evening featured Bryan Dobson as Quizmaster, former Tánaiste and current Senator Michael McDowell, as well as senior journalists Barry O'Halloran (The Irish Times) and Donal O'Donovan (The Independent).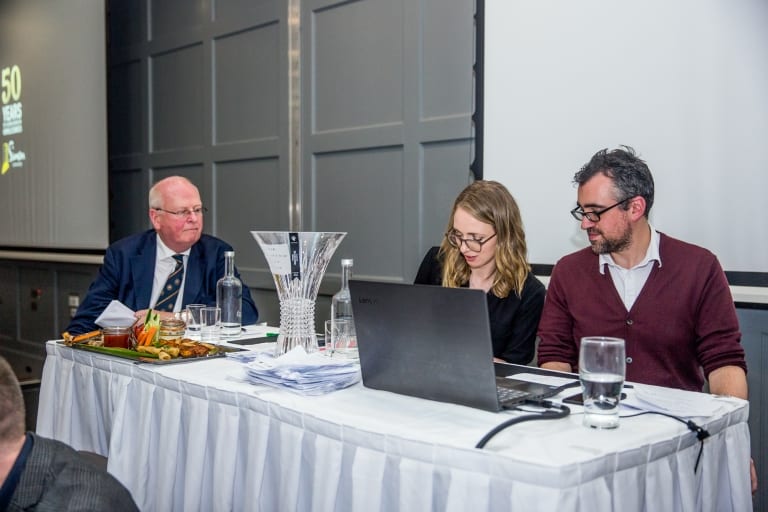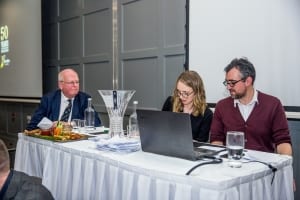 An enormous thank you to the entire Fundraising team for sending volunteers on the evening – the event couldn't have gone on without everyone's support. As well, a big well done to the Dublin Simon quiz team who represented our organisation on the evening!
Written by Shane Brannigan, Senior Corporate Partnerships Executive

Sustainable Fashion Pop-up Market, Culture Night
The Shops were invited to take part in the Culture Night activities in D-Light Studios on Friday September 20th. The studios opened their doors to the public from 6pm until 10pm. The Shops team were on site with a stand (pictured) as part of the pop-up market which included other sustainable enterprises. The night itself was made up of a host of multi-disciplinary activities from art installations to performance art and other mediums. Music was provided by a range of DJs. It was an immerse evening of urban art forms and we were delighted to be have had the opportunity to take part in such a fun and creative event. We met loads of new customers and we were able to talk to people about the work Dublin Simon do.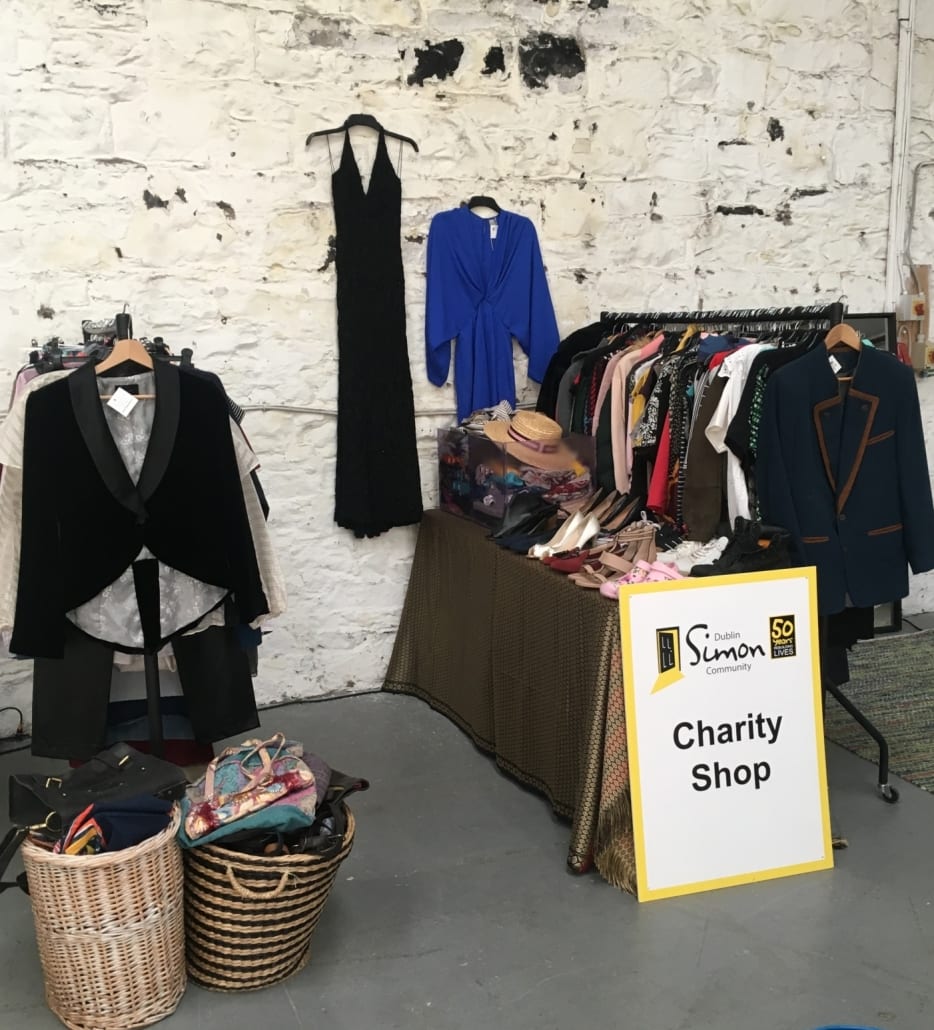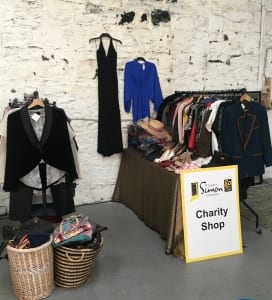 Check out https://www.d-lightstudios.com/ for more information on upcoming events in D-Light Studios.
Written by Katie Donohoe, Shop Supervisor
World Cup Rugby Breakfast & Client Screening
Public Event
Some early morning rain didn't dampen the spirits of those that had come out to support the Dublin Simon Community World Cup Rugby breakfast event taking place in Dtwo on Sunday morning.  As the curtains raised on Irelands home game against long standing rivals Scotland, early morning revelers enjoyed warm breakfast baps along with tea and coffee, watching in anticipation as James Ryan crossed the line for Ireland's first try.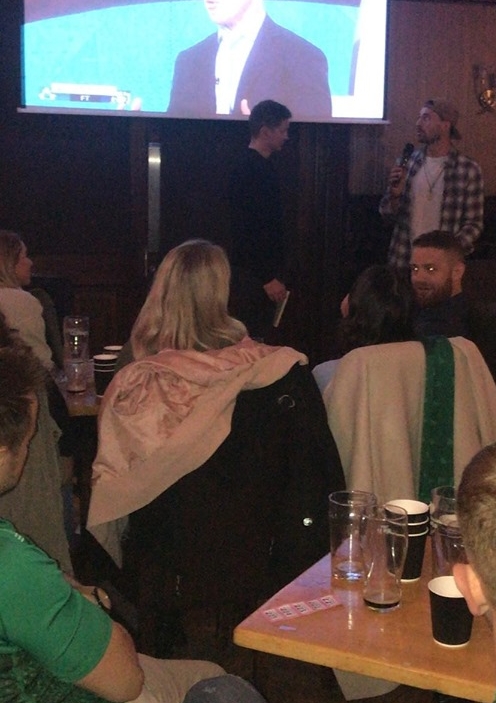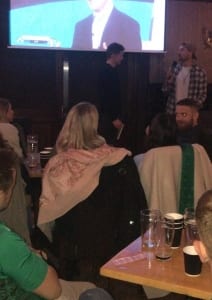 A dominant first half kept fans on their feet, resulting in a well-deserved sit down and refreshment reload for half time. A very much sought after Leinster jersey that was personally worn by Jonathon Sexton and signed by the entire Leinster team was up for grabs in the raffle, went down a treat with attendees, and even with its eventual Munster winner.
With a bonus point win for Ireland, thanks to the fourth try by Andrew Conway, fans caught their breath and took time to enjoy a drink, along with some post match analysis.  Rugby guru and Joe.ie producer Rob O'Hanrahan joined us alongside Ireland's Rugby 7's player Harry Mc Nulty (coming straight from our client event) who gave us a full debrief on the game and their thoughts on Ireland's chances this year. As Ireland kick on with the next game against Russia, we are hopeful of a Quarter Final place which hopefully means another rugby world cup breakfast is on the cards. Watch this space!
Client Event
The private cinema space at Brooks Hotel, was the venue of choice for the early morning screening of the Ireland game that welcomed clients across multiple services, giving them the opportunity to cheer on their national team in a safe and inclusive environment. Brooks Hotel pulled out all the stops, with bacon butties, fruit skewers and pastries a plenty, along with fresh teas and coffees for everyone in attendance.
Ireland's Rugby 7's player Harry Mc Nulty popped in for some pre match build up, and was called upon again at half time for his thoughts on what was a very commanding first half by Ireland. The Irish Times also dropped by to interview both clients and a representative from Dublin Simon Community and Secret Street Tours – who are working together on the initiative.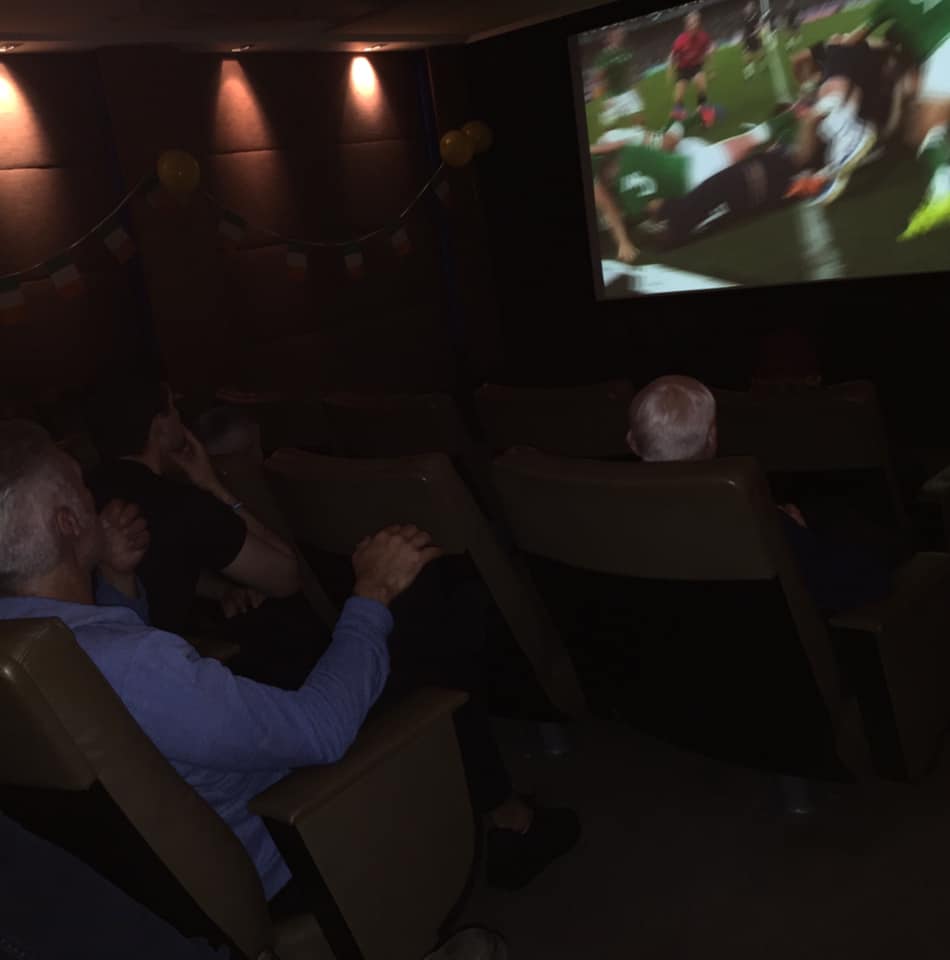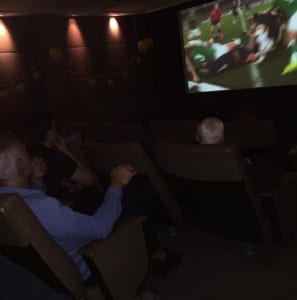 The next client breakfast event will be held in the business innovation centre in Trinity College and will see Ireland take on Samoa, with hopefully a Quarter Final place up for grabs against South Africa the following week.  A big thank you to Brooks Hotel, for the complimentary room hire and delicious breakfast they served up for all our clients on a miserable Sunday morning!
For more information on any of the above please contact Kate Kavanagh, Community & Events katekavanagh@dubsimon.ie
Written Kate Kavanagh, by Community & Events Executive
A Simon Community Golf Classic Day Out
A Simon Community Golf Classic Day Out
By
Warren Gill
Being an avid golfer, for many moons, one was pleasantly surprised to be invited to the "Golf Classic" in, the Royal Tara Golf Club, Navan, by the Property Team, the new department I started with, upon leaving my old haunt, fundraising, a few months back. It was a very well run event, from the quaint club house and the course itself was immaculate. An odd layout nonetheless, consisting of three nine hole courses, affording one the ability to customise one's playing experience. Alas, our starting hole proved to be quite the trek, through a plethora of enormous fairways and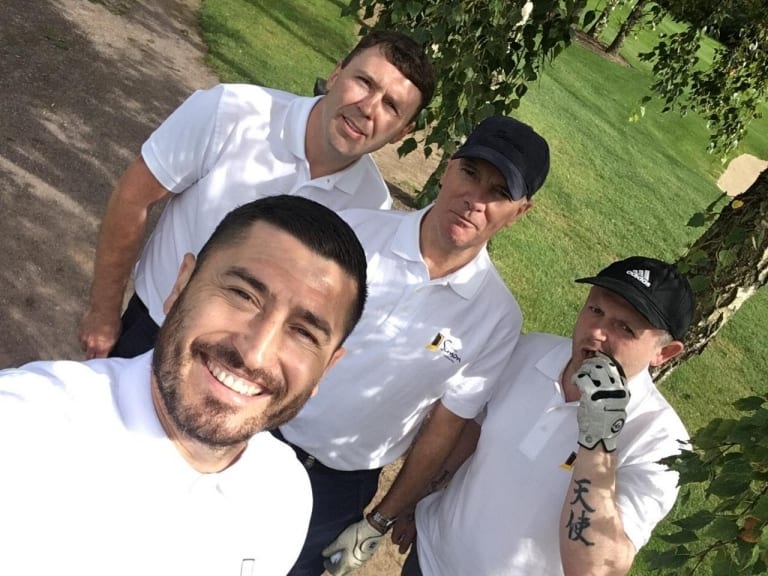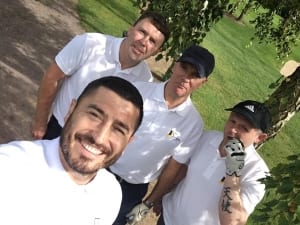 numerous hills. We were all regretting not renting a golf buggy by the first tee off. How and ever we braved the challenging course, from its long sweeping, tree heavy fairways, beach sized bunkers, deceiving glassy greens and had a weird and wonderful day, full of golfing mishaps and triumphs.
As two of our team weren't very experienced golfers, with one hitting every bunker on the planet and the other only able to use his five iron, but amazingly, managed two pars with it, we had to let a couple of teams play through, because they had availed of some golf buggies and we were holding up play. When all was said and done, somehow, we managed to get lost on the arduous trek back to the club house as well, so we were a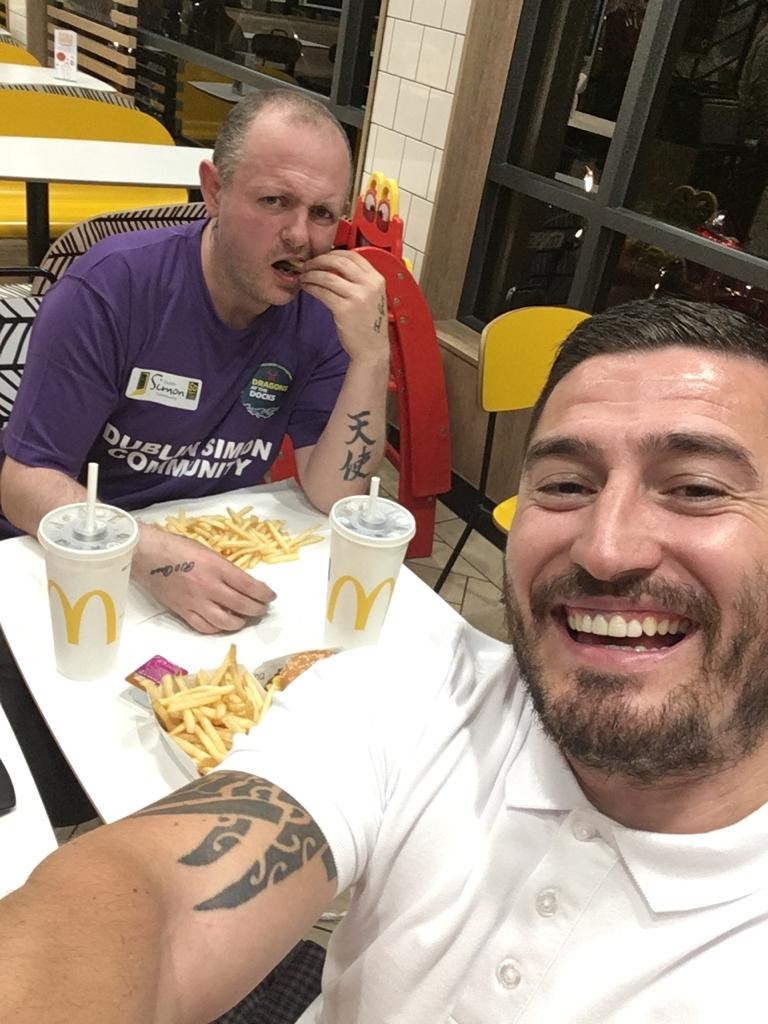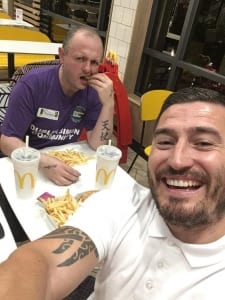 little late and by a little one means a couple of hours. We walked into the presentation room like a bunch of dishevelled cowboys, whilst Sam was giving his speech and were met with some rather bemused glares. We silently scuttled to a nearby table and managed to order some grub. Unfortunately there was nothing left in the kitchen other than a few bits of broccoli, a fork full of mash and chicken, drowned in pepper sauce, as everyone had already eaten everything. Needless to say we slaughtered that gorgeous medley, when it came and managed to win a raffle prize in the meantime, for our troubles. Alas, on the way home we decided to go the McDonalds for Double Quarter Pounder n Chips, just to fill the gap, of course.
As a team building and or bonding experience one would have to say it was a massive success and all of us, easily, agree we had a brilliant time and are happy to use our, "consolation prize", of a free breakfast and round on the behemoth of a course, in the not too distant future and return, to get some valuable practice in, on those pesky greens, for next year.
In a final note, one would like to add, that Brian Roe, who organized the Golf Classic said, "I think our final tally will be about €5,100", so that was amazing and wonderful for all of us, on the Property Team, to be apart of and be able to give a little back, to the Community, in such a spectacular place and fashion. One would think future outings, of a similar ilk, like a Pitch-n-Putt outing, would be very beneficial to all of the teams and departments in the Simon Community as a whole. Roll on next year!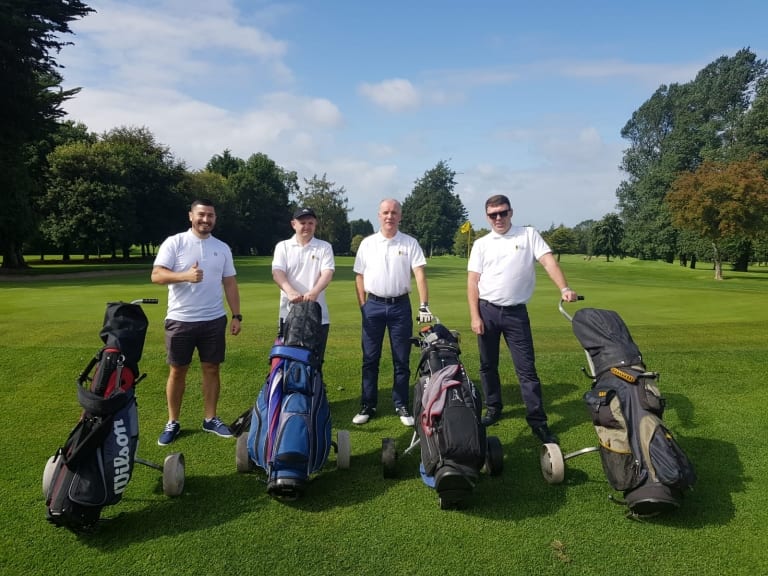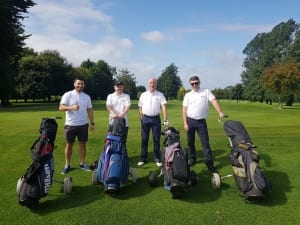 A Day in the Life of a...CE Supervisor
We asked two Community Employment supervisors, from the CE mainstream project and CE Engagement project, what their job entails:

Bobby –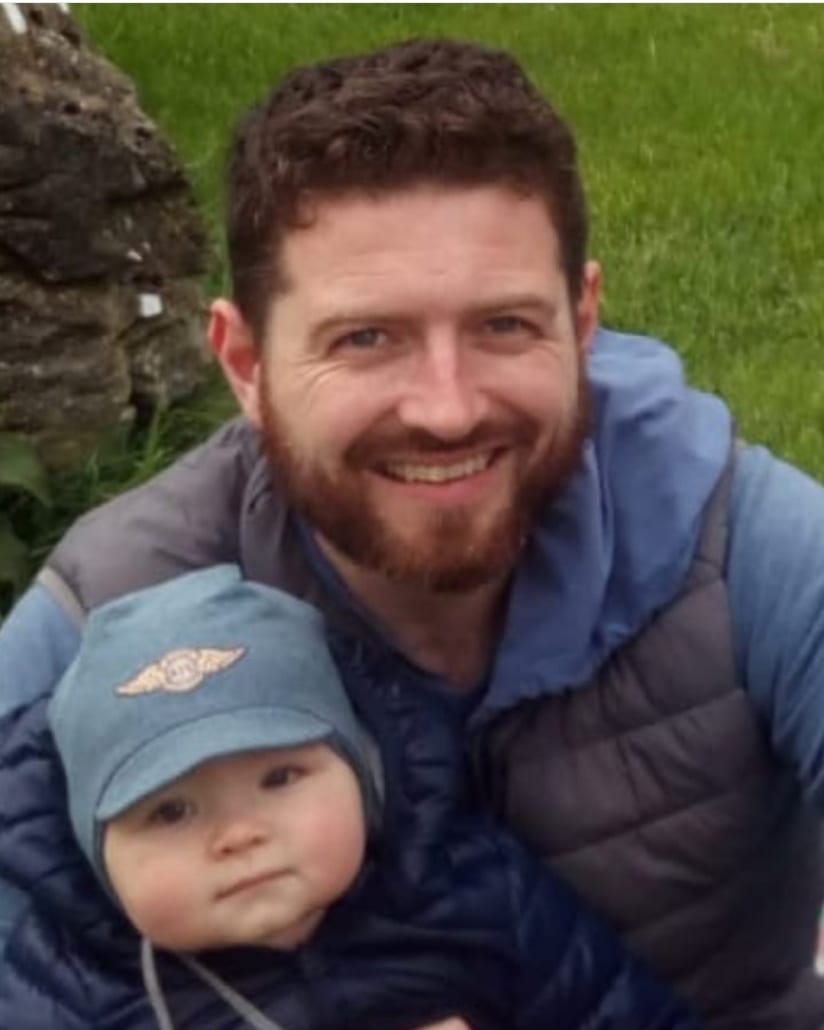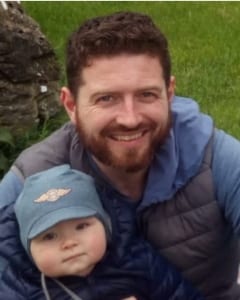 What does someone working in CE do?
I recruit individuals who are long-term unemployed (1 year or more) from the live register to work for Dublin Simon on part-time (19.5 hour) 1 year contracts. While the individuals are here I support their integration into the organisation and also plan their path into full-time employment or education.
What does your day usually look like?
Every day is different depending on what's going on. As with most of us these days admin is unavoidable, the supervisor needs to manage budgets around training, materials and participant wages, along with reporting to DEASP.  The rest of my time and the part of the job I enjoy the most is spent carrying out one to ones with participants and additional research around this. CE workers who are at different stages of their placements need different supports. Initially it can be around getting back into the routine of work and being back out in the workforce, for those further along the conversations and work does be around job applications, CVs and interview preparation.
What's your favourite part of working in Community Engagement?
I really like that every day is different and I get to visit a wide range of Simon services. It's also very rewarding to see people grow from the first meeting through their placement and ultimately into a job or training that matches their goals.
Describe a (any) positive memory that you have from working with Dublin Simon Community?
I always like when I speak with new starters after a few weeks or months of being here and they tell me how happy they are on their new team and how supportive and welcoming everyone is being. For someone who hasn't worked in a while it's daunting getting back out there and I think Simon is a great place for people to take that first step back into employment.
By Bobby McLoughlin, Supervisor on the CE mainstream project

Joanna –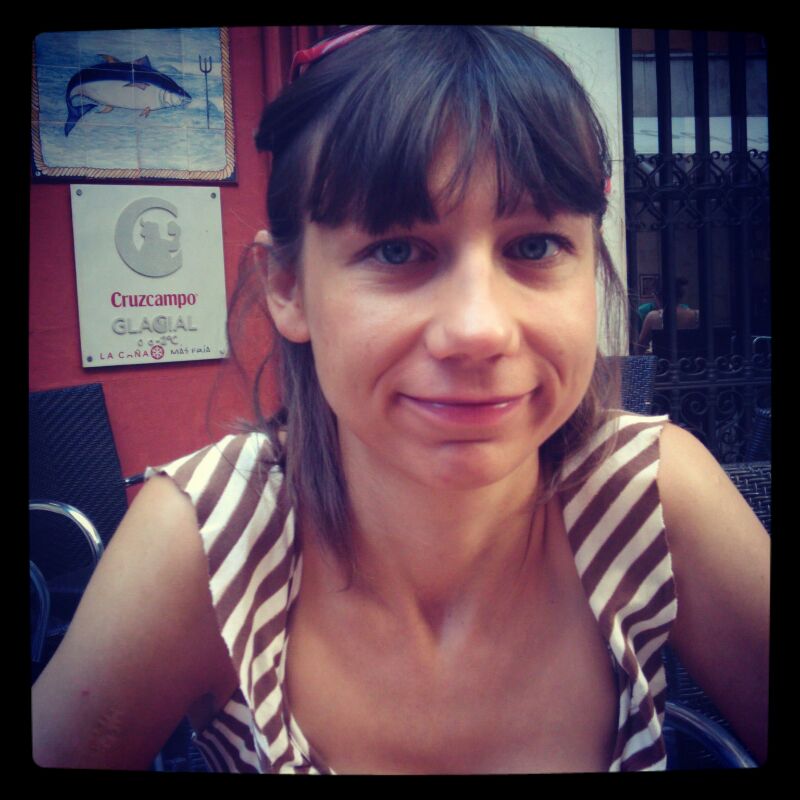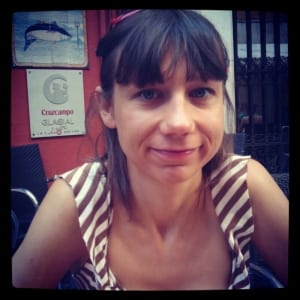 What does someone working in CE Engagement do?
I recruit individuals who are, have been homeless or are accessing any type of homeless services to participate in the CE Engagement project. The project focuses not only on the participants' employability outcomes but more so on improvement of the quality of life of a person. The project provides a necessary level of flexibility and each Individual Learner Plan is tailored to a person's needs. Hence, we are able to cater for the most disadvantaged and provide supports for a wide range of issues still affecting an individual. It targets those further away from the employment market with more complex needs. CE Engagement is classified as a social inclusion CE strand which works with people affected by homelessness – our scheme is the only one of it's kind in Ireland. The CE Engagement programme consists of supported work placements in different DSC departments (usually 2 days per week) and different forms of practical training (life & social skills training), health & safety training, education and 1:1 support and career guidance. It is a part time programme (19.5h). While the individuals are on the programme I support their integration into the organisation, refer them to other services according to their needs and also provide guidance and career coaching regarding future employment and education opportunities.
What does your day usually look like?
Every day is different. There is a mixture of project management, support & supervision, career guidance, liaising with DSC managers in order to source internal work placements and also link in with community partners in order to promote the project and expand training and work opportunities for CEE participants. There is quite a lot of coordination involved as each CEE participant is at a different stage of their development, need different supports and also have different weekly timetables.
What's your favourite part of working in Community Engagement?
I really enjoy my role. It's a very meaningful experience to be able to witness a person blossom given the right amount of time, responsibility and support. The project provides a massive and essential stepping stone on an individual's journey, not only out of homelessness but sometimes several other traumas that come with it. I am very excited about the future of the project and new possibilities for participants.
By Joanna Pagowska, CE Supervisor
Weather Warning Response, Storm Lorenzo
Dublin Simon Community is putting in place a number of additional emergency measures this week to protect people experiencing homelessness in anticipation of any impact of Storm Lorenzo and subsequent weather warnings.
Dublin Outreach
Dublin Outreach, our street outreach service provided by Dublin Simon Community in partnership with the Dublin Region Homeless Executive, will deliver increased capacity on the streets for the duration of the weather warning. Teams will be engaging with people who may be rough sleeping or at risk, providing access to emergency accommodation for anyone who needs it.
We would continue to encourage the public to notify teams of people sleeping rough in the Dublin region by logging the details at the link below:
https://www.homelessdublin.ie/report-rough-sleeper
Dublin Outreach Service Contact Details:
7am to 1am
Emergency Accommodation
Dublin Simon Community will have increased bed capacity in our emergency accommodation services. These will run for the length of the bad weather spell and will be on a 24 hour basis.
Soup Run and Social Club
Our Soup Run and Social Club Volunteers will continue to work with Dublin Outreach, identifying those who may be at risk of rough sleeping, providing access to shelter.
We will continue to work in partnership with the DRHE, Housing First and other charities to co-ordinate outreach to people experiencing homelessness.
For anyone who is rough sleeping or at risk outside the Dublin region please contact your relevant local authority for support.
If you are currently homeless or at risk of homelessness please visit the below link for more detail on how to access support:
A Month In Pictures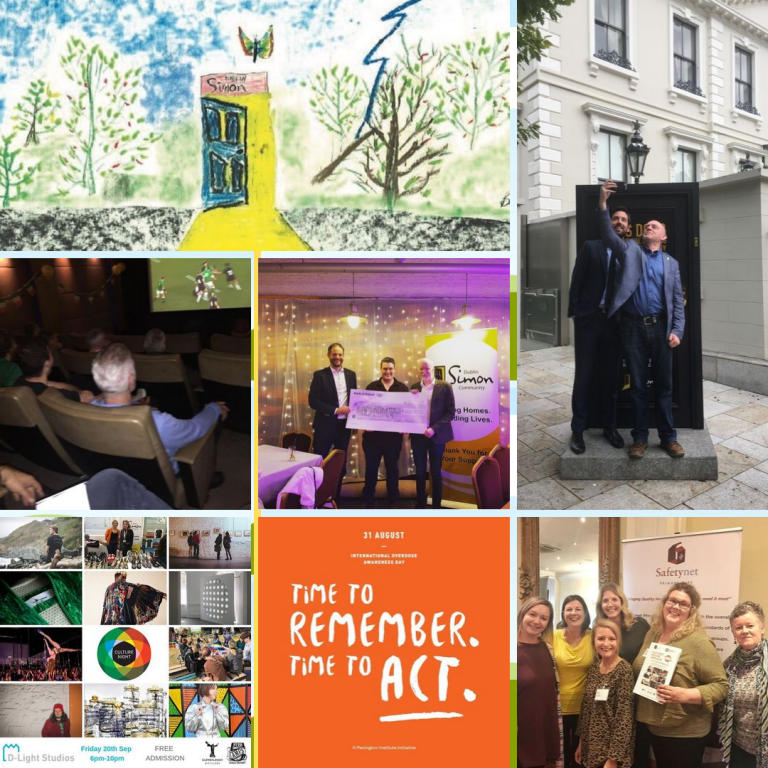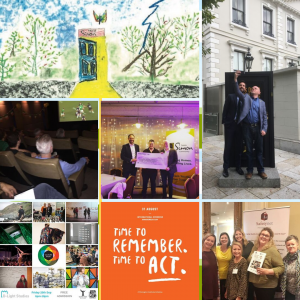 #ClosingDoors Sarah's Story
People used to pretend they didn't notice Sarah.
Or maybe they just didn't notice her.
Sarah was homeless for five years.
On the streets, she kept herself to herself as much as she could.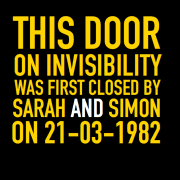 She probably wouldn't have been able to survive much longer though.
Five years is a long road.
In March 1982 everything changed.
She got a place in our supported housing unit.
Sarah lived the rest of her life there.
She was there for over 20 years.
She became a good friend to many others.
Everyone who knew Sarah remembers her very fondly.
She had a home.
She made an impression on people.
She is missed.
Dates for your Diary
Dates for your Diary: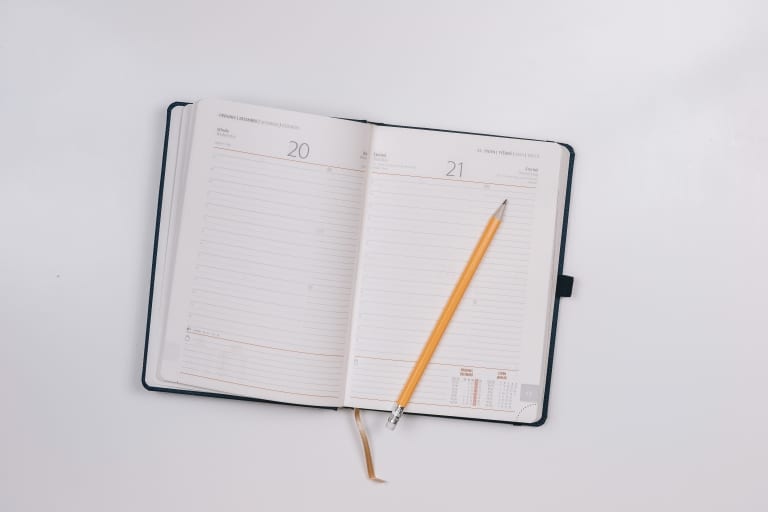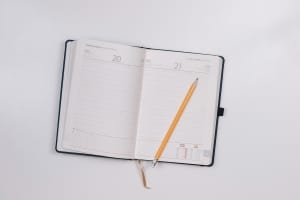 Simon Week: 30th September – 4th October
Volunteer Recognition Event: 3rd October
Scrappy but Happy: 12th – 26th November
House of Light: 5th – 7th December
Carolathon: 20th – 21st December
The Christmas Busk: 24th December