Welcome to the September edition of the Simon Scoop! Please scroll down and click on the headline to read all of the content.
We hope you enjoy it,
The Communications Team
Sam's Introduction
Sam's Welcome:
This week we launched our Annual Impact Report for 2017 in the Mansion House. The Lord Mayor of Dublin, Nial Ring, and the Minister for Housing, Eoghan Murphy TD, were in attendance and commended the work of teams across Dublin Simon Community and the positive impact you're having on the crisis. We continued to significantly increase our delivery, again showing our readiness to respond where we are needed most. We provided housing, health and support services to 6,285 people in Dublin, Wicklow, Kildare and Meath; a 22% increase in overall service delivery on the previous year. In the report, we highlighted the 1,006 adults and 1,028 children (797 households) we resettled out of homelessness, and the 631 adults and 449 children (576 households) we prevented from losing their home. Without our efforts, 1,373 households with 3,114 people would be otherwise reliant on emergency accommodation. I encourage you to read the full report here to see the full impact of our work.
Minster for Health, Simon Harris TD, launched our new Step Up Step Down (Intermediate Care) facility with Minister for Health Promotion and the National Drugs Strategy, Catherine Byrne TD, at Ushers Island. Delivered in partnership with Safetynet Primary Care, and in collaboration with other hospitals and key stakeholders in the homeless sector, the new 12 bed unit provides short term semi-acute healthcare interventions, treatment, investigations and observations for people who are homeless and/or recently homeless. This service is part of our overall vision to increase the capacity of Ushers Island to 100 beds, adding rapid access in partnership with Merchants Quay Ireland.
Finally, we're just over a week away from this year's Simon Home Run. It's the 35th year of our annual 5 mile run, and it's a fantastic Community day for all of our staff, volunteers and clients.
Thank you,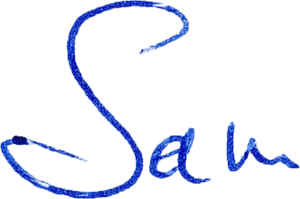 Volunteer Profile - Luciano Soaeres Dos Santos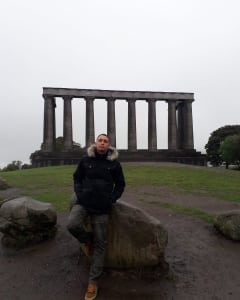 When did you start volunteering with Dublin Simon Community?

I started volunteering with Dublin Simon Community on February 5th.
What made you want to start volunteering?
My brother was doing volunteering for a few months then he told me that it would be a very good experience for my life and I became interested in this type of work.
What's you're favorite part of volunteering?
My favorite part of volunteering is when the clients get really happy when I do simple things for them, when I say some encouraging words that make them believe in themselves again and get confident, see them improving and getting better each day a little bit more.
Describe your any positive memory that you have from volunteering with Dublin Simon Community?
I did a group with the clients that the subject was: My qualities and strengths. It was one of the most positive groups that I've ever had and after we finished, the clients started to compliment me, things like: 'Luciano, you are good at what you do, we loved this group, you're a great teacher, if there were more people like you the world would be a better place.'
It made my day! I was very happy after this and it's something that I'll never forget.
What would you say to someone who is thinking of volunteering with Dublin Simon Community?
I would say that this will be one of the best experiences of their lives. With ups and downs but full of people around that will help you with anything that you need. I learned things that I'll bring with me for the rest of my life, I now see the world in a different way. I can understand that we can make the difference with simple things.
Luciano Soaeres Dos Santos, Full Time Volunteer

Staff Recipe
Aubergine Parmigiana
Aubergine Parmigiana is an authentic Northern Italian classic. Can be made with ricotta instead of parmesan also. Great winter warmer on its own or on the side!
Ingredients:
3 large aubergines
rapeseed oil
1 glove of garlic, crushed
For the tomato sauce:2×400 g good-quality tinned plum tomatoes – I recommend bunalun tomato sauce or Italian brand (never use dolmio!)
1 tsp of paprika, half tsp of brown sugar, tomato puree (add vegetable stock and salt to taste)
freshly ground black pepper
1 large handful fresh basil
3 large handfuls Parmesan cheese , freshly grated
2 handfuls dried breadcrumbs
Basil leaves to taste
150 g buffalo mozzarella , optional
2 Tbsps of Ricotta, optional
Method:
This classic northern Italian recipe is a great way to serve aubergines. By layering them with Parmesan and tomatoes and then baking them you get an absolutely moreish, scrumptious vegetable dish.
First things first: remove the stalks from the aubergines, slice them up into 1cm thick slices, and put to one side. Whether you're using a griddle pan or a barbecue, get it really hot.
Meanwhile, add rapeseed oil into a large pan on a medium heat. Add the garlic and and cook for 10 minutes, until the garlic has a tiny bit of colour. Add the tinned tomatoes and season with paprika, brown sugar, veg stock, salt. Add a little tomato puree to thicken – it gives the sauce a nice richness.
Meanwhile, grill the aubergines on both sides until lightly charred – you may have to do them in batches, as they probably won't all fit into your griddle pan in one go. As each batch is finished, remove them to a tray and carry on grilling the rest until they're all nicely done. When the tomato sauce is reduced and sweet, season it carefully with salt, pepper and a tiny swig of wine vinegar, and add the basil. You can leave the sauce chunky or you can purée it.
Get yourself an earthenware type dish (25 x 12–15cm). Put in a small layer of tomato sauce, then a thin scattering of Parmesan, followed by a single layer of aubergines. Repeat these layers until you've used all the ingredients up, finishing with a little sauce and another good sprinkling of Parmesan. I like to toss the breadcrumbs in olive oil and sprinkle them on top of the Parmesan. Sometimes the dish is served with torn-up mozzarella on top, which is nice too.
Place the dish in the oven and bake at 190°C/375°F/gas 5 for half an hour until golden, crisp and bubbly. Leave to sit for a few minutes then enjoy.
Jennifer Kitson, Corporate Team

Volunteers needed for the Simon Home Run!
We need your support!
The Simon Home Run is less than one week away and we need your support! We're looking for volunteers to help with organising the event on October 6th in the Phoenix Park. If you'd be interested in helping out, then please contact Grace at grace@dubsimon.ie or contact the Community Team on: 01 671 5551.
You can also still sign-up your friends and family for the run by going to www.homerun.ie. It's a fantastic day out for all of the family and we'd really encourage you to join us on the day!
This is more than a run, it's a good cause that will go towards helping people to rebuild their lives and find a place that they can call home.
Hope to see you all there on the day!
Grace Allen, Community Team

Launch of Scrappy But Happy 8!
Book and exhibition launch
You are invited to the launch of Scrappy but Happy 8! This years book launch, exhibition and client recognition ceremony will take place in the Temple Bar Gallery on the 3rd October from 2-5pm.
This annual publication of artworks and creative writing pieces showcases the amazing talent of those who access Dublin Simon Community's homeless and housing services.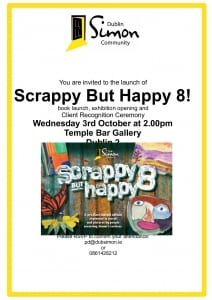 The Literacy and Personal Development Team coordinates and facilitates a range of different classes and therapeutic programmes to those who access the service. The team facilitates arts and crafts, creative writing, dance, computers and gardening groups as well as literacy tuition and open mic nights to inspire creative thinking and encourage self-expression.
In taking a holistic approach to learning, the team aim to support participant's individual needs and enable them to achieve their goals.
This event celebrates diversity, equality and inclusion. It is a beautiful representation of the wonderful creative talents of those accessing Dublin Simon Community services.
Anna West, Literacy and Personal Development
Harcourt Street left in the dark
Harcourt Street rallies together during power outage

Winter has hit early and the Harcourt Street Service experienced the impact of the recent Storm Ali and the service was without electricity for over 24 hours. The staff worked hard to ensure that the service was still operational for clients. We received meals from Passion for Food, and emergency lighting from Abbey Supplies and an emergency generator from Voltech. It was a great team effort and thanks to Longfields, we saved our steaks too 🙂 A good practice run for emergency planning for the likely bad weather ahead.
Niamh Power, Harcourt Street

Overdose Awareness Week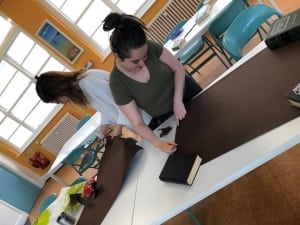 "We need to talk about overdose."
Every year on August 31st, people from the world over come together to commemorate lives that have been lost to overdose as well as to raise awareness on the issue. Overdose is a real concern that can affect anyone, irrespective of their education level, socioeconomic status, race or age. It does not discriminate and leaves a permanent mark on the psyche. It is however, preventable.
This year, Dublin Simon Community got together to mark this significant occasion. Services from across the organisation met to plan a series of commemoration and awareness activities for both clients and staff. We wanted to touch as many people and services as we could, and thus the Dublin Simon Community's first Overdose Awareness Week was created.
Starting from Monday, 27th of August and ending on Friday, 31st of August, a range of information sessions, art activities and memorial events were held across the organisation. Blathnaid O'Gorman, Primary Care Nurse Co-Ordinator for Emergency Services, showed our clients in the emergency services how to perform life-saving skills through CPR. Carman's Hall, Harcourt St. and Longfields held information sessions around opioid overdose and Naloxone for clients. Naloxone is the medication used to reverse the effect of opioids on the body and is a vital life saving tool. A similar talk was also held in Red Cow Lane by Matthew Morrow (Harcourt St.) and in the Social Club by Daire Moriarty (Rough Sleeper Team) and Colm Marren (Flexi).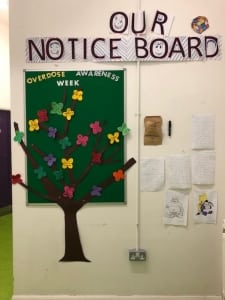 Carman's Hall and Longfields also created Trees of Remembrance in their communal area. Maple House organised a barbeque event in their service along side with a tree planting. They also held a beautiful memorial event where clients coloured stones dedicated to their loved ones that unfortunately passed away from overdose.
As a final gesture, silver ribbons were created in various services and worn on the 31st August. Longfields brought their clients to Merchants Quay Ireland to participate in Naloxone training. Alessandra Bertone (Carman's Hall) and Matthew Morrow also held a Naloxone training session that day for Dublin Simon Community's staff members.
All in all, the week was a success and it was all down to everyone in our organisation working together to make the visions planned at the initial meeting a reality. There were many other people involved that I would like to thank as without them, this week would not have been possible. This includes but not limited to, James Hinchon in Harcourt St., Anna West in Participation and Development, Aoife Mulhall in Communications, Rachel Gallagher in HR, as well as all the staff, volunteers and clients in participating services.
I believe this week truly showcased the strength and depth of our community spirits. We took the time to remember lives that were lost and we acted together to hopefully prevent a similar tragedy from occurring to someone we know in the future. I sincerely hope this will not be a once-off event as it is time to remember. It is time to act.
Alessandra Bertone, Carman's Hall
For more information or resources please go to:
http://www.drugs.ie/resources/naloxone/
Excellence Through People 2018!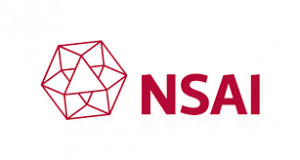 Excellence through People is the quality standard that we aim to achieve in HR on annual basis. It is accredited through the National Standards Authority of Ireland (NSAI) and Dublin Simon Community have been successful in achieving this standard since 2012.
The purpose of the audit is to ensure that we are maintaining and striving towards best HR practices and implementing new recommendations with the hope of benefiting our employees on an annual basis. Of course, in order to achieve this standard, we rely on the co-operation from managers, senior managers and our employees to attend presentations, focus groups and to send on supporting documentation which we need in advance of the audit.
The HR Team would like to thank everyone who continues to support our annual Excellence Through People audit! We would not be able to achieve this standard without all of the amazing support we get from the organisation. Looking forward to doing it all again in September 2019!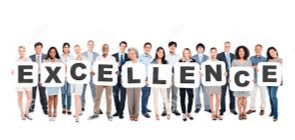 Rachel Gallagher, HR Team

Dates for your Diary
Dates for your Diary
The Employee Engagement Group is composed of managers and staff from across the organisation. The group discuss how we can improve employee engagement across the organisation and develop events and initiatives which are held throughout the year.
This year is shaping up to be yet another fun and exhilarating year for employee engagement as there will be lots of new and exciting events that you can get involved in.
Take a look at our new and improved social calendar below!
Scrappy But Happy 8! Launch:  2pm, Wednesday 3rd October (Temple Bar Art Gallery)
Volunteer Recognition Awards: 7pm, Thursday 4th October (The Church Bar)
Community Day at the Home Run: 10:30am, Saturday 6th October (Phoenix Park)
Memorial Service: 10:30am, Tuesday 6th November (Dublin Unitarian Church, St. Stephen's Green)
Christmas Party: Friday 7th December
If you are interested in getting involved in any events or would like more information on these events, please contact your local social representative or the HR Team.
© 2019 Dublin Simon Community | Charity Registration: No. 20009892 | Charity Number: CHY 5963