Sam's Welcome:
Our Volunteer Recognition Event at the beginning of October, in Tramline on Hawkins Street, celebrated fifty years of Volunteers with Simon. We have now over 300 volunteers who dedicate time and expertise to our cause. Each year we host the Volunteer Awards and Volunteer Recognition event to recognise and say thank you for our Volunteers contribution. The event itself is an awards ceremony with food, drinks, entertainment (music and comedy) and a presentation of awards and long service pins.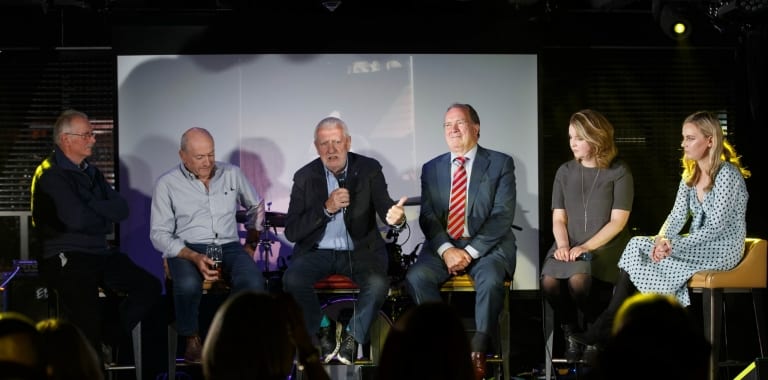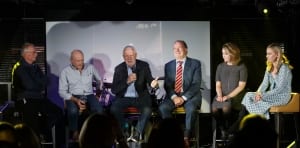 This year marks 50 years of Simon in Ireland and 50 years of volunteering. We invited our past and present volunteers to attend. It was an extra special evening as we were joined by Larry Masterson, Brian McCarthy and Denis Cahalane, three of the original volunteers who helped set up Dublin Simon. It was great to hear about the early days, Larry mentioned that 'the soup run, originally started from a shack in the back of Trinity College.'
The first week in October marked the start of Simon Week, organised by the Simon Communities in Ireland. The week opened with a conference where we heard from a panel of housing experts as well as an opening statement from Eoghan Murphy, Minister for Housing.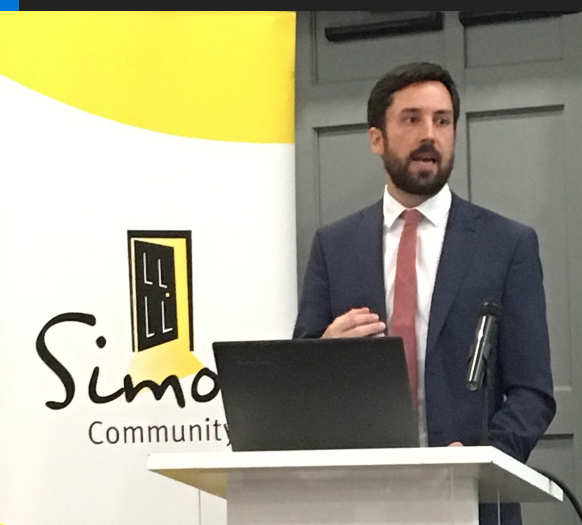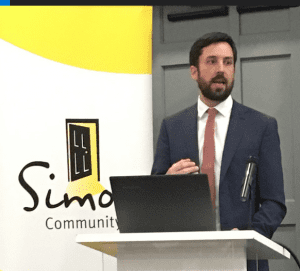 Minister Murphy spoke about the huge response needed to tackle the challenge in homelessness that we continue to face. The aim of the week was to raise awareness about the chronic levels of homelessness across the country, and to shift the country's focus from dealing with the symptoms, to the real possibility of #EndingHomelessness.
Looking forward to the November 50th Commemoration event, which includes the launch the 9th edition of 'Scrappy but Happy', an annual collection of artwork, poetry and creative writing by the people accessing our services.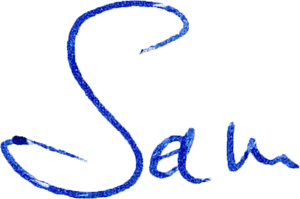 Volunteer Recognition Event
Celebration
The event aims to recognize all of  our Volunteers and their contribution to Dublin Simon Community.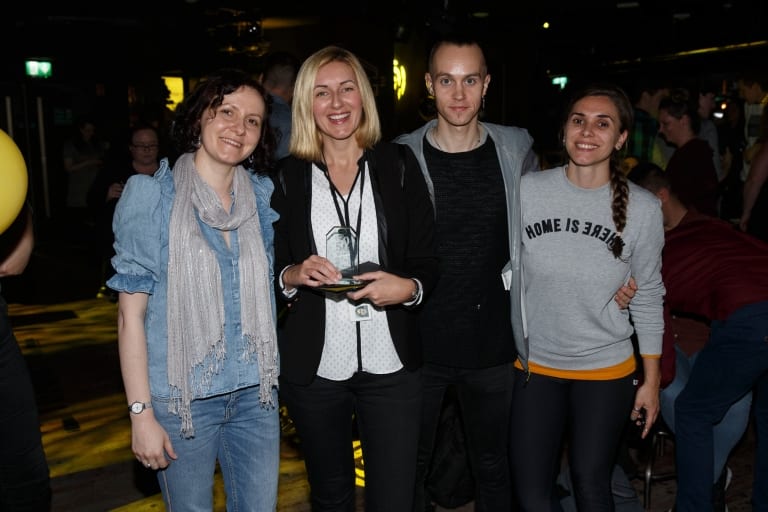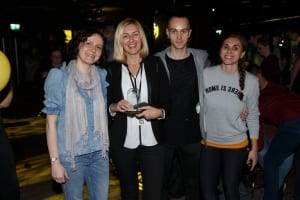 We run the event annually in October during Simon Week and the event itself is a whole evening with an awards ceremony with food, drinks, entertainment (music and comedy) and presentation of awards and long service pins. It takes place in different locations and this year was in Tramline on Hawkins Street. This year marks 50 years of volunteering therefore we invited our past and present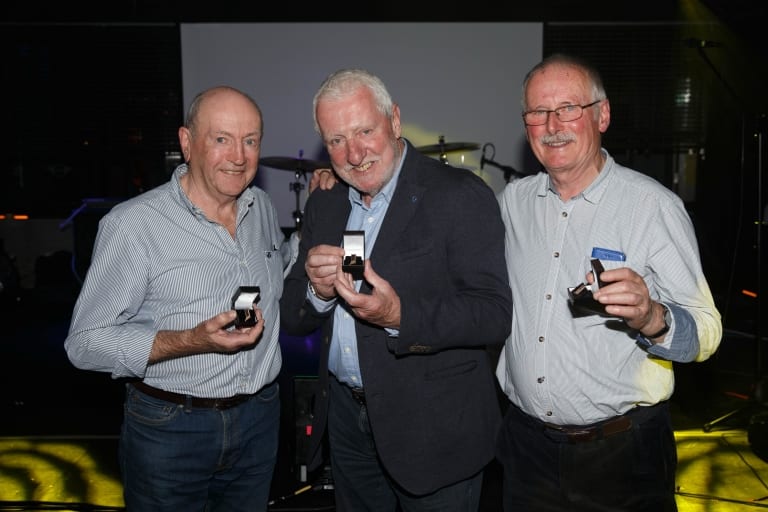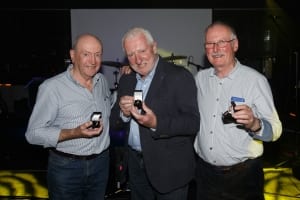 volunteers to attend. At the moment we have around 60 Full time volunteers working across all of our Dublin Simon Services and around 280 Part time Volunteers who volunteer across, the soup run, social clubs, breakfast run, Carman's Hall charity shops, participation and development, health and wellbeing, fundraising and counselling service. Our Board of management is also made up of volunteers who give their time to Dublin Simon.
And the Winners are:
Katharina Dressler, Coordinator of the year
Jessica Steenson, Greta Wickel, Rachel Watt & Marie Schmitt, Community Engagement – Chester House
Ellen McGuiness, Positive Role Model
Renata Redyk, Sunshine Award
Kate Sheehan, Fundraising award
Eduardo De Santana, Innovation award
Janice Rooney, Customer Service Award
Elizabeth Lebedova Baldoyle, Commitment to the role award
Rosario Neira Ticuna, Volunteer of the Year
Joe Fox, Spirit of Volunteering Award
Recognition of long service
Another part of the ceremony is recognition of long service of the part time volunteers. Long service pins are awarded along with a certificate for 5, 10 or 15 years service volunteering.
5 year pins
Julian Car, Monday Night Social Club
Rachel Ryan, Monday Night Social Club
Niamh Harman, Wednesday Night Social Club Coordinator
Andrew Smith, Saturday night soup run coordinator
Damhnait MC Domhnaill, Monday Night soup run coordinator
Adrian Smith, Wednesday Night Social Club
Paul Byrne, Tuesday Night Soup Run
10 year pins:
Gerry Moran, Fundraising Volunteer
15 year pin:
Robin Brown, Volunteer in the shops
Get involved this Christmas
Your support is needed this Christmas!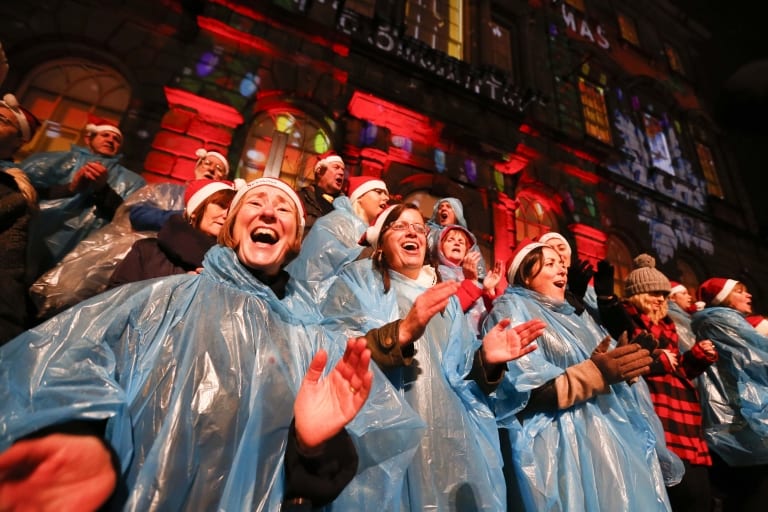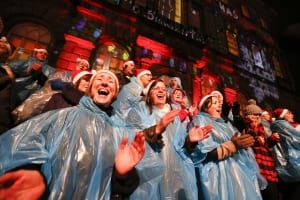 The Fundraising Team need your support this Christmas in any way that you possibly can.
With less than 2 months until Christmas, the festive season is in full swing here at Dublin Simon Community.
If anyone is interested in volunteering during the Christmas Season, we are always looking for more Simon's Little Helpers.
There are loads of ways for you, your friends and family to get involved with the Dublin Simon Community this Christmas, including:
None of our events would be possible without the help of volunteers. Come along and have fun while doing something truly meaningful!
Looking to do something for your local community? Organise a bag pack day at your local supermarket! We will provide you with all the necessary help and support.
We welcome all our supporters to organise a fundraising event of their own. From a simple bake sale to an international campaign, we welcome all any ideas coming from our valued supporters.
Sing for Simon
Throughout the month of December choirs, companies, schools, and even groups of friends can join in the musical fun by Singing for Simon. Gather your group and arrange your carol singing event in your local area, or use one of our pre-booked locations! We'll provide the Santa hats and buckets, you bring the tunes and festive cheer!
House of Light
The Dublin Simon Community is inviting people of all ages to the Simon House of Light festival from 5th to 7th of December. The three day Christmas extravaganza will take over the Powerscourt Townhouse Centre, on Dublin's South William Street, from 5.00pm-10.00pm each evening.
Carolathon
Our 24-hour Carolathon starts on Friday, 20th of December on Grafton Street and wraps up in the evening of Saturday, the 21st. We need lots of bucket shakers to support the choirs throughout Friday and Saturday. If you can help on your own or with a group, we'd love to hear from you!
Christmas Eve Busk
Over the last years Gaiety Theatre has been hosting the Busk, starring Glen Hansard, Danny O'Reilly, Hozier, Bono, Damien Rice and many more. Come and share the warmth of your heart at the Christmas Eve Busk!
Ways to donate
To donate online, please visit our website: https://www.dubsimon.ie/donate/
If you wish to get involved, please contact us: fundraising@dubsimon.ie   PH: 01 671 5551
Halloween Festivities
Halloween in Red Cow Lane
The 24th of October saw the return of Red Cow Lane's Hallowe'en party.  Amazing planning went into costumes with the winner being Saoirse C and her classy yet spooky version of Melanie from Hitchcock's The Birds, complete with feathered friends in her hair.  Esteemed runner-ups were Aisling H as Adam Ant and Warren G as Butch Cassidy.  Team efforts included the Scooby Gang and 7 Pink Ladies from Grease who looked in vain for a Danny Zuko all evening.  We needed Detective Columbo's (James P) help but he was distracted by the Toilet Paper Mummy game.
Michelle's Baby Photo challenge gathered a crowd as everyone tried to figure out who was Baby Number 25.  Shouts of "Rory" were heard but it was our very own president, Michael D Higgins. Well done to all who submitted photos for the competition.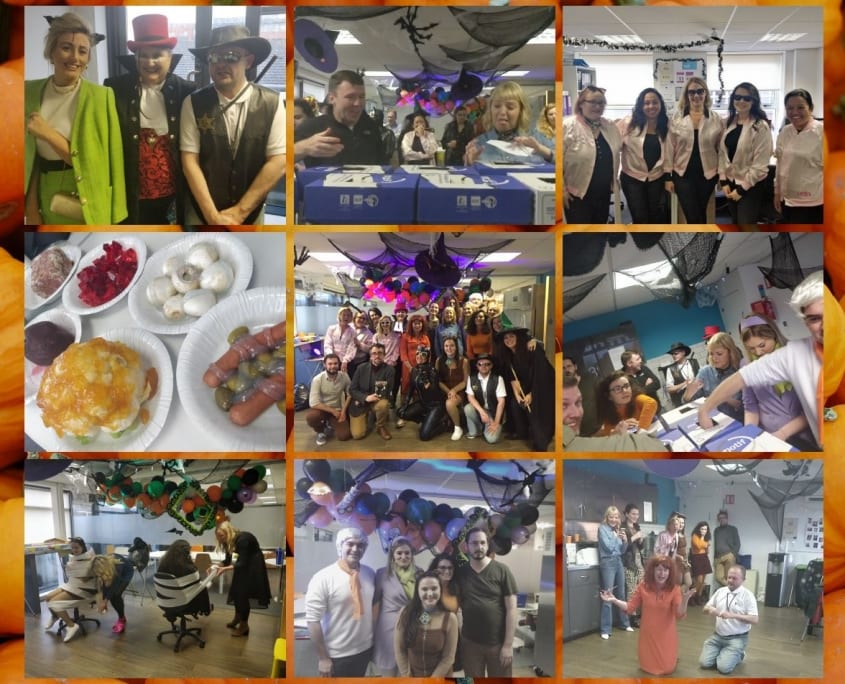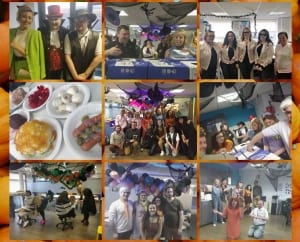 In Pat's monkey nut roll competition, controversy struck again this year as Stephanie N's straw let her down.  Adam Ant decided it was time to "stand and deliver" a replacement straw but to no avail. Even Anton Wallich-Clifford (Brian D) got involved and turned an interesting shade of red for his efforts.
Joyce's mystery boxes proved more popular than they should have with 7 willing victims participants rolling up their sleeves to identify the unknown terrors inside.  Correct guesses included a cauliflower brain slathered in apricot jam.  The incorrect guesses of pet food turned out to be a freshly squished tin of corned beef.  An inspired guess of Fettucine Al Fredo bumped Shane B into the lead and he won a more pleasant box of chocolates to share with people who had stopped retching.
Thanks to everyone who dressed up for the day and kept the Hallowe'en spirit alive for another year.
Written by Philomena Fitzpatrick, Finance Manager
Our Volunteers and Staff decorated our services, creating a fun and spooky celebration for our clients this Halloween. Check out Hazelwood House, thank you to Nikita Das for sending in the snaps!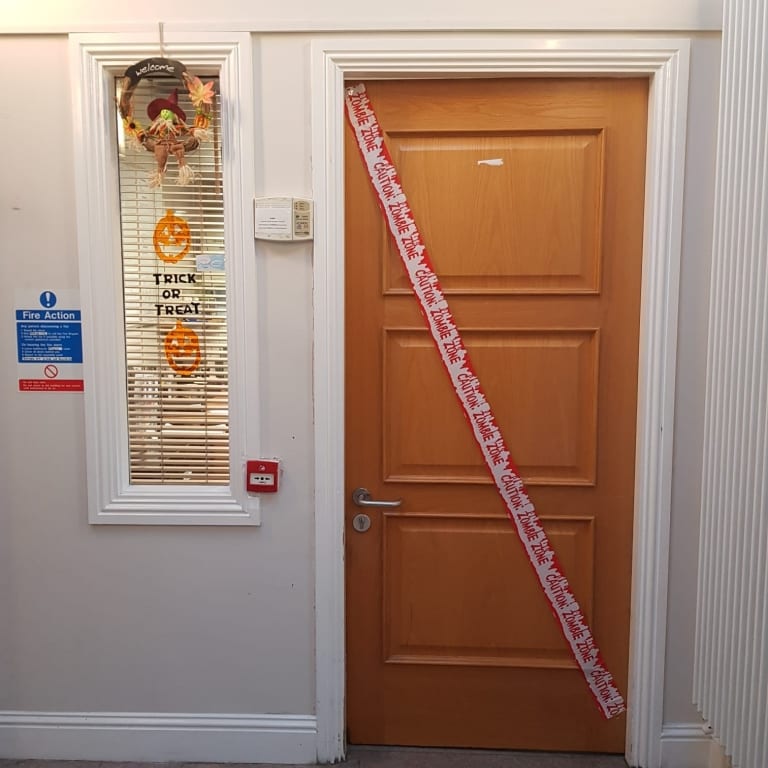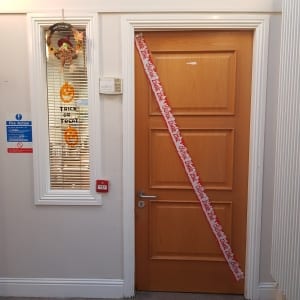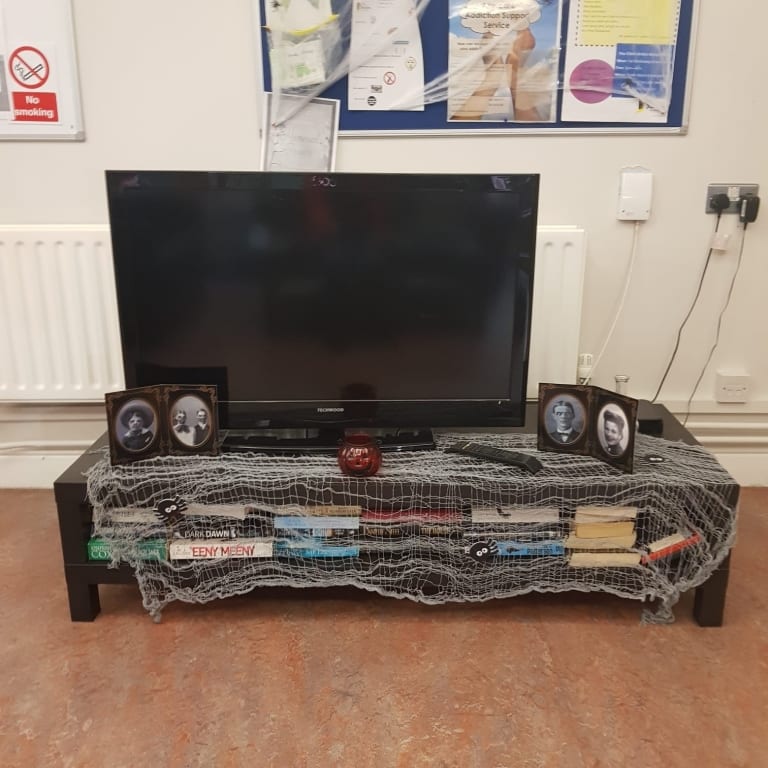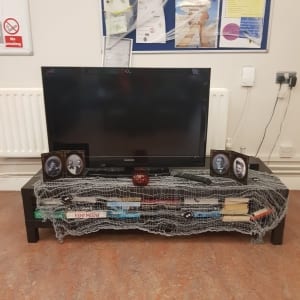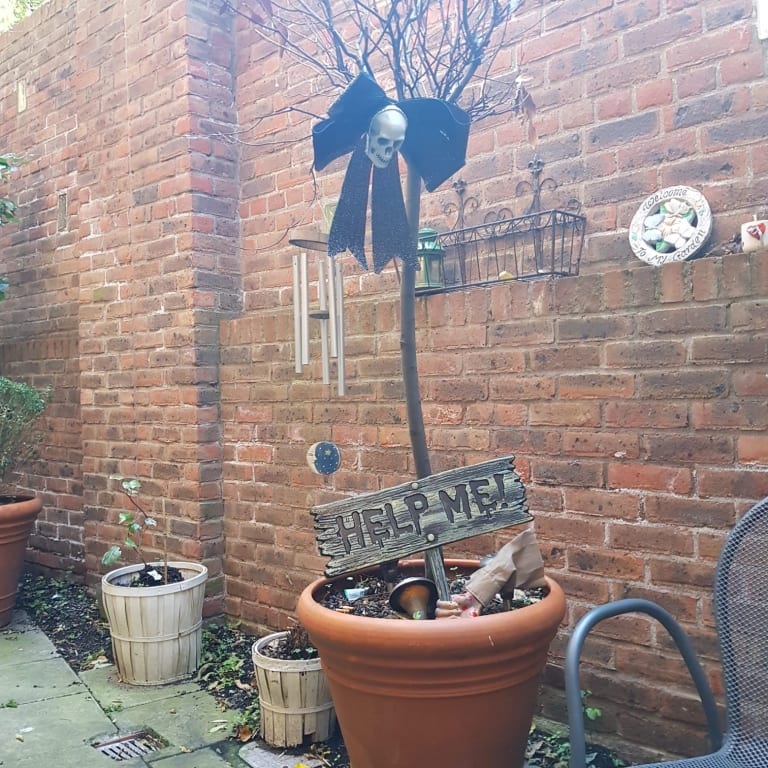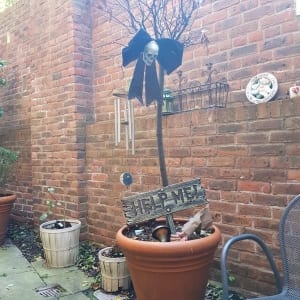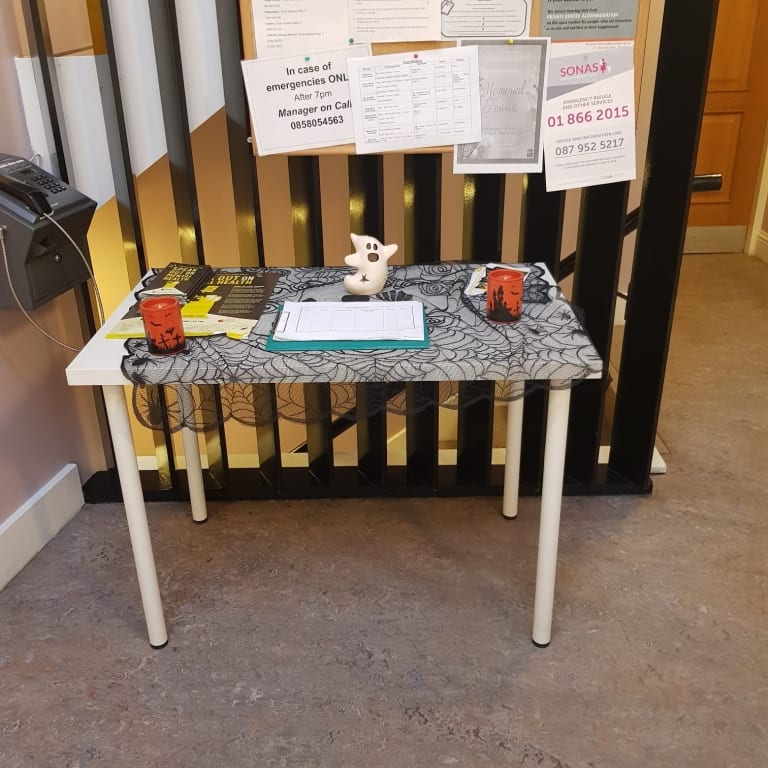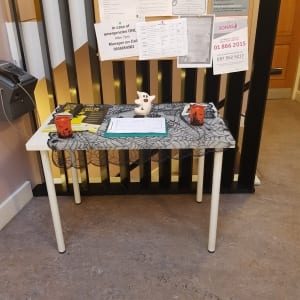 Volunteer Halloween Traditions
We asked Volunteer, Jeanette Rosales, what Halloween traditions she has in her home country of Mexico.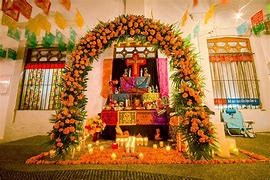 The Day of the Dead 01-02 November (Spanish: Día de Muertos) is a Mexican holiday celebrated throughout Mexico, in particular the Central and South regions, and by people of Mexican heritage elsewhere. The multi-day holiday involves family and friends gathering to pray for and remember friends and family members who have died, and helping support their spiritual journey. In Mexican culture, death is viewed as a natural part of the human cycle. Mexicans view it not as a day of sadness but as a day of celebration because their loved ones awake and celebrate with them"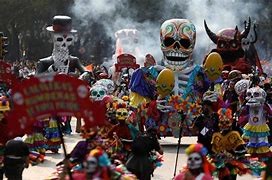 Traditions connected with the holiday include building private altars, offerings in honouring the deceased using skulls, aztec marigolds, and the favourite foods and beverages of the departed, and visiting graves with these as gifts. Visitors also leave possessions of the deceased at the graves."
The most representative symbols are:
"The Catrina" traditionally the Catrina wears the attire of a high society lady, and thus shows that death is present in the daily life of all social strata.
Cempasuchil (twenty petal flower) Flowers are a symbol of the impermanence and fragility of life and have many uses in Day of the Dead celebrations.
A Month In Pictures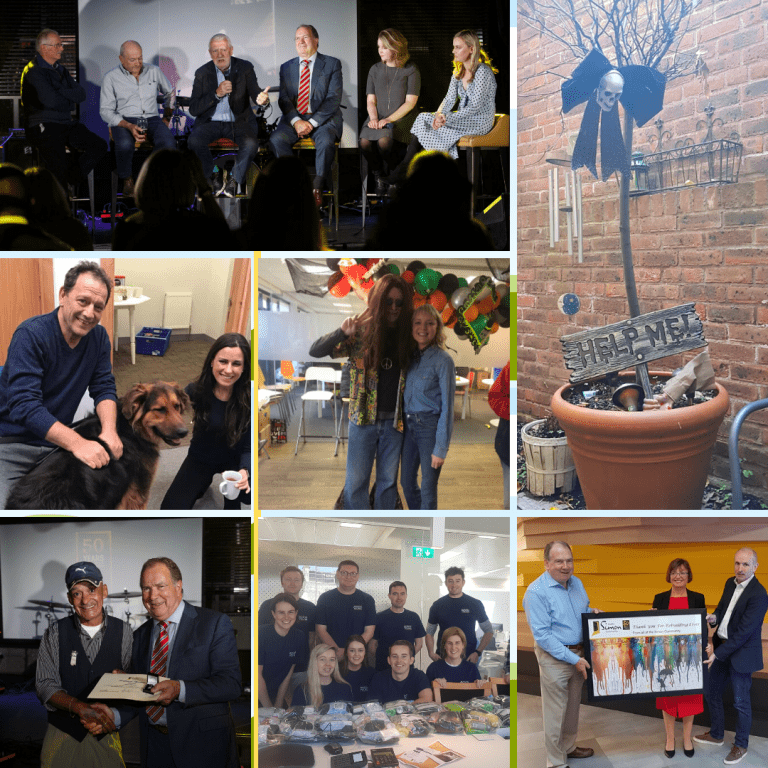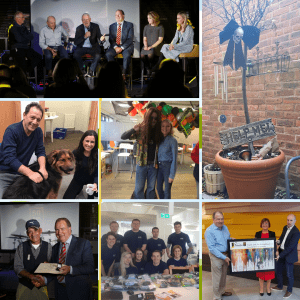 #ClosingDoors Eddie's Story
In 1999 when Eddie first became homeless he lost everything.
He went from the family home to the terrifying ordeal of life on the streets.
Not only did he lose his home, he had to move out of his neighbourhood.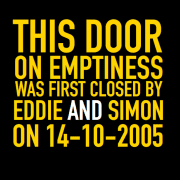 He didn't like to be seen by people who knew him.
He spent 6 years living outside.
Each new day as rough as the last.
When he first came to Simon he was a broken down man.
With the help of his key-workers he worked hard to develop the skills he needed to get his life back.
His confidence came back.
He linked in with the resettlement team to find the perfect place for him.
He found the right place.
He found himself again.
He's been there ever since.
Bingo Loco in aid of Dublin SImon Community
The rumours are true, the news is out – BINGO LOCO in aid of Dublin Simon Community is HAPPENING!!
It's Bingo as you've never seen it before! Think dance offs, lip sync battles, glow sticks, glitter, prizes galore and a DJ playing all night!
Bingo Loco are working with us on a special charity show in aid of Dublin Simon Community in Tramline, on Thursday 28th November!
Tickets are on sale NOW and are priced at €20!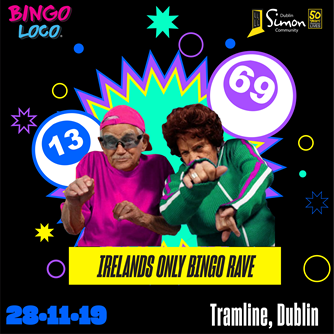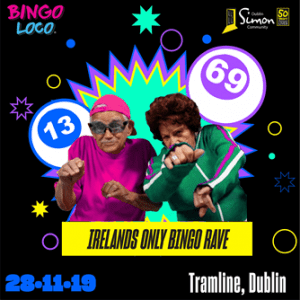 #WorldMentalHealthDay
Just some of the activities organized for #WorldMentalHealthDay which was on the 10th October. Bear the dog came to visit as well 🐶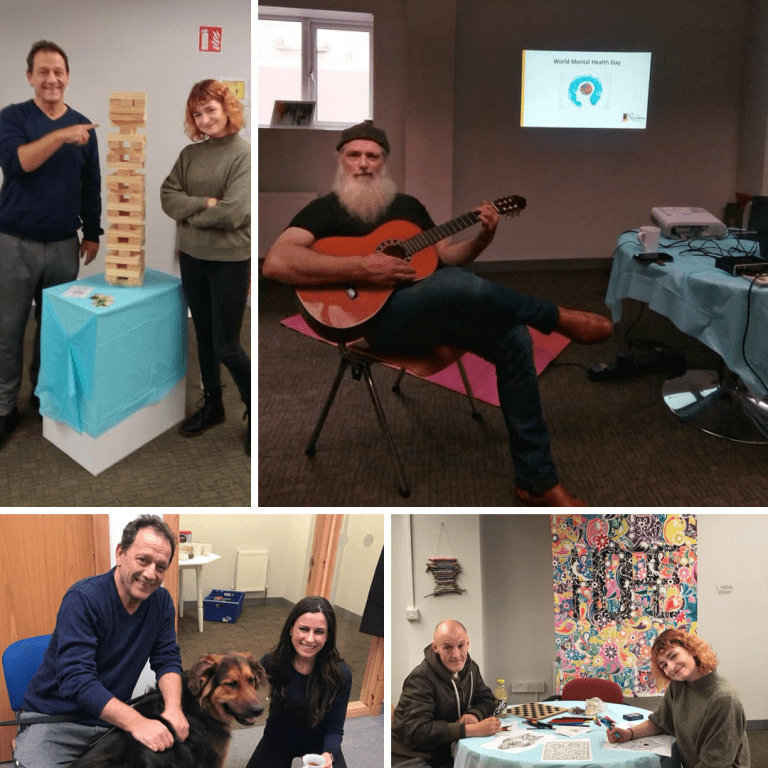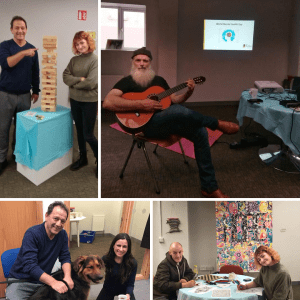 Our 'Sure Steps Counselling Service' supports people who are challenged with homelessness, addiction and mental health.
Learn more: bit.ly/2LUszOw
Dates for your Diary
Dates for your Diary: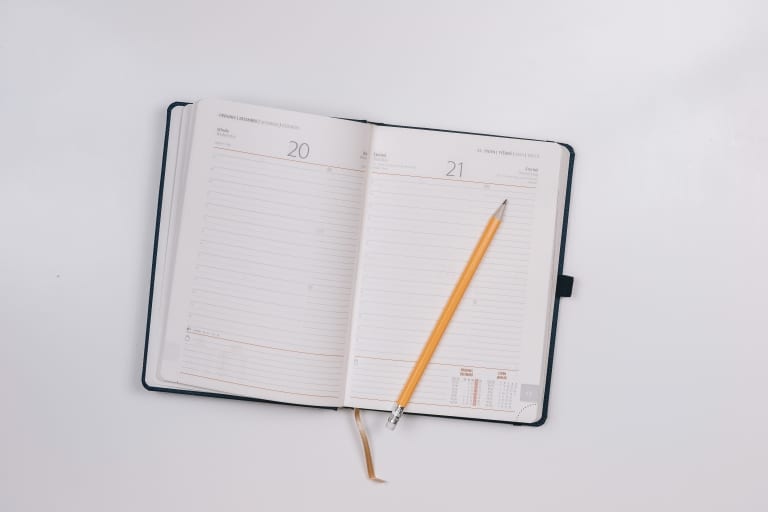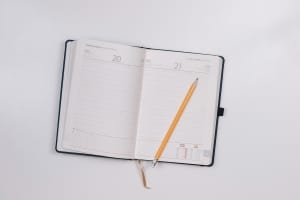 50th Commemoration Event: 15th November
Scrappy but Happy exhibition: 12th – 31st November
Bingo Loco in aid of Dublin Simon: 28th November
House of Light: 5th – 7th December
Carolathon: 20th – 21st December
The Christmas Busk: 24th December
© 2020 Dublin Simon Community | Charity Registration: No. 20009892 | Charity Number: CHY 5963