Welcome to the latest edition of the Simon Scoop for volunteers and staff! Please scroll down and click on the headline to read all of the content.
We hope you like it and that you had an enjoyable Halloween!
The Communications Team
Sam's Introduction
Sam's Welcome:
We are preparing to open a family hub in Co. Meath. This new service will respond to the diverse needs of families who are experiencing homelessness.
The latest national homeless figures (September 18) were released on 25th October with the total number of adults and children in emergency accommodation now at 9,698. This is an increase of 171 people from the previous month's figures. People experiencing homelessness in Dublin has also increased from 6,765 in August to 6,809 in September (0.7% increase). We will continue our efforts to move more people off the streets as soon as possible and out of emergency accommodation.
I recently attended the launch of 'Sixty Photographs for Simon' by Vincent Butler in The Shelbourne Hotel. The book is a collection of images from over 25 countries all over the world that Vincent has complied over a period of two decades during work-related travel. All of the proceeds from the book go to the Simon Community, and I would encourage you all to take the time to read about it on the website. The book costing €20 would make a perfect Christmas gift.
I thank you in advance for the special effort needed as we prepare for the busy Christmas period and the additional risk of unpredictable weather.
Many thanks and I hope you had an enjoyable Halloween!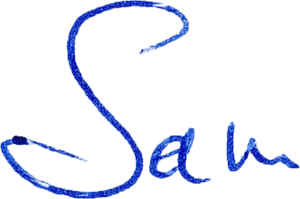 Volunteer Profile - Izabella Alvarenga
-When did you start volunteering with Dublin Simon Community? 
I started volunteering with Dublin Simon Community in November 2017.
-What made you want to start volunteering?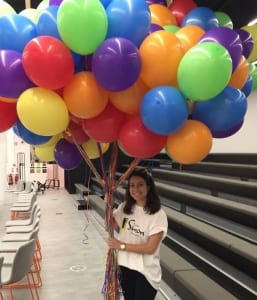 When I decided to come to Ireland I was thirsty for change, after working for five years in a Multinational company in Brazil. The initial plan was to study and to experience living abroad. However, my friend who was a volunteer at that time, presented me all the brilliant work the organisation do and I had the opportunity to join the Fundraising Team. I was in pursuit of giving my time for a good cause and to become a better person daily and it has been very worth it.
-What's your favorite part of volunteering?
My favorite part is to learn a new culture and different skills, to get to know awesome people from all over the world, make friends for a lifetime, and also make a positive impact in someone else's life. All the challenges they are faced with every day, inspires me to do my best and allows me to see from another perspective.
-Describe your any positive memory that you have from volunteering with Dublin Simon Community?
Experiencing every project that I took part in was memorable: Christmas events, the VHI Women's Mini Marathon, the Home Run and the Simon Running Club. I really enjoyed doing shadow shifts in the services as well and to know the projects and clients better. I feel that every euro raised and every small action counts to supporting people in need.
-What would you say to someone who is thinking of volunteering with Dublin Simon Community?
It is a great opportunity to learn very much about yourself and how to deal with several challenges, cultural differences and to be more flexible and empathetic. No matter your background and experience, just your willingness to help matters. You will have one of the best experiences of life!
Izabella Alvarenga, Full-Time Volunteer
Staff Recipe - Lemon Drizzle Loaf
Lemon Drizzle Loaf
This is the perfect sweet treat to share with friends and family on those cold and dark autumn evenings.
What you need:
225g/8oz self raising flour
175g/6oz butter (room temperature)
175g/6oz caster sugar
3 eggs, beaten
Juice & rind of 1 lemon
Drizzle:
Juice & rind of 2 lemons
100g/4oz caster sugar
How to:
-Preheat oven to 150°C/300°F/Gas 3. Grease and base line a 900g/2lb loaf tin.
-Beat the butter and sugar together until smooth and creamy. Gradually beat in the eggs with a few spoonfuls of the flour.
-Gently stir in the remaining flour and finally mix in the juice and rind.
-Transfer to the prepared tin and bake in the centre of the preheated oven for 40-50 minutes until risen and springs back when gently touched.
-Remove from oven and leave in tin until warm.
-Meanwhile make the drizzle by putting the juice, rind and sugar into a saucepan over a low heat. Allow to simmer until the sugar dissolves, stirring occasionally.
-When cake is warm, pour over the drizzle and allow to soak into cake. When cake is cool, remove from tin.
-Store in an airtight container.
Enjoy!
Aoife Mulhall, Communications Team

Volunteer Recognition Awards Night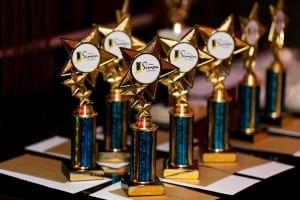 The Volunteer Office had its annual Volunteer Recognition Awards in The Church Bar on Thursday, 4th October during Simon Week. The event was a great success and we had a huge amount of Full and Part-Time volunteers in attendance. Our volunteers are at the heart of what Dublin Simon Community do and we are delighted to have the opportunity to recognise their contribution. The event featured the comedy stylings of Joanne McNally, music from Black Tye and most importantly, our volunteer awards!
The following Part-Time volunteers were awarded long service pins:
Chrome Pins for 5 years service:
Rachel Sorohan
James Flynn
Adrian Martin
Raymond Magourty
Richard Lawlor
Silver Pins for 10 years service
Edward Manders
Martina Brennan
John Fitzpatrick
Gay Mooney
Gold Pins for 15 years service:
Roger Rafferty
Eleanor O'Connor
Joanne Keeney
The following awards were also presented on the night:
The Coordinator of the year winner was Roger Rafferty
The Community Engagement award winner was Paul Kelly
The Positive Role Model award winner was Michael Kelly
The Sunshine award winner was Katie Donohoe
The Commitment to the role winner was Denise Roche
The Innovation award winner was Aaron Begley
The Customer Support award winner was Eleanor O Connor
The Fundraising award winner was Gay Mooney
Volunteer of the Year was awarded to Stephen Ponder
Karen Peakin, Volunteer Office

Staff & Client Football Game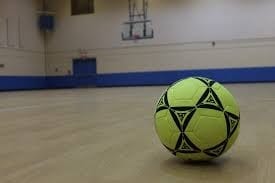 On Wednesday 24th October a staff & client football game was organised in St Catherine's Sports Hall. On the night we had six staff members play and six clients that were engaged in the Health and Wellbeing group. This was a hard fought game that was greatly enjoyed by both staff and clients. So much so that everybody was asking when the next match would be.
We are thinking about making this a monthly match around the last Wednesday of the month. If you would like to get involved or know a client that would like to participate, then please contact either Colm Russell or JT Treanor.
Colm Russell, Step Up Step Down
Recovery social to the Nightmare Realm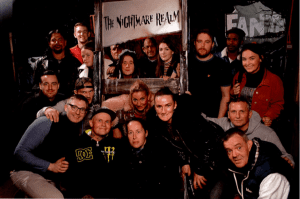 "An extreme walk-through horror event preying on your deepest fears and nightmares and twisting them into a deadly reality."
On Thursday, 25th October, those in Ellen Hall decided, with the help of the brave Health and Wellbeing Service (and Shaun McGuinness) to investigate these assertions. Thanks to Pioneer and Amundi Asset Management who subsidised the cost of the tickets to €5 for each of the clients, helping nearly all in Ellen Hall to go. We had a great turnout with eleven from Ellen Hall alongside two clients heavily involved in the Health and Wellbeing Service, and six staff members in attendance. We all admitted we went in thinking it wouldn't be overly scary.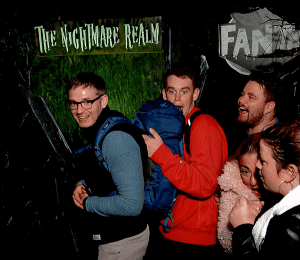 Oh how wrong we were! By the end everyone (besides Marcin) had been scared several times approaching cardiac arrest, with some falling over in utter terror (me), some having breakdowns midway crying in hysteria and others simply leaving early cause they couldn't handle it (you know who you are). All in all it was a great night of fun had by everyone present and we look forward to next year's trip to the Nightmare Realm!
James Sweeney, Full Time Volunteer – Health and Wellbeing

Donor Appreciation Night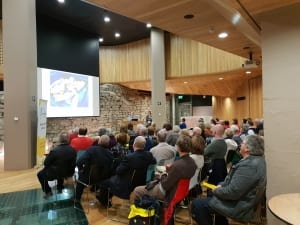 On Wednesday, 17th October after weeks of planning, the Donor Care Team's Donor Appreciation event was held in Wood Quay. Taking place in a meeting room overlooked by a stretch of original Viking city wall, the evening was hosted by Brian Ingarfield and designed to take supporters on a journey through our services. It began with a presentation by Barbara and Ellen from the Rough Sleeper Team as they shared vital statistics on homelessness as well as information on how our Outreach Services provide support and help clients to access services. This was reinforced by Tom who spoke about his participation in the Soup Run and underlined how essential donor's support is in order to keep services running.
After this, Glenn Gannon took to the stage to talk about his experiences of rough sleeping, followed by Terry who spoke frankly about his own struggles with homelessness. Each in turn then explained how the Simon Community helped them along the way which created a tangible picture for donors how their support has real life results.
Following this, Donal read his poem 'Off the Road' from the most recent volume of Scrappy But Happy:
Having largely settled in a community, by now, one
complete advantage is stability. To have a fairly
good idea where one will be, from one day to the
next, is nothing short of miraculous, at times!
The evening ended with some closing comments from Sam with many of the attendees stayed around afterwards for tea, coffee and sandwiches which were kindly provided by Morton's. A number of the guests were inspired by what they had seen that evening and many were keen to get involved with volunteering. The next day one of the attendees wrote to us:
"In response to my attendance at last night's event in the Wood Quay venue, I feel impelled to write with my reaction to it…afterward I felt so humbled having witnessed the bravery of the three clients who spoke with us – to stand before the crowd and tell their individual stories was immensely courageous and moved and educated me."
In the end, the event was a great opportunity for our supporters, not just to speak with our clients and staff, but also to meet each other and experience the sense of community that Dublin Simon Community fosters.
Brian Davey, Donor Care Team
New Services and New Opportunities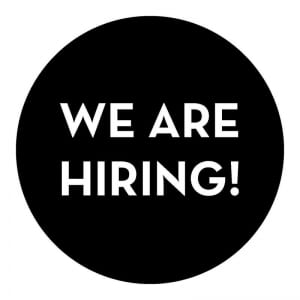 Right now, you have the opportunity to be part of something new here in Dublin Simon Community as we open a family hub in Co. Meath. It's a new departure for Dublin Simon Community as we further respond to the diverse needs of families who are experiencing homelessness.
Alternatively, why not expand your career in our other thriving services where you can develop new skills across a range of core and niche areas. There are new managerial and supervisor positions available where you can demonstrate your leadership skills.
Please visit our website for more details on all our current opportunities.
Shane Lynott, HR Officer

Dates for your Diary
Dates for your Diary
Here are some of the key dates for your diary between now and the end of the year.
Memorial Service: 10:30am, Tuesday, 6th November (Dublin Unitarian Church, St. Stephen's Green) All of the details can be found here.
Dip at Dawn: 8am, Saturday, 1st December (Click here for further information)
House of Light: Thursday, Saturday, 6th-8th December
Carolathon: Friday, Saturday, 14th-15th December
Christmas Party: Friday, 7th December
Sing for Simon: All of December
If you are interested in getting involved in any events or would like more information, then please contact your local social representative, the HR Team or the Community Team.
© 2019 Dublin Simon Community | Charity Registration: No. 20009892 | Charity Number: CHY 5963