Welcome to the May edition of the Simon Scoop! Please scroll down and click on the headline to read all of the content.
We hope you enjoy it,
The Communications Team
Sam's Introduction
Sam's Welcome:
The Dublin Simon Community Board passed a resolution to assume management responsibility for Service Level Agreements (SLA) and support functions of Dundalk Simon Community. Similarly, Dundalk Simon Community passed a resolution for Dublin Simon Community to assist or take control over SLA's and functions of Dundalk Simon Community. The discussions to this effect have been ongoing for some time now between our Service Management Team (SMT) and the Dublin and Dundalk Simon Community Boards.
I would like to thank the members of SMT who helped bring the discussions to a conclusion and would ask in advance for your support to make this relationship with the staff and clients of Dundalk Simon Community progress to the benefit of both communities into the future.
Action plans to support the above are being developed presently for immediate implementation. I will ensure you are kept informed as we finalise these…
Thanks, and have a very pleasant, enjoyable and sunny bank holiday weekend,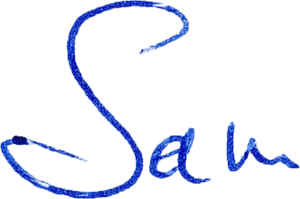 Staff Profile
Emily O'Brien – Fundraising Executive
When did you start here at Dublin Simon Community?
I started at Dublin Simon Community at the end of April 2018; the last month has flown by as I've been finding my feet.
What is your favourite part of your job with Dublin Simon Community?
So far I've been enjoying the variety of the work and having the chance to work on different kinds of projects. At the moment we're trying to get some new fundraising ideas up and running, so that process is definitely exciting. It's been great getting to know the team at Cope Street, everyone is lovely and they're a brilliant bunch to work with.
Do you have anything excited planned for the summer?
I'm planning a trip to Greece with my sister for September, so I'm really looking forward to that! I've only recently moved back to Dublin so I'm keeping an eye out for any concerts or events around the city that look fun. I'm also thinking of going to All Together Now Festival in Waterford in August, and I'll be doing the VHI Women's Mini Marathon on 3rd June.
What are your interests or hobbies?
I really enjoy cooking and baking, especially trying out new recipes. Finding new restaurants to visit is a favourite activity of mine. I go for the (very) occasional run and I've also joined the Book Club at Cope Street to re-ignite my interest in reading. I'll never say no to a good history documentary either!
What's your favourite animal and why?
I absolutely love dogs; I have a golden retriever called Archie and he is the biggest, friendliest, dopiest ball of fluff you'll ever meet. Dogs are the best animals to help brighten up your day.
Staff Recipe
Foolproof Summer Cheesecake
Ingredients – serves about 6-8 people
350- 400g digestive biscuits
115g unsalted butter, melted
2 x 225g packs cream cheese, at room temperature
170g granulated sugar (I like to use icing sugar as it's easier to blend)
350ml very cold cream
Few drops of vanilla essence or lemon juice, depending on your taste.
Directions:
The cheesecake is light and creamy enough to take loads of flavour combinations without being really rich and heavy, so get creative! Fresh fruit like in the picture is perfect for sunny BBQ's . Sometimes I crush a large bag of Malteasers, adding half to the topping, and sprinkle the other half on top. Candied pecans with salted caramel sauce on top is next on my list to try!
You could also swap out the digestives for chocolate bourbons or ginger snaps for something a little different – ginger snap base with some lime juice/peel in the topping is a good combo.
Put your biscuits in a sealed Ziplock bag and bash them with a rolling pin until they're mainly crumbs. Add the melted butter and mix them together in a bowl. Transfer to a 9-inch pie dish and press evenly on the bottom and up the sides. Refrigerate for at least 20 minutes while you make the topping.
Using an electric mixer, beat the cream cheese and sugar in a large bowl on medium-high speed until smooth, about 2 minutes. Reduce mixer speed to low and gradually add the cream. Increase speed to medium-high and beat until stiff peaks form, about 3 minutes. Add the lemon or vanilla flavour once the topping is mixed. At this stage you can also add in Malteasers or berries if you'd like them to run through the cake.
Spoon it onto the biscuit base, and smooth it out. Refrigerate until the mixture is set, at least 4 hours; but you can leave it overnight and it will be just fine.
Just before you serve it, arrange the fresh fruit/chocolate/sauce/whatever you're having on top, and dig in!
Grace Allen, Community Team

Community Day 2018
Community Day is less than 3 weeks away!

The Annual Client, Staff and Volunteer Community Day is just 19 days away, so make sure it's in your diary!
This year's Community Day will take place on Tuesday, 19th June in The Sugar Club on Leeson Street from 10am-1pm. There will be loads of fun on the day for all of the organisation, including the first ever 'Simon's Got Talent Show.'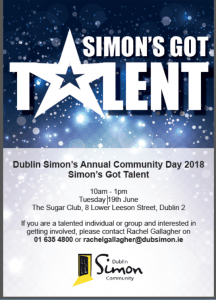 Please contact Rachel Gallagher from HR if you have any questions. See you then!
Volunteer Profile
When did you start volunteering with Dublin Simon Community?

I started volunteering with the Dublin Simon Community in March 2015.
What made you want to start volunteering?
Wandering through the streets I noticed year by year more and more people on the street. I had time on my hands after work and I wanted to help or support, so I decided to send in an application to the Simon Community. The rest is history.
What's you're favorite part of volunteering?
Knowing we are there week by week and opening the doors at the Social Club. Chit chat and listening to clients. Just being there and helping when needed.
Describe what it means to you to help people experiencing homelessness?
For me it means to be there for someone I can help, put a smile and smile on people's faces and spread some joy. It can happen to everyone.
What would you say to someone who is thinking of volunteering with Dublin Simon Community?
Simple – Go for it!
Katharina Dressler, Volunteer Co-Ordinator, Wednesday Evening Soup Run
Longest Day
On the #LongestDay, take the time to do something for people who are homeless
The Dublin Simon Community's #LongestDay is an annual day of action on June 21st. The longest day of the year, with the most hours of sunlight for many, is a day of possibility and activity. People take time to enjoy the longer day with friends and family; doing simple and everyday things that some may take for granted.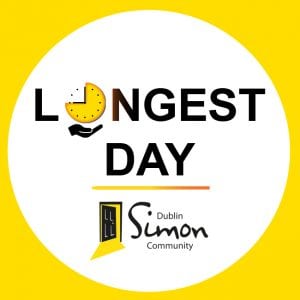 However, when you're trapped in homelessness with no place to call home, you are forced to go without the simplest comforts and the days can be isolating, endless and relentless; you are living minute to minute and every day can seem like the #LongestDay of the year.
How to get involved:
Throughout the #LongestDay Dublin Simon Community will have a day of online activity, where we will share testimonials from clients on Facebook and Twitter to illustrate the lonely and isolating nature of being homeless or at risk. Each quote will be shared with the hashtag #LongestDay. Please support the campaign by liking our content online and sharing it with your friends and family!
VHI Women's Mini Marathon
The VHI Women's Mini Marathon takes place at 2pm on Sunday, 3rd June. Every year we have people running in aid of Dublin Simon Community. This year we have a team of 33 running in the event, which is a fantastic number of sign-ups. The team comprises of clients, staff, volunteers and supporters of Dublin Simon Community.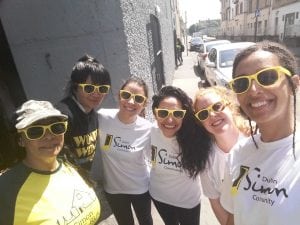 Best of luck to everyone taking part and enjoy the day!
Karla Trumbley, Community and Events/ Volunteer Office
Dates for your Diary
Dates for your Diary
Please find some Employee Engagement Dates for your Diary.
The Employee Engagement Group is composed of managers and staff from across the organisation. The group discuss how we can improve employee engagement across the organisation and develop events and initiatives which are held throughout the year.
This year is shaping up to be yet another fun and exhilarating year for employee engagement as there will be lots of new and exciting events that you can get involved in.
Take a look at our new and improved social calendar below!:
Community Day: Tuesday, 19th June
Summer Party: Friday 26th July
Community Day at the Home Run- Saturday 6th October
Memorial Service: Tuesday 6th November
Christmas Party: Friday 7th December
If you are interested in getting involved in any events or would like more information on these events, please contact your local social representative or the HR Team.
Other Dates for your diary include:
Longest Day – Thursday 21st June
© 2019 Dublin Simon Community | Charity Registration: No. 20009892 | Charity Number: CHY 5963