50th Introduction 
This month we are sharing the history of one of our oldest housing services, Sean MacDermott Street, which we purchased in the late 1970's. Since our early years, providing housing with support has been a vital part Simon. Placement into Sean MacDermott Street was based on who would need the service the most, and who would benefit from living there. As a result the residents were often slightly older, with higher support needs, many having experienced homelessness long term.
This model still exists across our high support housing services. As we support people to move out of homelessness and take the first step towards rebuilding their lives, it's important that they are in a safe environment to redevelop any skills that were lost when they were sleeping rough or accessing emergency accommodation. Our supported housing services provide the necessary help to enable people to redevelop these skills and learn many new ones. The sense of community in our supported housing is also vitally important as it helps people who have come from sleeping on the streets to fit in and feel, at last, that they belong.
On Saturday 1st June, Dublin Outreach, the assertive street outreach service provided in partnership by Dublin Simon Community and the Dublin Region Homeless Executive began operation. This service engages with adults who experience rough sleeping, supports them into temporary homeless accommodation and makes appropriate referrals to permanent housing options especially Housing First. This service will also ensure that people sleeping rough are linked with other appropriate housing and health services to prevent further rough sleeping. A huge well done and thanks to all the team involved for all their hard work and dedication so far.
In addition to this, the 2019 Dublin Simon Community Day will be taking place on Tuesday 18th June. Full details will be shared with you shortly, but please keep the date free in your diary. The day will have the theme of 'Simon's Got Talent' again due to the success of last year's event. It is one of the only days in the year when all of our staff, volunteers and residents can come together and enjoy a day of fun and activities together. I hope to see you all there!
Many thanks, your work is appreciated.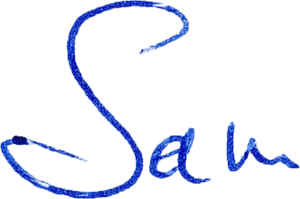 Get the Scoop on the early days of Sean Mac...
Find out about the early days of Dublin Simon Community through stories from volunteers, clients and reports in the media.
In September 1976 Dublin Simon Community acquired a property at 36 Sean MacDermott Street for a residential house. That year it had been renovate Simon volunteer Ursula describes visiting the house in the early 1980's:
"Brigid the Project Worker showed me the garden of 35 with great pride. It had been just a pile of rubble when the house opened. In less than a year one of the residents had converted it into a thriving garden producing plenty of fresh vegetables."
Read more quotes and stories by clicking the image below.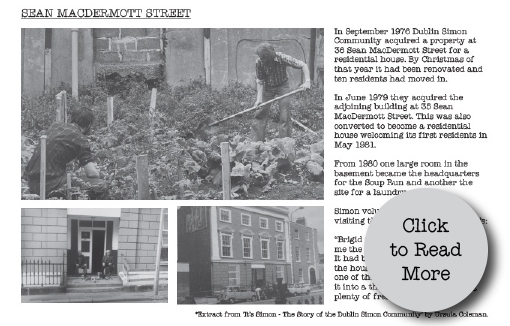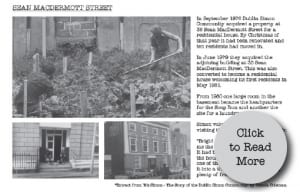 Volunteer Profile - Roger Rafferty
When did you start volunteering with Dublin Simon Community?
I started volunteering with Simon in 2002.
What made you want to start volunteering in the first?
I suppose my reason for joining was twofold, a friend of mine found himself homeless after a marriage breakup. I just couldn't believe that anybody could just discover that they had nowhere to sleep at night. Thankfully in his case he managed to get somewhere to live, but he spent a couple of nights sleeping on the street. Around the same time I changed jobs and had much more free time. I've always wanted to volunteer, and after seeing how an ordinary person can so quickly find themselves homeless I picked Simon.
Describe a (any) positive memory that you have from volunteering with Dublin Simon Community?
Over the years I have had so many positive memories of volunteering with Simon. Meeting my fellow volunteers, and just seeing the passion they had in trying to make a difference made me feel proud. The generosity of the public was amazing, seeing how groups just got together and organised fund raising, or made up hundreds of care packets for rough sleepers. My most vivid memories though will always be the Service Users, I must have seen thousands of people over the years, from people in addiction, people with mental health problems, or just ordinary people going through a crisis in their lives. All of these people were treated with dignity and respect by my fellow Soup Runners and Dublin Simon Staff.
What would you say to someone who is thinking of volunteering with Dublin Simon Community?
What I would say to anybody thinking of volunteering is: Just do it. Simon is a wonderful organisation, it goes about its business in a steady way,day in and day out, it's been there for 50,has always been volunteer based, but now has amazing staff who are equally committed to our Services Users. I had a great time with Simon, and I'll never forget the people, keep up the good work. 
Roger Rafferty,
Recent Activities
Sustainable Fashion Show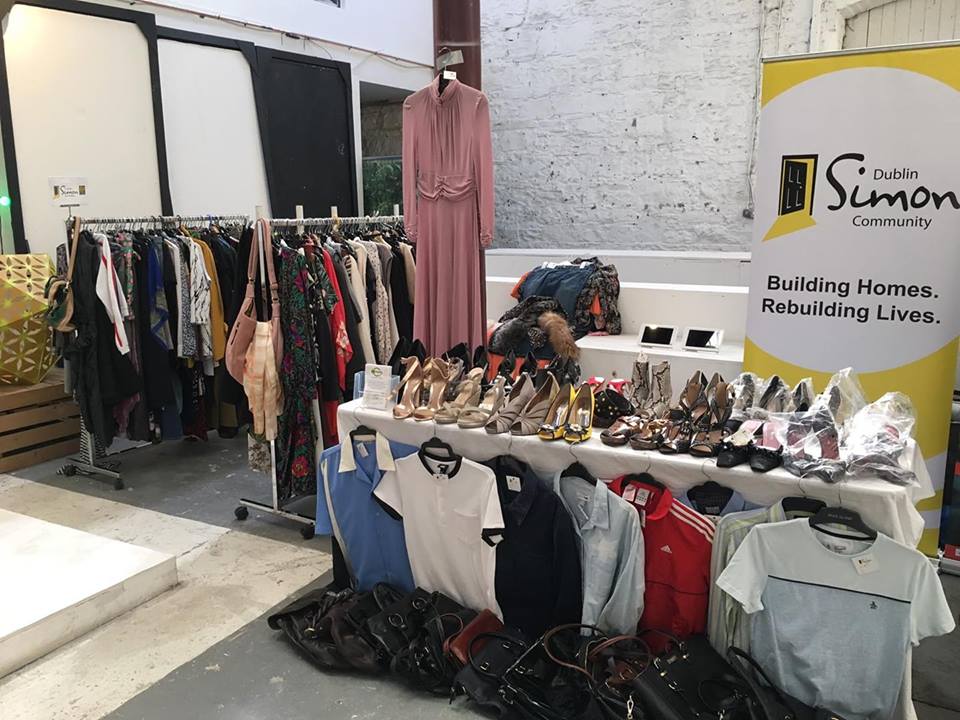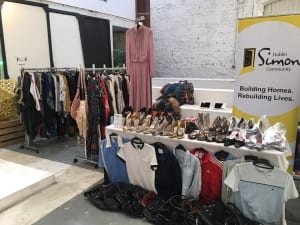 Dublin Simon Community participated in the Sustainable Fashion Show at D-Light Studios on 27th April. Our Simon Charity Shops were showcasing some of our collections at the Sustainable Fashion Show as part of Fashion Revolution Week. Our Shops were recently awarded the Community Reuse Network Ireland ReMarkReUse Quality Standard of Excellence for their commitment to providing quality reused goods and championing a circular economy.
Volunteers' CPD Certificate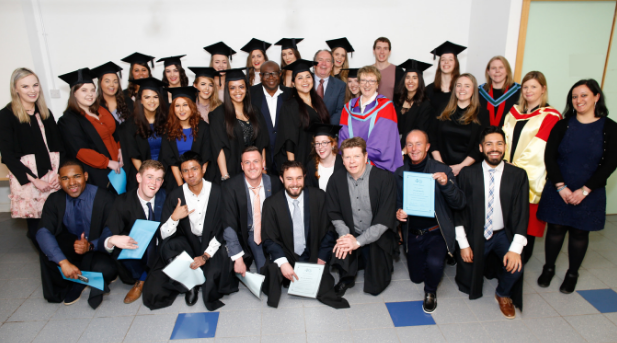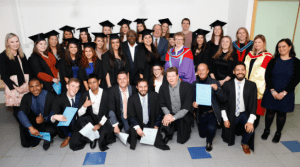 Our full-time Simon Community Volunteers celebrated on 9th May as they graduated with a CPD Certificate in Volunteering from TU Dublin. The course covers mental health, homelessness, addiction, boundaries, personal development and self-care. Volunteers in Dublin Simon Community play a key part in the organisation and the partnership with TU Dublin adds quality to service delivery and the positive experiences of volunteers and Simon Community clients. A total of 72 volunteers completed the Certificate in Volunteering between September 2018 and February 2019. The Certificate in Volunteering has been running since 2010 and there have been 410 Graduates to date including the most recent graduates.
Hope Fest 2019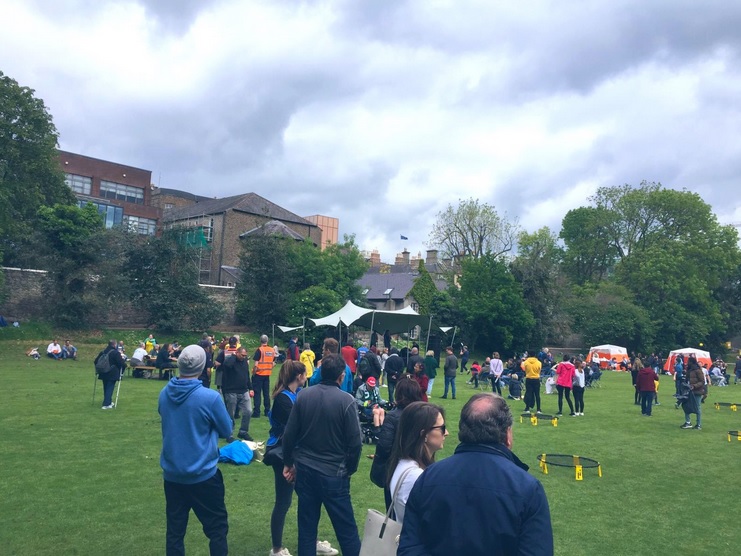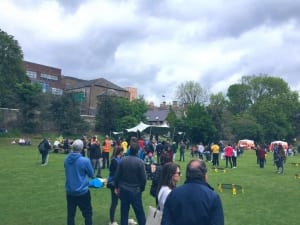 On Saturday 19th May, several hundred people came to the Iveagh Gardens for "Hope Fest", a summer party for people experiencing homelessness organised by Dublin Lions Club, UCD Staff and UCD Students (UCDLC) and Dublin Simon Community. The party had a festival feel, with various food vendors, a wellness area where guests availed of services, such as haircuts, chiropody and manicures with music provided by the UCD community choir.
"Lovely atmosphere, nice place to be. The mood of the day was gentle and open, was very pleasant. Anybody I talked to said it was a lovely day as well. I was happy with my haircut as well. The brass band were excellent. The food was nice as well." – Simon Treatment Services Client
Dates for your Diary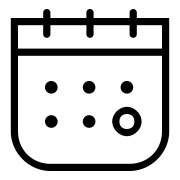 Here are some of the key dates for your diary between now and the end of the year.
Simon's Got (Even More) Talent!: Tuesday 18th June 2019
Join us for our annual Community Day and our 'Simon's Got Talent' show. We have had some very interesting acts sign up so far but there is still plenty of opportunity for you and your team or clients to get involved. The Day will also include our Peer Recognition
Ceremony and a delicious lunch.
Simon Longest Day Campaign: Friday 21st June 2019
When you're trapped in you are living minute to minute and every day can seem like the Longest Day of the year. Dublin Simon Community's #LongestDay is an annual day of action on June 21st and we are encouraging people to take the time out of their day to take the time to organise an event of their choice to help raise funds. You can get involved by organising a Longest Day activity in your department or service. Simply get in touch with the Fundraising team for more details.
If you are interested in getting involved in any events or would like more information, then please contact your local social representative, the HR Team or the Fundraising Team.
© 2020 Dublin Simon Community | Charity Registration: No. 20009892 | Charity Number: CHY 5963