Welcome to the June edition of the Simon Scoop! Please scroll down and click on the headline to read all of the content.
We hope you enjoy it,
The Communications Team
Sam's Introduction
Sam's Welcome:
Our annual Community Day took place on 19th June in The Sugar Club on Leeson Street. This year's theme was 'Simon's Got Talent' and I had the privilege of being one of the judges on the day. Community Day is one of my favourite days of the year, as it brings clients, staff and volunteers together and allows us to really feel a great sense of togetherness. We had 14 acts competing on the day, which included; poetry, rapping, signing, musical instruments, stand-up comedy and much more. I was amazed by all of the talent that we have to offer here at Dublin Simon Community. It takes a lot of courage to stand up in front of all of your friends and colleagues and perform. It's a really brave thing to do, so well done to every single one of you. The winner on the day was Arnau Huguet Gene, Full-Time Volunteer, who performed the song 'Hallelujah' on the saxophone. Congratulations to Arnau! I'd also like to thank all of the HR Team who put this year's Community Day together, especially Eibhlin, Tracey and Rachel. It was more like 'Simon's Got MORE Talent!
Finally, I'd like to take this opportunity to wish you all a very happy summer.
I hope the fine weather continues to shine down on us!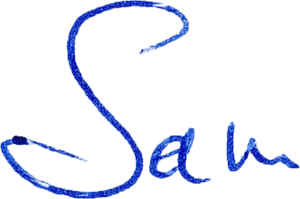 Staff Profile
Shane Brannigan – Corporate Partnerships Executive
When did you start here at Dublin Simon Community?
I started at Dublin Simon Community on Monday 25th June, so I'm on day five now.
What is your favourite part of your job with Dublin Simon Community?
So far, it's definitely the people. From our Cope Street office to Maple House to Harcourt Street, every one has been so friendly and open, willing to work with me and teach me more about what we do as an organisation.
Do you have anything excited planned for the summer?
I'd say the most exciting part of my summer is starting at Dublin Simon Community!
What are your interests or hobbies?
Hobbies-wise, I love to travel. I try to get to at least three new countries per year and I love being able to get abroad and experience new cultures.
What was the last great book that you read?
Right now I'm reading Tara Flynn's new book, Rage-In. I'm not that far in, but so far so good!
Staff Recipe

Argentinian-style ribs with Chimichurri sauce
World Cup fever seems to have spread all across the Dublin Simon Community. With the fine weather and football a plenty I decided to prepare one of my favourite dishes to enjoy this weekend with friends and family. This dish is rich and extremely popular in Argentina, and it's an easy one to prepare and then cook on the BBQ.
Here's what you'll need –
Meat:

1 1/2 to 2 pounds ribs (flanken-style) Just ask your local butcher to cut them for you.
1 to 2 tablespoons salt
Chimichurri-sauce:
Ingredients:
3 to 6 cloves garlic to taste
2 tablespoons chopped red onion
2 cups fresh flat-leaf parsley, firmly packed
1/4 cup fresh oregano leaves (optional) or 1 teaspoon dried oregano
1/4 cup fresh cilantro (optional)
1/2 to 3/4 cup olive oil
2 tablespoons red wine vinegar or to taste
1 tablespoon lime juice or to taste
Kosher salt and red pepper flakes to taste
Preparation:
Pulse the garlic and chopped red onion in a food processor just until they are finely chopped.
Add the parsley, oregano, and cilantro, as desired, and pulse briefly, just until the herbs are finely chopped.
Transfer the mixture to a separate bowl.
Add the olive oil, red wine vinegar, and lime juice and stir. (Adding the liquids outside of the blender gives the chimichurri the correct texture. You don't want the herbs to be completely pureed, just finely chopped).
Season with salt and red pepper flakes to taste.
Store in the refrigerator until ready to serve.
Serve with a side salad and/ or french fries.
James Phelan, Communications Team

Volunteer Profile
When did you start volunteering with Dublin Simon Community?
I started volunteering with the Dublin Simon Community on November 6th 2017
What made you want to start volunteering?
At the beginging I just wanted to do something different and I thought that it would be great for me work abroad and get some experience. It was also a way for me to  improve my English and meet new people. However, once I saw all the work behind Dublin Simon Community, it made me want to get more and more involved and help as much I could.
What's you're favorite part of volunteering?
I love the idea that maybe my little work here could change the way the world perceive people who are experiencing homelessness.
Describe your any positive memory that you have from volunteering with Dublin Simon Community?
I participated in the Vhi Women's Mini Marathon and I had the opportunity to spend time with some of our clients. Training together, laughing and enjoying every day with them made me feel that all our efforts were worth it. It was a really magical experience!
What would you say to someone who is thinking of volunteering with Dublin Simon Community?
I really recommend for people to volunteer with Dublin Simon Community because it is a great opportunity to learn more about yourself and the people we help. At the end of the day we're all the same.
It's time to change the way things are and it's our responsibility to do something to improve our world.
Karla Trumbley, Volunteer with Community and Events / Volunteer Office
Community Day 2018
Community Day and Recognition Ceremony 2018
The year 2018 marked Dublin Simon Community's 8th annual Community Day which took place in the Sugar Club on Leeson Street on Tuesday, 19th June. Over 200 guests consisting of clients, staff and volunteers from across the organisation came along to celebrate the event, it was an excellent turn out, and we thank everyone who came along and made the day so special!
The theme of the day was 'Simon's Got Talent'. Eibhlín Quinn opened the show for us and Tracey O'Malley acted as the MC for the duration of the Talent Show. We had 13 acts ranging from singers, dancers, musicians, poets, rappers and performers from across the services who took part in competing head to head for an amazing price! We also had two external performers, Aaron J. Hart (Ireland's got Talent finalist) and Damian Clarke (Comedian) who opened and closed the show for us.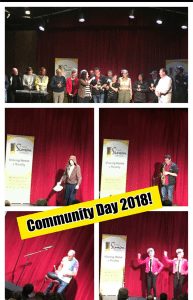 Contestants were trialed by four fantastic judges who were selected as representatives for all: Sam McGuinness, Uliana Moraes, Siobhán Johnston and Mark Whiston. Each judge gave hilarious and insightful feedback in exchange for 12 extra votes for their favourite act. Everyone in our audience was also given a voting card to vote for their favourite act and who they would like to see be the winner of 'Simon's Got Talent 2018'. These were counted by our Employee Engagement Group.
The day finished with addresses from Sam and Eibhlín, announcing the winner of 'Simon's Got Talent' and presenting trophies to all contestants along with some delicious food from Kyle's Catering for lunch!
Of course, no Community Day would be complete without the infamous 'Peer Based Recognition Ceremony'. Owen Gleeson read all nominees and announced award recipients. Awards were then presented by Sam and members of the Senior Management Team. Please see below a list of nominations and recipients in each function and a huge well done to all involved!
Emergency Services:
Team Nominations:
Carmans Hall, Maple House, Flexi Team (2 nominations), Harcourt Street, Rough Sleeper Team (2 nominations)
Recipient:
Maple House for providing a high level of support to Chester House staff and the residents of Maple Apartments when they need assistance.
Individual Nominations:
Alessandra Bertone (2 nominations), Barbara Domenech, Bill Mitchell, Colm Russell, Heather Howell, Niamh Power, Owen Gleeson, Rosie Brennan, Stephanie Lordan
Recipient:
Heather Howell for her commitment to clients and the Harcourt Street Service during extreme weather conditions and helping the service to provide an additional 10 emergency cold weather beds.
Supported Housing Services:
Team Nominations:
One nomination for the Canal Road Team
Recipient:
Canal Road for their hard work and positive interventions when working with clients and the team's dedication for making improvements in the service
Individual Nominations:
Trina Harpur and James Hinchon
Recipient:
Trina Harpur for balancing a heavy workload and managing both the Oak House Service and the Housing Management Service for a period of time.
Property and Tenancy Sustainment Services:
Team Nominations are:
Repair and Maintenance Team and Housing Management Services Team
Recipient:
The Repair and Maintenance Team for being the 'invisible heroes' of the organisation. They always carry out tasks with a calmness and willingness befitting of the situation at hand
Individual Nominations are:
Adrian O'Reilly, Jimmy Dowling, Orla Dwyer, Philip Corrway
Recipient:
Orla Dwyer for dealing with an exceptional situation with her usual determined approach. Being passionate about people and always try her best to remove any obstacles and ensure the best outcomes for clients.
Treatment and Enterprise Services:
Team Nominations are:
Aftercare, Sure Steps Counselling (2 nominations), Detox, Health and Wellbeing, Participation and Development
Recipient:
The winner is….. Sure Steps Counselling for the invaluable support that you offer to both clients and staff teams across the organisation. They also show flexibility around prioritising at risk clients.
Individual Nominations are:
Niall Murtagh, Paul Gaerty and Raymond Gillick
Recipient:
Niall Murtagh for always making time to promote the Health and Wellbeing Service and the organisation. This is not part of his role however, it provides invaluable exposure for the organisation.
Support Services:
Individual Nominations are:
John McHugh, Aoife Mulhall, Rachel Gallagher and Joyce Gaynor
Recipient:
Rachel Gallagher for your effort and running of good Vibes Week 2018. Encouraging staff participation and overall general enthusiasm and energy.
Opening the Door to Hope
It all began with two people meeting in a Costa in Smithfield … well almost.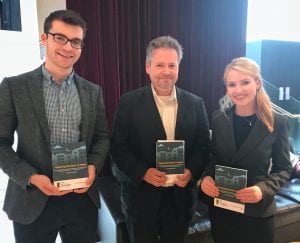 All of us working for Dublin Simon Community recognise the specific vulnerability of our clients with regards to suicidal ideation and self-harming behaviours. A lot of us have, in the course of our work, witnessed a client's despair driving them to consider such an ultimate and final act to escape their pain, and are familiar with the feelings of sadness and helplessness this often causes in us. It was as a response to this that we, as an organisation, went out in 2016 to research a specific approach for the management of suicidality that met the complex need of the people we work with. The chosen CAMS approach (Collaborative Assessment and Management of Suicidality) was subsequently implemented over late 2016 to early 2018 in three chosen pilot sites within Dublin Simon Community. A total of nine Sure Steps Counsellors and 30 frontline staff were initially trained in the CAMS approach. Nearly 20 clients were referred to us specifically for suicidality during that time frame.
Implementing a new approach and developing an organisational framework around it was challenging and exciting at the same time for everyone involved. However, our wonderful consultant Dr. Eoin Galavan supported us every step of the way – probably learning a lot more about the specific challenges of working in an acute homeless setting than he initially bargained for!
Simultaneously, Derek and Thilo Kroll, a research professor from UCD, started their famous "Costa meetings" to discuss how we might go about evaluating this pilot project, later on joined by three other researchers, Pearse Adams, Rachael McDonnel-Murray, and Michael Condron, who did a fabulous job pulling all the clinical data together, interviewing frontline staff and counsellors, and putting it all against the backdrop of best practices nationally and internationally in terms of working with clients that are suicidal.
A year later, and with the technical help of the amazing Aoife Mulhall from Communications, we were ready to present our "Opening the Door to Hope" report on 13th June in the Morrison Hotel. What a day! Everyone was buzzing with excitement, the room was packed, TV cameras, microphones, and members of the printed media were floating around trying to get access to the people involved, and we were all glad we took out our good clothes! The fabulous High Hopes Choir started off the event, and had us all emotional even before the formal presentation of the findings began. The presentations of the findings were followed by official words from John Meehan, Assistant National Director, HSE Mental Health and Head of National Office For Suicide Prevention – who welcomed our efforts in providing a much needed service to the homeless and was pleased to announce that the HSE were now providing us with funding for a new out of hours suicide-specific counselling service for the homeless.
To say we were proud is an understatement. Having seen the counselling service grow to what it is today is amazing in itself, but having a statutory body officially acknowledge the good work that we do and supporting its growth is simply incredible. Most importantly, it will enable us to expand our current service to evenings and weekends – a first in Ireland and within the homeless sector!
When Sure Steps do launches…a door to hope opens! Stay tuned.
Andrea Koenigstorfer, Sure Steps Counselling
Oak House on tour!

The social programmes in Oak House really got of to a great start this year with museum trips, ice cream in memorial park, table tennis, bingo, board games, coffee morning, pizza night and of course our book day which was a huge success. The highlight of the year so far however was our recent boat trip to Holyhead. On June 12th five residents, two support workers and a volunteer set sail from Dublin Port on what can only be described as an adventure. It was an early start for all. Our lovely chef Yvonne packed a lunch and we all met for tea and coffee in the dining room before our taxi's arrived. We arrived at Dublin Port at 7am and check in went smoothly. As the boat set sail we had a lovely sing song and enjoyed breakfast before heading out on deck to enjoy the lovely scenery of Dublin bay. Afterwards we took a tour of the boat. Residents had the opportunity to enjoy a movie in the free on board cinema. There was also a games room, restaurant and bar on board. Staff enjoyed testing out perfumes in the duty free shop while some residents browsed through the Irish and welsh souvenirs to grab a bargain.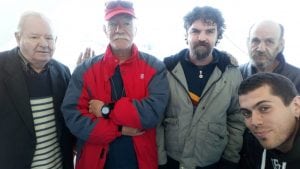 The sun was beaming down as we arrived in Holyhead. A bus transferred us from the boat to the port and we took a stroll down onto the high street. After browsing the shops we went for some refreshments in a local pub.  Before heading back panic set in when a quick headcount revealed that we were one man down. However, our escapee was quickly found strolling down high street window shopping and enjoying the good weather. We headed back to the boat shortly after 1pm. Once we were back on board we took a seat at the front of the ship where we enjoyed the scenery of the Welsh landscape as we set sail heading back to Dublin. The residents enjoyed a lovely fish and chips dinner compliments of the captain before the early start to the day took its toll on them and one or two lay down to catch up on some beauty sleep. We arrived back in Dublin Port exhausted and made it back to Oak for 6.30pm. The trip was a great opportunity for residents to get to know one another better. It was nice to see everyone getting on so well and enjoying themselves. A great day was had by all!
Natalie Williams, Support Worker – Oak House
Dates for your Diary
Dates for your Diary
Please find some Employee Engagement Dates for your Diary.
The Employee Engagement Group is composed of managers and staff from across the organisation. The group discuss how we can improve employee engagement across the organisation and develop events and initiatives which are held throughout the year.
This year is shaping up to be yet another fun and exhilarating year for employee engagement as there will be lots of new and exciting events that you can get involved in.
Take a look at our new and improved social calendar below!:
Summer Party: Friday 26th July
Community Day at the Home Run- Saturday 6th October
Memorial Service: Tuesday 6th November
Christmas Party: Friday 7th December
If you are interested in getting involved in any events or would like more information on these events, please contact your local social representative or the HR Team.
Other Dates for your diary include:
Dragons at the Dock: Thursday 30th August – Volunteers needed!
Ireland's leading property agencies raised over €200,000 in the dragon boat race for Dublin Simon Community and other local charities last year.
Email: rachelmoffat@dubsimon.ie for more information.
Finally…
Join the Community and Events Team: Saturday 7th July (Location TBC)
In November 2018 we are putting on two new and exciting Simon events, and we are looking for committee members.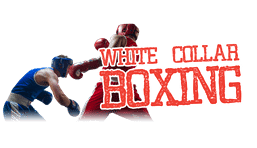 We are looking for organised, motivated, and enthusiastic people to provide just a few hours a month to help make Simon Strictly & Simon White Collar Boxing successful!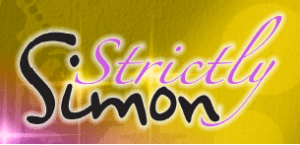 It couldn't be easier to get involved, we are hosting our first events team meeting on July 7th in a central location, and we would be thrilled to have you on board.
Just e-mail JohnSansome@dubsimon.ie to book a slot.
P.S. – Do you know a friend who might be interested? Please forward this to anyone you think might want to get involved.
© 2019 Dublin Simon Community | Charity Registration: No. 20009892 | Charity Number: CHY 5963