Welcome to the latest Simon Scoop for our volunteers and staff! Please scroll down and click on the headline to read all of the content.
We hope you like it!
The Communications Team
Sam's Welcome
We're just over a week away from the 2019 Simon Home Run. It's the 36th year of our annual 5 mile run, and it's a Community Day for all of staff, volunteers and residents. We have an earlier date for this year's run. It's one of the key dates in our calendar every year and I'm looking forward to seeing you in the Phoenix Park on 9th March. Please make contact Grace Allen on the Community Team at grace@dubsimon.ie or go directly to www.homerun.ie to get further involved or just come out on the day and meet everyone!
Our Simon Charity shops and warehouse has been accredited with the ReMark ReUse standard. ReMark, Ireland's Reuse Quality Standard of Excellence was established to address consumer concerns regarding the quality and safety of reused goods. Dublin Simon Community were only the second organisation in Ireland to receive this accreditation. To mark this achievement, a celebratory event was held in the Camden Street shop yesterday evening (Thursday 28th February). Well done to all the team!
Congratulations are also in order for our Health and Wellbeing service. They've been nominated for the Nutramino award under the 'Inclusion' Category. The event takes place in the Mansion House on Friday 8th March and I would like to wish all of the team the very best of luck. Finally, Participation & Development and Health and Wellbeing have been shortlisted for AONTAS STAR Award in "Adult Learning Initiatives that Support Social Inclusion" category. Best of luck to all of the teams nominated for upcoming awards!
Thank you,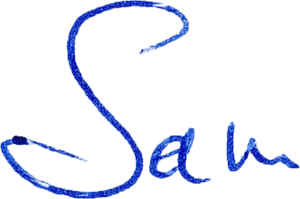 New award for Simon Shops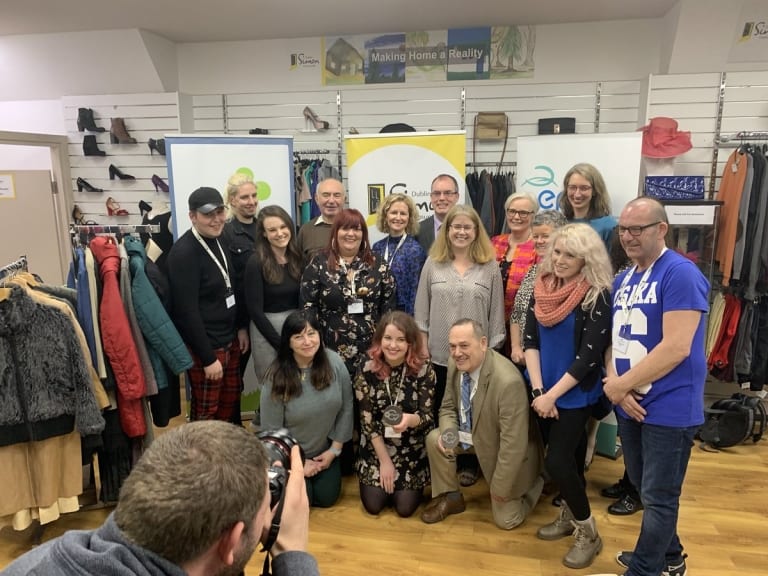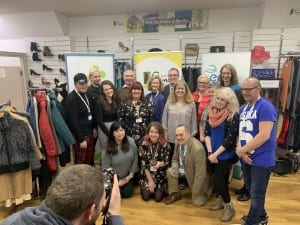 Dublin Simon Community has been officially awarded with the ReMark ReUse Quality Standard of Excellence at a ceremony in their Camden Street Shop in Dublin.
A pilot programme run by the Community Reuse Network of Ireland (CRNI) and funded by the Environmental Protection Agency (EPA), Dublin Simon Community is the second organisation to receive the accreditation for their charity shops.
Welcoming the accreditation, Social Enterprise Manager with Dublin Simon Community, Sharon Keogh said:
"Our shops have two important purposes – to raise much needed funds for our homeless services and to provide a working environment for our clients to receive training as a potential pathway to out of homelessness and to employment. Our aim is to deliver all this work to the highest standard possible and this accreditation emphasises our commitment to delivering a first-rate service to our customers while providing an excellent standard of training for our clients. We stock our shops with high quality goods both new and reused so to ensure customers are getting value for money."
"Our team members get the chance to experience many different areas of work including spending time in our warehouse, on the shop floor, in our stockrooms and in our delivery vans. All roles include training in customer service, stock management, visual merchandising, cash management, IT skills, health and safety and manual handling to name but a few."
Speaking about the initiative, Claire Downey from CRNI said that Ireland's ReMark ReUse Quality Standard of Excellence was established to address consumer concerns regarding the quality and safety of reused goods.
"According to consumer research we commissioned in September 2017, only 23% of Irish Consumers bought second-hand (reused) goods in the last six months. 59% cited quality and 43% cited safety as barriers to purchase. This Quality Standard is a way of addressing these quality and safety concerns through a formalised accreditation process.
"Achieving this quality standard means that Dublin Simon Community are leaders in Quality Reused Goods and are championing a Circular Economy. In particular, the accreditation highlights commitment to:
Quality: Goods are repaired, restored, or 'reimagined' by trained staff to extend their usable life.
Reuse: Participant organisations establish policies and set goals and metrics that further their social mission as well as the aims of the circular economy.
Safety: Goods have been inspected and tested to a rigorous safety standard."
A huge congratulations to all the shops team for their achievement.
Just over one week to go until Simon Home Run!
Don't forget that the 2019 Simon Home Run is just over a week away, 8 days to be precise! We're really looking forward to this year's run and we've had a fantastic response to the change of the date. It's a great opportunity for our staff, volunteers and clients to come together as part of our Community Day and help raise important awareness for all of the work that we do throughout the year.
Sign up is FREE (for staff and volunteers) and the t-shirt costs just €5.  Just visit www.homerun.ie to sign-up and learn more.

If you work or volunteer at Simon, enter the code "simonstaff19", or tell your friends to sign up using the code "SIMONFRIENDS" to get €5 off.
Details of the race:
Where                                Phoenix Park
When                                  Saturday March 9th @ 10.30am
Distance                            5 Mile (8km)
Hope to see you there!
John Sansome, Community and Events Manager

Staff Profile - Chloe Daly
When did you start here at Dublin Simon Community as part of the Corporate Partnerships Team?
I started at Dublin Simon Community, to be exact, on the 28th January this year.
What is your favourite part of your job with Dublin Simon Community?
I have settled in very well at Dublin Simon Community. The people that work here are super friendly. It is a very warm atmosphere and my team have made it very comfortable for me working here. I'm getting to learn more about the services that Dublin Simon Community provides and it's great to see all the hard work and dedication the front line staff are doing. It has being a great experience so far in meeting our clients and to hear their moving stories that led them here to Dublin Simon Community, which are often surprising paths that led them to us.
Do you have anything excited planned for the year?
I'm really looking forward to the Simon Home Run. Its sounds like such a fun day and I can't wait to be involved and be a part of the 36th annual Home Run. It's a very exciting time for Dublin Simon Community as we are celebrating our 50th year in leading and tackling homelessness.
It's a very important element of my job to show companies how much they can be involved with Dublin Simon Community, so I really look forward to gaining new relationships with corporates and getting them involved more with Dublin Simon Community.
I am also volunteer at the Social Club which a colleague of mine Shane introduced me to. It has so far being a great experience. I look forward to exploring more volunteering opportunities throughout the year and getting more involved.
What are your interests or hobbies?
I really enjoy cooking and traveling. I love trying new foods and exploring different parts of the world. One of my favourite things to cook is Mexican.
What was the last great book that you read, movie you saw or live event you went to?
Back in December I went to see Mumford and Sons in Madison Square Garden in New York. It was hands down one of the best concerts I've ever been to. Maggie Rogers also joined them on stage. It was great craic! I will never forget the atmosphere.
Chloe Daly, Corporate Partnerships Team
Volunteer Profile - Luis Ochoa
When did you start volunteering with Dublin Simon Community?
I started in July 2018, firstly for a month in our charity shops and then moved to the Community Employment Engagement (CEE) project where I am currently collaborating.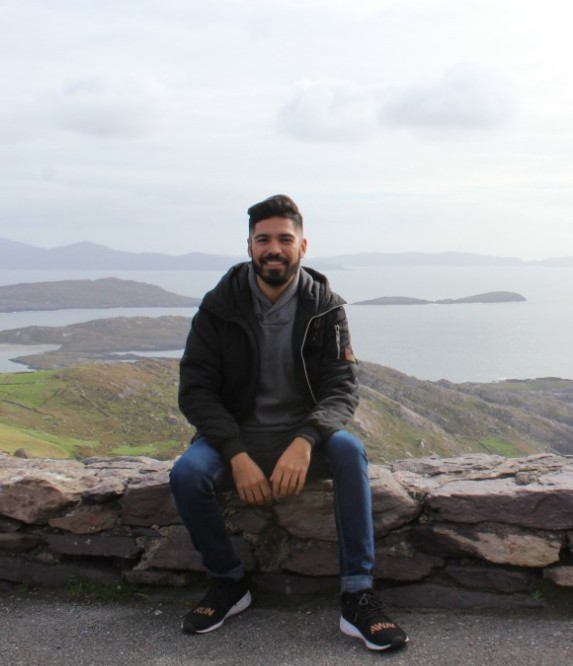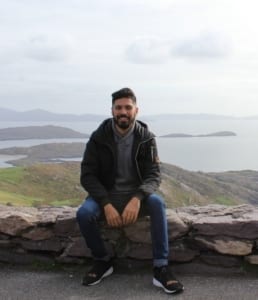 What made you want to start volunteering?
Since I arrived in Ireland I always wished to work in a place where I felt useful, productive and that my work was valued. Sometimes it can be difficult to settle in and adapt to a new country, so when I found out about Dublin Simon Community I certainly knew that this opportunity would help me to achieve my personal and professional goals.
What's your favourite part of volunteering?
My volunteer placement allows me to be part of a virtuous circle where everyone benefits. I have the opportunity to help and support people, which is so rewarding, especially, when our clients achieve their goals and they thank you for being there encouraging them to keep moving forward. On the other hand, I also get work experience, develop new skills and share my knowledge, thus contributing and learning about Irish society and feeling part of it.
Describe a (any) positive memory that you have from volunteering with Dublin Simon Community?
There are many positive memories but definitely one of the best was on a Team Day organized by The CE Engagement Supervisor and myself. We planned a boat tour to Howth and Ireland's Eye Island with all the participants (people who work for our Community Employment). It was a fantastic experience to share an enjoyable moment and get to know them a bit more. We were lucky as that day was sunny with clear skies. After the boat trip we went for lunch to a local takeaway for fish and chips and sat down at the pier chatting and enjoying our food, company and weather.
What would you say to someone who is thinking of volunteering with Dublin Simon Community?
Volunteering with Simon is an experience that I highly recommend as it is a great organisation which works for and with the people. Dublin Simon Community cares about people's wellbeing and not only its clients but its volunteers and all staff too. As its name says we are a community where everyone is important. On top of that we have the chance to participate in different kinds of training. This is really good to have even just for general knowledge and you also get an opportunity to receive a DIT Certificate in Volunteering. In other words, I would say this is a place full opportunities and formidable experiences.
Do you have any plans or goals for 2019 while volunteering with Dublin Simon Community?
My main goal is to progress to full time employment or education here in Ireland or anywhere else in Europe. Step by step I have been working on this and by the end of 2019 I expect to have achieved it. I strongly believe that little but sure steps get us closer to our objectives, even more if we find happiness there. For that reason, I have started learning the German language as I would like to find an opportunity in Germany. Even if that opportunity does not happen, I will have gained knowledge that will benefit me at some stage of my life and enjoyed the process.
Luis Ocho, Community Employment Engagement Volunteer
Health and Wellbeing nominated for Nutramino awards
The Health and Wellbeing service has been shortlisted for two awards this year. The first is for the AONTAS Star awards in the adult initiatives that support Health and Wellbeing category. This award recognises the work our Health and Wellbeing service has done in promoting Health and Wellbeing, nutrition, mental health and physical activity and adult learning in our community.
The second award we have been shortlisted for is the Nutramino Health and Fitness Awards, in the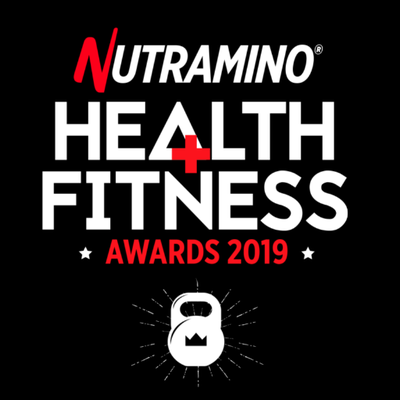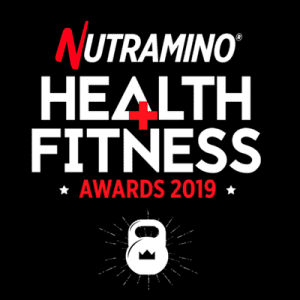 category of Inclusive Health and Fitness award. This category recognises outstanding contributions and innovation from Ireland's top health and fitness professionals in the area of community engagement and social inclusion. The Health and Wellbeing service is in a very strong field such as Workplace Wellness and Get Ireland Walking to name a few.
We wish the best of luck to the Health and Wellbeing service in their awards!!
Please contact JT or James at hw@dubsimon.ie if you are interested in learning more about our Health and Wellbeing Service.
Niall Murtagh, Operations Manager, Treatment Services

Service Update: Literacy and Personal Development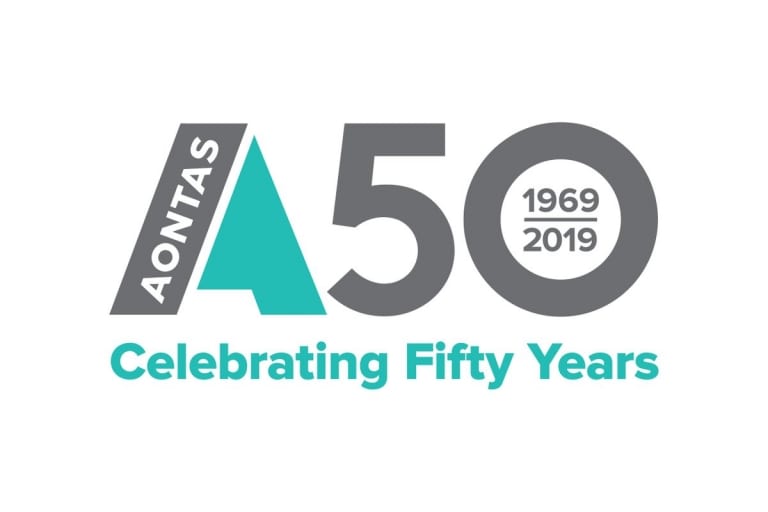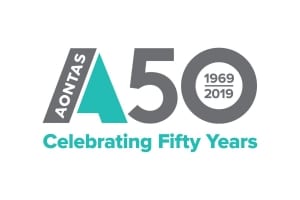 Participation and Development will hold an information morning and printmaking workshop on Friday 8th March from 10.30-12.30 in The Hub. The event will be open to all Dublin Simon Community clients who would like to find out more about the Participation and Development service and also have a go at getting creative! The event is part of the Adult Learners' Festival – a nationwide celebration of adult learning coordinated by AONTAS, the National Adult Learning Organisation. We would encourage staff members from Dublin Simon Community services to notify clients within their service as we want to give our clients the skills to achieve their learning goals. The theme of this year's Adult Learners' Festival is #EveryDayImLearning to recognise the learning opportunities available to adults in their everyday lives.
For more information, please contact Anna West on: annawest@dubsimon.ie
Anna West, Literacy and Personal Development
Homeless Mental Health Advocacy Movement
The Homeless Mental Health Advocacy Movement was previously known as the Mental Health Reform Project and was a working partnership between Mental Health Reform and clients in Dublin Simon Community to campaign for better mental health services. Since 2015, The Mental Health Reform Project has worked on a report 'Homeless and Mental Health: Voices of Experience', and launched this report in 2017 with the Minister for Mental Health. The group continues their campaign by writing lette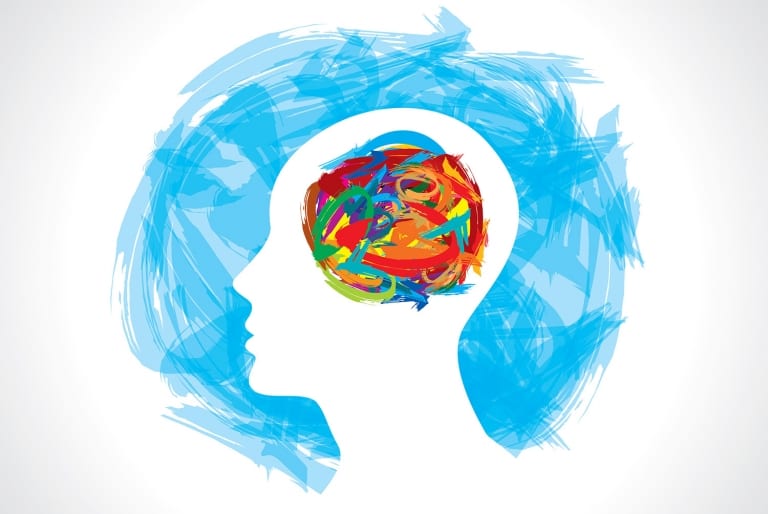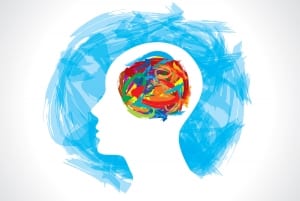 rs to TDs and Senators and meeting with TDs and decision makers.
In 2019, the group changed their name to the Homeless Mental Health Advocacy Movement and continues to advocate for better mental health services, focusing on mental health services for people who are experiencing homelessness. The Homeless Mental Health Advocacy Movement is a client led group that aims to empower, support and build skills in advocacy, campaigning and communications for the clients involved.
The Homeless Mental Health Advocacy Movement would like to welcome new clients to the group who are passionate about mental health and/or advocating for improved mental health services particularly for those who are experiencing homelessness. Individuals involved in the group do not have to have a personal experience of mental health difficulties but who have experienced homelessness at some point in their lives.
If you are interested in joining the Homeless Mental Health Advocacy Movement or are working with any clients who may be interested, please contact Áine on 086 787 9655 or Denise on 085 851 6807, email ainebarrett@dubsimon.ie or deniseroche@dubsimon.ie.
Denise Roche, Participation and Development

Dates for your Diary

Here are some of the key dates for your diary between now and the end of the year.
AONTAS Star Awards: Monday, 4th March
Nutramino Health and Fitness Awards: Friday, 8th March
Simon Home Run: Saturday, 9th March
If you are interested in getting involved in any events or would like more information, then please contact your local social representative, the HR Team or the Fundraising Team.
© 2020 Dublin Simon Community | Charity Registration: No. 20009892 | Charity Number: CHY 5963