Closing Doors campaign launch & Dragons at the Docks – Sam's Welcome
In August, Simon launched its Closing the Door on Homelessness campaign, marking 50 years since our first Soup Run made up of students from Trinity College and UCD set out on the streets of Dublin in 1969.
Over the past 50 years, Simon has served people fighting for survival and robbed of dignity. They were homeless, roofless and isolated and needed nourishment, shelter, acceptance and respect. Because of the commitment of volunteers, staff, supporters, funders and members of the public, in the months, years and decades that passed, thousands of shattered lives have been rebuilt and saved. People are depending on us and it is because of all our work that we can support people to get back on their feet, to rebuild their lives with Simon by their side. We need to continue with this critical help and support.
At Simon we continue to protect those who are at their most vulnerable and help them change the course of their lives by providing the physical door to a home of their own. We are helping people to close the door on the mental strain of homelessness, on fear, insecurity, addiction or ill-health. 
In August, we also had the third annual Dragons at the Docks. This brings the worlds of property, finance and law together to take part in an afternoon of Dragon Boat racing at Grand Canal Dock in Dublin. This crucial event has made a life-changing impact, closing doors on homelessness for good by providing permanent, safe homes for 15 people. So far, we have provided a mother and her son with a place to call their own in a two bed home. We have given six men who have been through the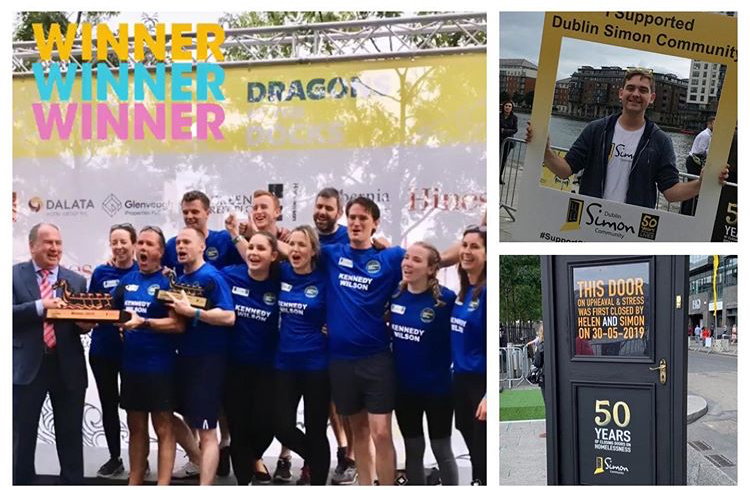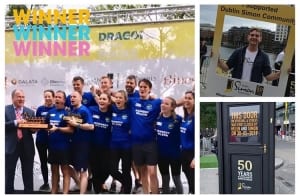 trauma and abuse of homelessness their own one bedroom apartment. This year, the funds raised will acquire 10 more homes. A total of 21 apartments and houses will have been acquired and 25 people provided with permanent, safe homes as a direct result of Dragons at the Docks.
Over the next few months you will be invited to a number of key events commemorating 50 years of Closing Doors on Homelessness including our Annual Review, Volunteering Celebration, the 50th Commemoration Event and Scrappy But Happy.
Thanks for every!
50 Years of Closing Doors on Homelessness
Suffolk street was the location for the launch of our 50th Year campaign on Thursday the 1st August, telling the stories of people we have supported to close the door on homelessness. In the campaign, Simon Community clients shared their experiences of the safety and security of closing their own front door behind them. In 2018, Dublin Simon Community alone 'closed the door' for more than 2,200 men, women and children across Dublin and neighbouring counties, helping them move out of homelessness and into a secure home.
Central to the visual campaign is the 'Simon Door', an interactive piece of work where the panels on the door tell the stories of those we have supported. Members of the public, pause, read and reflect when interacting with the door. We have been on display at 'Dragons An The Docks', Electric Picnic and the launch of the Business Journalist Association of Ireland Quiz with Bryan Dobson.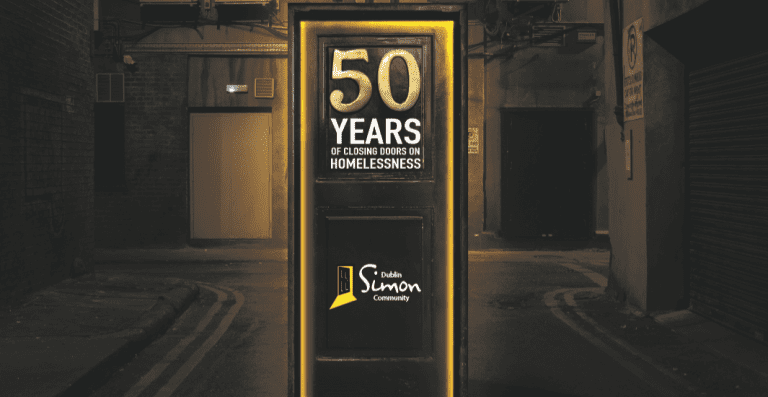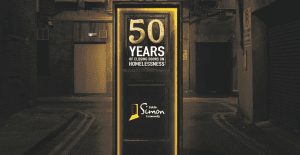 During the month of August the campaign was launched on radio, digital, newspapers and outdoor advertising. Creative, media and public relations agencies involved in the campaign donated their services for free.
Upcoming events 
In the coming months we will continue on the theme of our 50th year of 'Closing Doors' with events including:
Dublin Simon Annul Review – 24th September.
Business Journalist Quiz in Aid of Dublin Simon –  25th September.
Simon Week – 30th Sept to 6th October.
Volunteer Recognition Event, Recognizing 50 years of Volunteering – 3rd October.
50th Commemoration Event, Trinity College – 15th November.
Pat Greene, Strategy & Policy Manager
Dragons At The Docks 2019 Event
Dragons At The Docks is an annual charity boat regatta supported since 2017 by Cairn, Green REIT, Hammerson, Hibernia REIT, IRES, Kennedy Wilson, Hines, Dalata Hotel Group, Glenveagh Properties PLC and Lioncor Developments. The event brings together the worlds of property, finance, law and technology to take part in an afternoon of Dragon Boat racing at Grand Canal Dock in Dublin. The third annual Dragons at the Docks took place on the afternoon of Thursday, August 29th 2019 at Grand Canal Dock. This year, the event was bigger than ever, raising even more vital funds with 938 competitors and 76 teams competing across 6 sectors for the top prize, and to raise invaluable funds to assist in alleviating homelessness.
Since its inception in 2017, Dragons at the Docks has raised over €800,000 for Dublin Simon Community and other local charities. Through this crucial event, we have already changed the lives of 15 people experiencing homelessness forever, and with the €260,000 raised at this year's Dragons at the Docks, we will acquire 10 more homes to increase that to a minimum of 25 people provided with permanent, safe homes as a direct result of the Dragons at the Docks. Additionally, the remaining 25% of funds raised on the day has been donated to chosen charities of each cornerstone sponsor.
Dublin Simon Community has leveraged the funds raised in 2018 to acquire 7 x one bedroom apartments and 1 x two bed apartment in North and South Dublin, providing a mother and her son with a home of their own in the two bed and 6 men who have been through the trauma and abuse of homelessness with a place to call their own and in 6 of the one-bed properties, the remaining one bed apartment is in the process of allocations and will be providing a couple or individual with a  safe place to call home in the coming weeks.
Dragon Boat racing wasn't the only fun to be had on the day, with Floating Football and Dunk Your Boss challenges proving very popular, and an abundance of music and food enjoyed by our competitors and their colleagues on the day. Above all, the Dragons at the Docks fundraiser provides a platform to raise awareness of the homelessness and housing crises in Dublin and Ireland. The industries taking part have an important role to play in tackling the revolving door of homelessness, influencing the decision makers to ensure housing requirements are being met. This unique event provides much needed advocacy for the thousands of men, women and children who are experiencing homelessness today.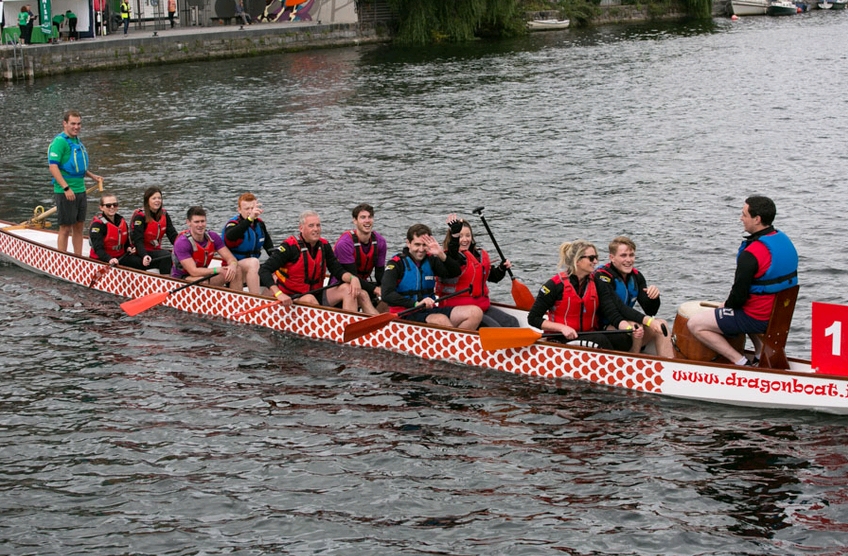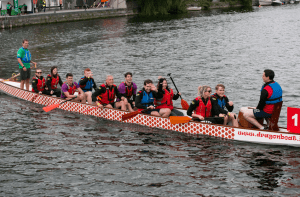 Emily O'Brien, Senior Capital Development Executive
The Simon Cup
On Friday the 30th of August, Dublin Simon Health and Wellbeing took a strong squad of 13 players to compete in the annual Simon cup 5 a side tournament in Athlone IT.
Much of the squad have been training on Wednesday evenings on the Pearse St. pitch over the summer months, with some being veterans of the 2018 shield victory in the same tournament.
With such a strong panel Dublin Simon entered two teams into the competition and were placed in different groups against teams from Galway, Mid West and Midlands Simon teams as well as reigning champions, Merchants Quay.
Both teams acquitted themselves brilliantly, each winning 2 games and drawing 1 game. With these strong results both Dublin Simon teams topped their groups and were pitted against each other in the final, confirming that silverware was going to return back the Health and Wellbeing service.
The final was a strongly contested affair, unfortunately with only one side able to be victorious. At the final whistle it was impossible to tell which team had actually won, as all the Dublin Simon players were smiling and celebrating a successful tournament and a great day out. With the cup secured the bus was pointed back towards Dublin with a few contributing to a sing song on the road home. A special thank you to Mark Alvey who drove the bus for the day, and a huge well done to all the players who contributed to a great and memorable day.
Client/staff 5 aside and Tag rugby continues on Wednesday evenings throughout the Autumn. For more details please contact JT in the Health Wellbeing service. PH: 0861304320 email: hw@dubsimon.ie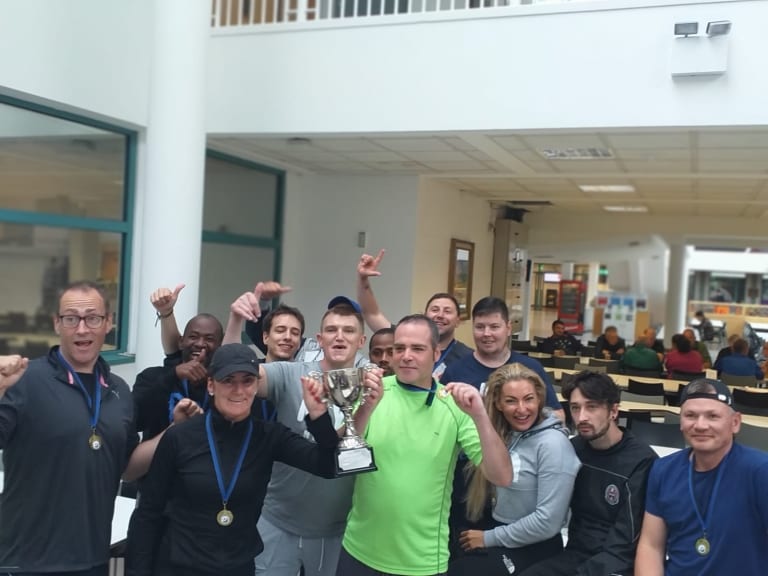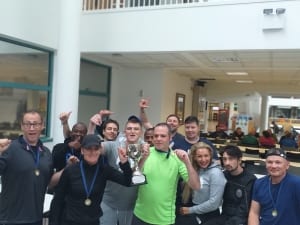 J.T. Treanor, Physical Activity, Health and Wellbeing Project Worker
#ClosingDoors Matthew's Story
Matthew was on the streets for two years.
He found the winters the hardest. The cold got into his bones.
He had nothing to do. Nowhere to go.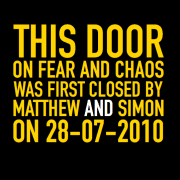 He always felt alone. Lonely. He was afraid all the time.
In his own words, he "had fear in his heart".
He never felt safe. When he came to us he had very little strength left for life.
He's lived in our supported housing since then.
He knows he's not on his own now.
He's part of a community.
He likes doing the simple things.
Listening to music in his room. Opening the gates every morning.
He has a philosophy on life we could all learn from.
Be nice to people and they'll be nice to you.
That's how he lives his life. In his home.
Volunteer Profile - Ellen McGuinness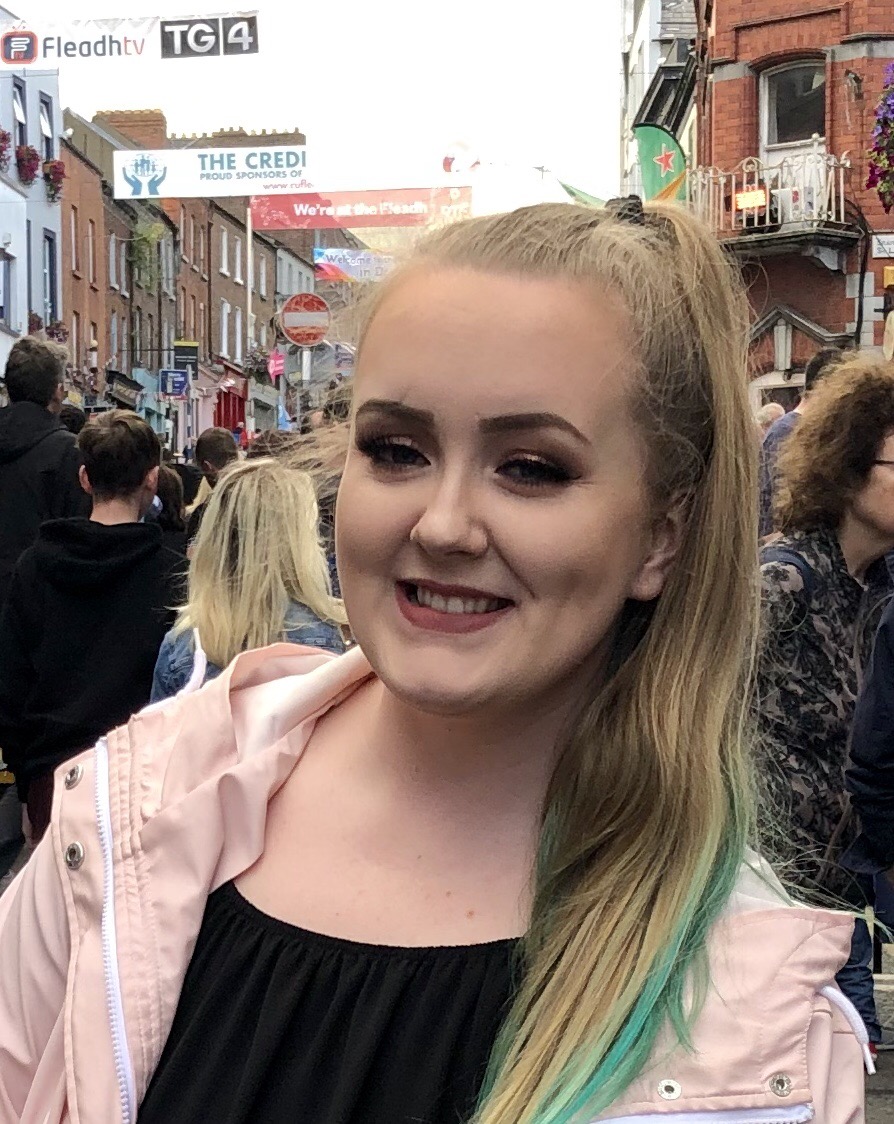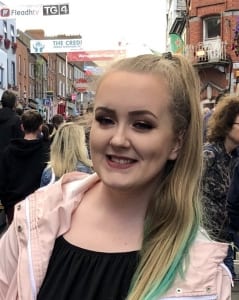 When did you start volunteering with Dublin Simon Community?
I started my volunteering on the 10th September 2018. Back then it was the Rough Sleeper Team and since June it's been Dublin Outreach so I could categorize that as two different placements. So much changed – mostly for the better. We went from the OG team of 6 to a growing team of 15 – which is a tight squeeze in Capel Street. Work has gotten busier because we are meeting more people and utilizing our time to be able to help them all to our best abilities. We have more means to help the clients as well. Our abilities and remit has grown and it's great to be able to help them in this way.
What made you want to start volunteering?
I was really thankful to be able to do my volunteering as part of my university degree. I'm currently studying Psychology in Ulster University and this is my work placement year. It has also really changed my view on what I want to do after my degree!
What's your favourite part of volunteering?
Truthfully, my favourite part is being able to fully immerse myself in the role. The outreach service has so many moving parts and is such a good, supportive team so they are very accommodating if you want to take on more responsibilities. Even things like going to the MDT in Merchants Quay, working closely with the councils and all the other homeless services and being able to build relationships and work closely with people in other DSC services. Even working along side the Sure Steps out-of-hours suicide prevention team who previously shared our offices and the flexi team. It was always great to be able to go and chat to someone else or have another person making tea in the evenings! The flexi team all have such extensive knowledge, they're really dependable and develop great relationships with the clients – and, of course, they're always great for a chat.
Describe a (any) positive memory that you have from volunteering with Dublin Simon Community?
So in outreach, you see a lot of the tough stuff. You see clients at their lowest and at a point where they don't feel comfortable being themselves. Because of this and so many other external factors that can impact their lives, we make sure to celebrate all the little successes (and REALLY celebrate the big ones). So my positive memories really originate from the clients progressing. It can be something as simple as getting a new outfit at the shops, one client told me they felt 'proud to be [their] mothers son' when we helped him pick out clothes for his mum's funeral. Again, when clients get in to detox after such a journey and they're so proud of themselves and you're thrilled to be able to help them get here. Ultimately, the biggest success or positive moment from Outreach was when we got one of our most vulnerable clients from entrenched rough sleeping to a CWI bed and then into detox and now into a rolling bed. Seeing them go from their lowest and most vulnerable to this place of strength and pride and comfort has been so rewarding.
What would you say to someone who is thinking of volunteering with Dublin Simon Community?
If anyone is considering volunteering with DSC I would say definitely go for it. There is something for everyone in DSC, and it is such a worthwhile experience. DSC is so flexible with roles and programmes so from full time, like me, or going part time to the soup run or social club or a plethora of other options, it's definitely something I would recommend.
Do you have any plans or goals for 2019 while volunteering with Dublin Simon Community?
As I'm coming to the end of my placement, my goals have already passed and thankfully were successful. With the team expanding and the client group getting bigger it was always important for me to work to my best standard and make sure that I was dependable and accountable while being a smiley face for my colleagues and the clients – or the clients at least! Also, due to all the walking, I have gotten quite a bit fitter! There was no gentle start on the Rough Sleepers. I did most of my early shifts with Anna (now in Longfields) and she is a very fast walker. Thankfully I could keep up, but it would take a while to be able to breathe again afterwards. I remember very early in that Róisín had said that no one gets placed in the Rough Sleeper Team by accident and as time has went on I've become very comfortable in my role. I'm really thankful of the support from my team all throughout my volunteering experience. They're a really great bunch of people which reflects in the way the clients talk about the team. It's a great feeling knowing that you're helping people and making a difference.
Do you have anything that you're looking forward to for the rest of the year?
I'm really enjoying watching the new members of the team come into their own. It's really nice to see them approaching the role with their own unique perspective and it's always great to be able to answer their questions because it makes me feel as though I know my role well – and after this length of time I'd like to think I do. As I am finishing up soon, there is a sense of excitement and a sense of sadness. If I didn't have to leave to finish college, I definitely wouldn't be leaving.
Overdose Awareness Week
Saturday 31st August marked International Overdose Awareness Day and during the week teams across our emergency services held a range commemoration and awareness activities for clients, staff and volunteers.
Longfields held art sessions reflecting on the negatives of drug use, positives of peer support, treatment and having goals for the future. The nurse gave CPR and Naloxone presentations to residents and the service also hosted a tea party with one resident reading a poem about their experience of peer support and overdose. Carman's Hall held informal Naloxone training during the week and hosted an open discussion on overdose, experiences, lifesaving methods – primarily led by clients. The service also set up a memorial tree to mark all the loved ones that have passed away from overdose.
Maple House hosted a number of activities including a resident's meeting and overdose prevention sessions with the nurse, art classes and a tree planting memorial in the garden. Naloxone information was also provided during the week. Harcourt Street put up a Tree of Hope art project, giving residents opportunity to reflect on their recovery journey. The service also conducted Naloxone information sessions with residents.
The opportunity was given across all services to attend the Naloxone information, prescribing and dispensing session in Merchant's Quay Ireland and representatives from the emergency services teams also attended International Overdose Awareness Day event hosted by the Department of Health.
A huge thank you to all the teams and residents for their support and enthusiasm in organising activities and taking part to help raise awareness during the week.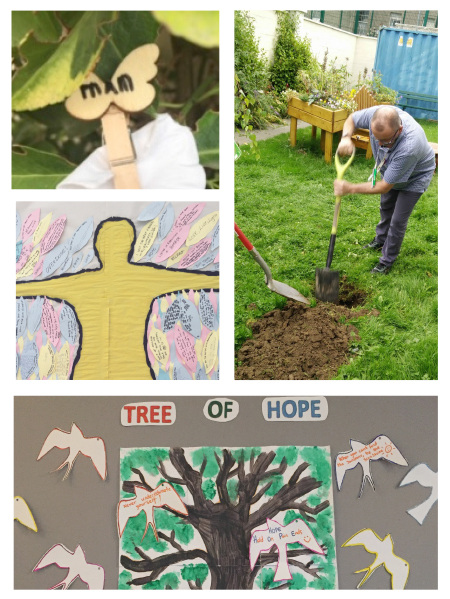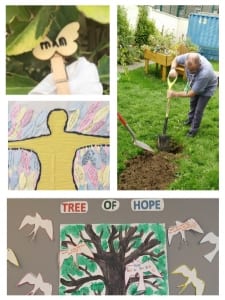 Claire McSweeney, Senior Manager for Emergency Services
Recent Activites
Electric Picnic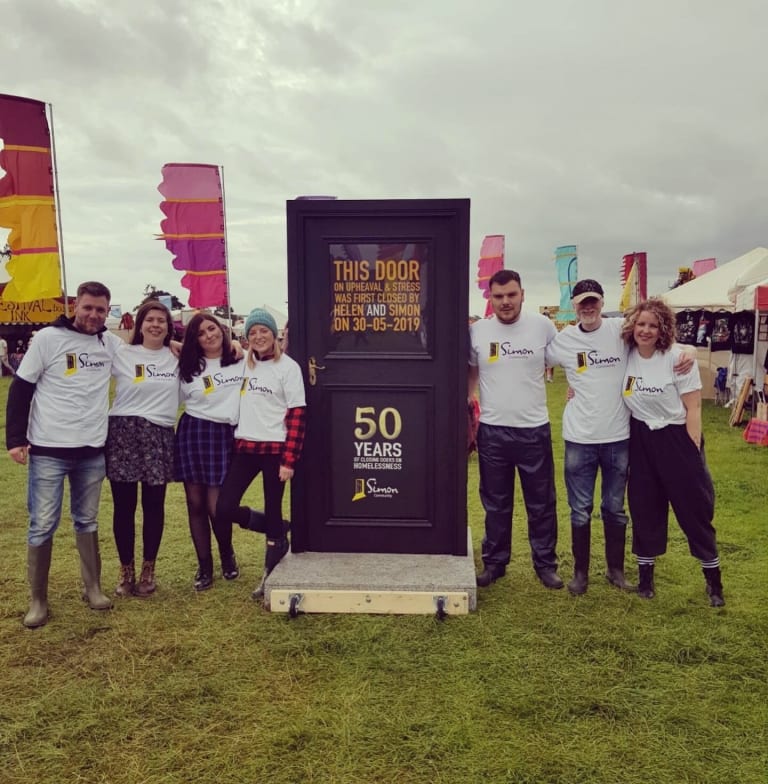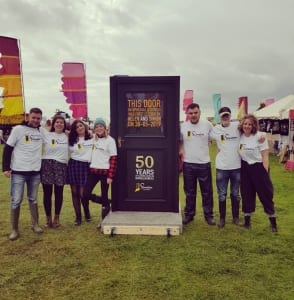 Dublin Simon Community attended arts and music festival, Electric Picnic in Stradbally, County Laois. Some of our volunteers were stewarding, their work earned a big donation from Festival Republic. We had a pop-up shop which was a huge success, it got a lot of positive feedback from the festival goers and it also made a lot of money. The 'Simon Door' made its festival debut, receiving an enormous amount of positive attention. We also got lots of new sign ups and the Simon staff and volunteers got to speak to new supporters. All in all it was a great weekend!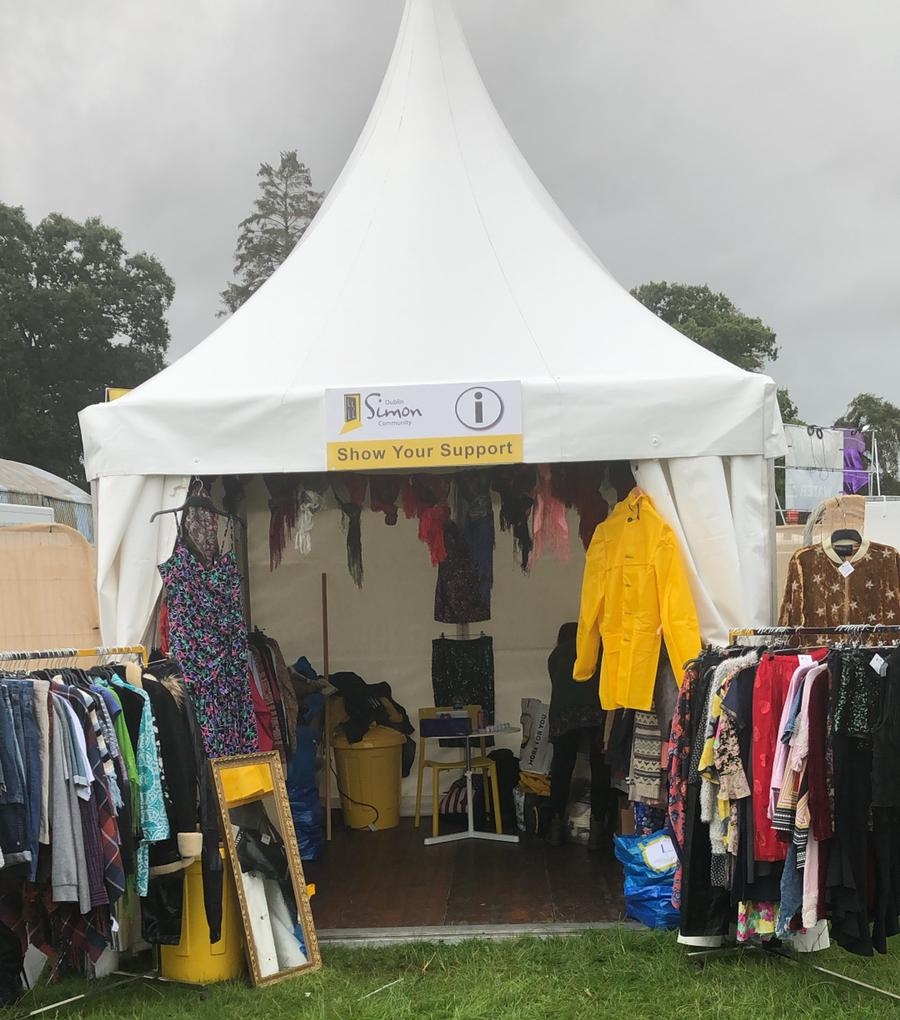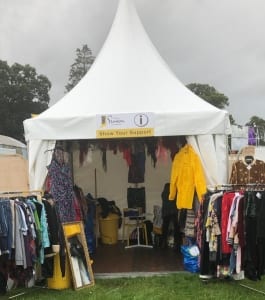 The Simon Summer Social
Our second annual employee and volunteer Summer Social was held in McGowan's on the last Friday in July. A great night was had by the 150+ people in attendance.  As with any good party there were drinks, finger food, and craic – and this year the craic was ramped up by the addition of live music from the band Green Diesel, and a free Photo-Booth organised by the Volunteer Team and donated by Anthony from SmilePhotoBooth.ie. We had an attendance raffle on the night, fundraising sourced the amazing prize of 4 weekend tickets to Love Sensation Festival in the Royal Hospital Kilmainham 18th-19th August, which was generously donated by MCD and won by Charlie Byrne from the Facilities Team. 


The Social had and extra dimension this year as we marked our 50th Anniversary with a Preview Launch of the Dublin Simon Community 50th Campaign 'Closing Doors' which directly tells the stories of our tenants. The Campaign would not have been possible without your help, support and willingness to assist. Services, tenants homes, interviews, recordings, scripts, availability of staff, volunteers and tenants all contributed to the Launch.  The Launch was moving, particularly hearing client's tell the story of closing their door, which reminded everyone of the importance of our Vision of making home a reality for everyone.
Tracey O'Malley, HR Manager
Dates for your Diary
Dates for your Diary: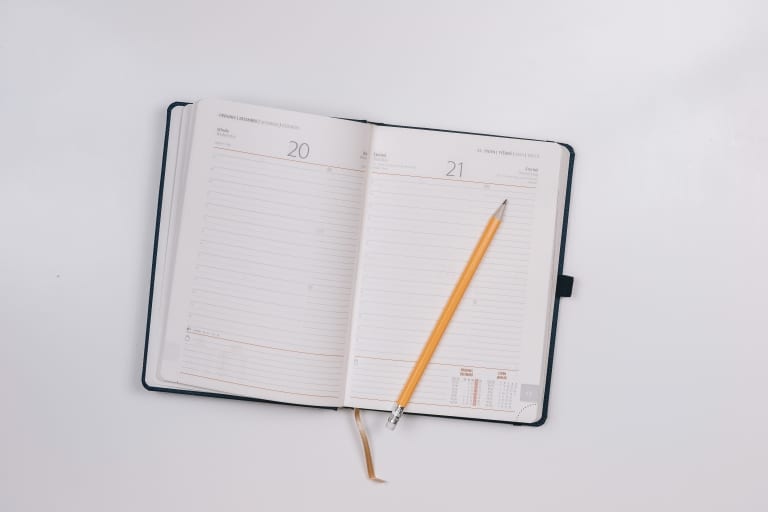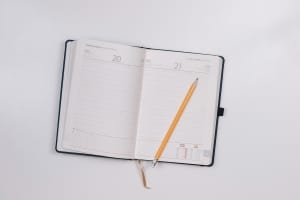 Annual Review: 24th September
Business Journalist Association of Ireland

Corporate Challenge

Quiz: 25th September
Simon Week: 30th September – 4th October
Volunteer Recognition Event: 3rd October
© 2020 Dublin Simon Community | Charity Registration: No. 20009892 | Charity Number: CHY 5963