Welcome to the November edition of the Simon Scoop! Please scroll down and click on the headline to read all of the content.
We hope you enjoy it,
The Communications Team
Sam's Introduction
Sam's Introduction:
The official number of people rough sleeping is up 18% on winter 2016 to 184 from the count on November 7th. The increase in the people accessing emergency accommodation continued to rise to nearly 8,500 at the end of October. While Dublin, Kildare, Wicklow and Meath are approximately 45% of the national population, and we have 75% of the total homeless population in our areas.
Fundraising teams are busy promoting our biggest fundraisers of the year, e.g. Simon House of Cards, Simon House of Light, 24 Hour Carolathon, and of course Sing for Simon with over 100 choirs singing across Dublin, Kildare, Wicklow and Meath. Donations and Christmas events contribute over 40% of target needed to deliver essential services in 2018.
Please consider engaging in the fundraising 'call to action' for some event that suits you, there is a whole selection! Help is badly needed and appreciated always. We need support, a 'little' time from everyone would go a long way to guaranteeing success. Please contact Grace Allen from our Community Team on: grace@dubsimon.ie to get involved this Christmas.
Finally to remind you our Christmas party for staff and volunteers (F/T and P/T) is on this Friday, 1st December at Murray's Bar on O'Connell Street. Be sure to secure a ticket to avoid the usual last minute rush. Contact Rachel Gallagher at: rachelgallagher@dubsimon.ie.
Looking forward to seeing you there, enjoy!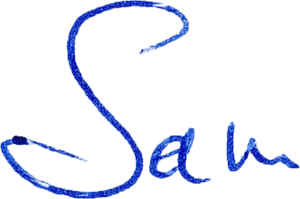 Staff Profile - Brian Gilmore
Staff Profile: Brian Gilmore, Project Worker – Rough Sleeper Team
When did you start here at Dublin Simon Community?
I started in Dublin Simon Community as an Operations Night Worker for Chester House in July 2014.
 What is your favourite part of your job with Dublin Simon Community?
I love working with clients, it gives me the opportunity to help and improve a person's quality of life. I have the opportunity to encourage and support a client in their journey through Simon and forward on to independent living and treatment if needed.
Do you have anything excited planned for Christmas?
Meeting up with family that will be coming home from England, and the opportunity to spend time with my new granddaughter, who only came around this year.
 What are your interests or hobbies?
Going to the gym, relaxing with family and meeting up with old friends, and playing five aside football on Stephens's Day.
 Finally, what's your favourite Christmas song, movie or memory?
My favourite Christmas song is 'The Streets of New York' by The Wolfe Tones, and my favourite movie is It's a Wonderful Christmas (Christmas Carol).
Staff Recipe - Ottolenghi Olive Oil Cake
Darren Maxwell's – Ottonlenghi Olive Oil Cake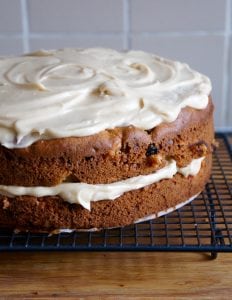 Ingredients:
2/3 cup (100g) sultanas (golden raisins) or regular raisins
1 cup (240 ml) water
1 1/2 cups (200g) all purpose flour
1/2 cup (60g) buckwheat flour
1/2 cup plus 2 tablespoons (95g) whole wheat pastry flour
1/2 teaspoon ground cinnamon
1 1/2 teaspoons baking soda
1 1/2 teaspoons baking powder
1/2 teaspoon kosher salt
3 large Bramley or Granny Smith apples (1 lb 12 oz / 800g)
1 cup (200 g) unrefined sugar
2/3 cup (160ml) extra-virgin olive oil
2 large eggs, lightly beaten, plus 2 large egg whites
1 teaspoon vanilla extract
finely grated zest of 1 lemon (1 teaspoon)
7 tablespoons (100g) unsalted butter, at room temperature, plus extra for greasing
1/2 packed cup plus 1 tablespoon (100g) light brown sugar
1/4 cup (60ml) maple syrup
7 3/4 ounces (220g) cream cheese, room temperature
Instructions:
Grease a 20cm springform cake tin and line the base and sides with baking parchment. Place the sultanas and water in a medium saucepan and simmer over a low heat until all of the water has been absorbed. Leave to cool.
Preheat the oven to 190°C/170°C fan/Gas Mark 5. Sift the flour, cinnamon, salt, baking powder and bicarbonate of soda. Set aside.
Put the oil and sugar in the bowl of a freestanding electric mixer fitted with a paddle attachment (or use a whisk if you don't have a mixer). Slit the vanilla pod lengthways in half and, using a sharp knife, scrape the seeds out into the bowl. Beat the oil, sugar and vanilla together, then gradually add the eggs. The mix should be smooth and thick at this stage. Mix in the diced apples, sultanas and lemon zest, then lightly fold in the sifted dry ingredients.
Whisk the egg whites in a clean bowl, either by hand or with a mixer, until they have a soft meringue consistency. Fold them into the batter in 2 additions, trying to lose as little air as possible.
Pour the batter into the lined tin, level it with a palette knife and place in the oven. Bake for 1½ hours, or until a skewer inserted in the centre comes out clean. Remove from the oven and leave to cool in the tin.
Once the cake is completely cold, you can assemble it. Remove from the tin and use a large serrated knife to cut it horizontally in half. You should end up with 2 similar discs. If the cake is very domed, you might need to shave a bit off the top half to level it.
To make the icing, beat together the butter, muscovado sugar and maple syrup until light and airy. You can do this by hand, or, preferably, in a mixer, using the paddle attachment. Add the cream cheese and beat until the icing is totally smooth.
Using a palette knife, spread a 1cm-thick layer of icing over the bottom half of the cake. Carefully place the top half on it. Spoon the rest of the icing on top and use the palette knife to create a pattern.
Dust it with icing sugar, if you like.
Darren Maxwell, Corporate Team
Get Involved this Christmas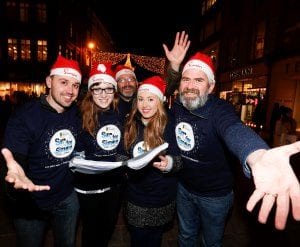 Get Involved this Christmas!
Thank you for your interest in helping out this Christmas. With over 6,000 people registering as Homeless in Dublin, Dublin Simon Community relies heavily on the support of volunteers. From singing, to bucket shaking, there is no limit to how you can help.
See below how you can support Dublin Simon Community this Christmas –
Sing for Simon:
Gather your group and arrange your own carol singing event in your local area, or join in one of ours! We have pre-booked locations across Dublin city centre and shopping centres.
Organise your own Christmas event:                                                                                                                                                                               We will provide you with Santa hats, t-shirts, buckets, selfie frames, posters, balloons, and of course support you all the way!
Christmas Volunteering:
We are looking for plenty of bucket shakers throughout the month of December for our various Christmas appeals.
To get involved and support Dublin Simon Community this Christmas, please email Stevenshort@Dubsimon.ie or call 01 671 5551. A little help from everyone can go a long way!
John Sansome, Community Manager
Client Christmas Lunch and Dance Group Performance
Client Christmas Lunch
It is that time of year, and the Client Involvement Service is happy to announce that National College of Ireland will again be hosting the annual Dublin Simon Community Client Christmas Lunch on Sunday, December 10th.
The festivities will take place in the:
National College of Ireland, Mayor Square (IFSC) Dublin 1
Doors will open at 12:30 pm and lunch will be served at 1pm
Staff and Volunteers are encouraged to come along with clients and enjoy the festivities, which will include live entertainment (The High Hopes Choir, Dublin Simon Community Dance Group & more), great food, and a free raffle.
Additionally, clients are welcome to invite a family member(s) to attend with them.
It is essential that those who wish to attend RSVP to Michelle O'Riordan at:
Phone: (085) 8516807
Email: michelleoriordan@dubsimon.ie
_____________________________________
Dublin Simon Dance Group to take centre stage
The Dublin Simon Community Dance Group will be performing in the Lir Academy on the 15th and 16th December.
There will also be a preview on 14th December and it's free to all Dublin Simon Community staff, clients and volunteers!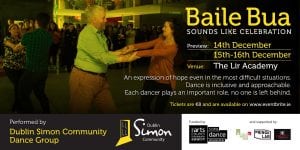 If you wish to attend the preview night please RSVP by the 30th November 2017 to pd@dubsimon.ie.
You can also support us by sending the Eventbrite link to family and friends for the 15th and 16th December.
Corporate Christmas Update
Corporate Update from Fionn Faherty
Welcome to this month's catch up on what is happening with the Corporate Fundraising Team. Firstly, for those of you who have not met me yet, my name is Fionn Faherty and I am the new Corporate Fundraising Manager. It has been a very busy month for the Corporate Fundraising Team, with the focus being on working on the House of Cards Appeal. The team have been contacting all of our corporate partners to get as much donations as possible. Our target for this year is €600,000. We have raised over €300,000 already, which is fantastic and we will continue to make calls right up until Christmas.
In other news, we have received the van from Tesco's and we have started collecting meat at their various locations in Dublin. For those of you who may not be aware, Tesco is one of our main partners and they have kindly donated a van to Dublin Simon Community so that we can go around to all of the Tesco shops and collect meat for our services. This commenced last weekend and was very successful. It is so important that we can continue collecting the meat on a weekly basis as meat is one of Dublin Simon Community's largest expense. We would not be able to operate this service of going to the Tesco shops in the van to collect the meat without our volunteers, so thank you so much for all of your help and time.
Finally, as it is getting closer to Christmas, we are having lots of calls from corporates wanting to donate clothing and food to Dublin Simon Community. Audrey Habington and Brian Gilmore have kindly offered to help us organise the deliveries over Christmas. On behalf of the team, I would like to thank you both so much as this has really helped us.
Fionn Faherty, Corporate Fundraising Manager
Volunteer Recognition Awards
Volunteer Recognition Awards 2017
The Volunteer Recognition awards were held on the 5th of October in the Church Bar on Jervis Street and what a success it was. Dublin Simon Community would not be the charity it is today without the support of all of Volunteers who share their skills, knowledge and caring personalities on a regular basis. Over 120 people attended to celebrate the positive contributions that Volunteers make to Dublin Simon Community.
Eibhlin Quinn was the MC for the night and was joined by other Dublin Simon Community staff members, managers and senior managers who presented certificates, trophies, vouchers and recognition pins to our long serving Volunteers.
CEO Sam McGuinness was there to provide a warm welcome to the crowd. A Jazz Affair strummed out some musical notes and entertainment was provided by the comedian Karl Spain who gave us a few opened mouthed moments and laughs.
Overall 9 awards were given out during the ceremony. It was a great opportunity for all volunteers to come together to share their stories, laughter and celebrate their commitment to Dublin Simon Community.
We hope to see you all again next year.
Siobhan Johnston, Volunteer Officer
Dates for your Diary
Dates for your Diary
Please find some of the key Dublin Simon Community dates for your diary below:
Dublin Simon Community Staff and Volunteer Christmas Part: 1st December from 7.30pm
Sing for Simon: 1st-24th December
Simon House of Light: 7th-8th December (5pm-10pm each night)
Client Christmas Lunch: 10th December (12.30pm-3.30pm)
Simon 24hour Carolathon: 15th/16th December (Starts at 12pm on the Friday and finishes at 5.30pm on the Saturday. Includes a break during the night this year)
Dublin Simon Dance Group performance at the Lir Academy: 15th and 16th December. Tickets available here
© 2019 Dublin Simon Community | Charity Registration: No. 20009892 | Charity Number: CHY 5963