For over 50 years, volunteers have been at the core of Dublin Simon Community's work. They work alongside professional staff to deliver vital services to people who are experiencing homelessness. While Dublin Simon is well known for our nightly volunteer Soup Run, there are many more roles and responsibilities for volunteers within the organization.
Particularly, our Full-Time volunteers are an integral part of quality service delivery. The commitment and enthusiasm they bring to our services make Dublin Simon Community a better place for staff and people using our services.
Our teams of volunteers and staff provide services to people who are homeless or at risk of homelessness, from emergency accommodation to treatment and supported housing.
They are committed, innovative and passionate, and are determined to tackle the challenges of homelessness and help people move forward with their lives with dignity and strength.
In 2020, 80 full-time volunteers supported service delivery and an average of 112 additional volunteers participated in our work on a part-time basis every week from January to March, both on the frontline and in fundraising.
Together, they contributed approximately 54,581 hours of their time to the organisation's work. The Part-Time volunteering programme was temporarily paused from the end of March due to Covid-19. In November, 87 soup run volunteers completed the 'back to volunteering' online training that covered Covid-19 specific safety measures to safeguard volunteers. The Soup Run started a phased reopening, but was consequently paused again due to Level 5 restrictions.
Recently, there has been a lot of discussion in the media regarding vetting and homelessness charities. We would like to assure everyone that when it comes to recruiting volunteers, we follow the same standard as we do staff.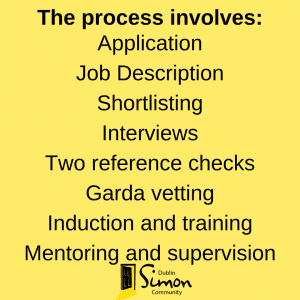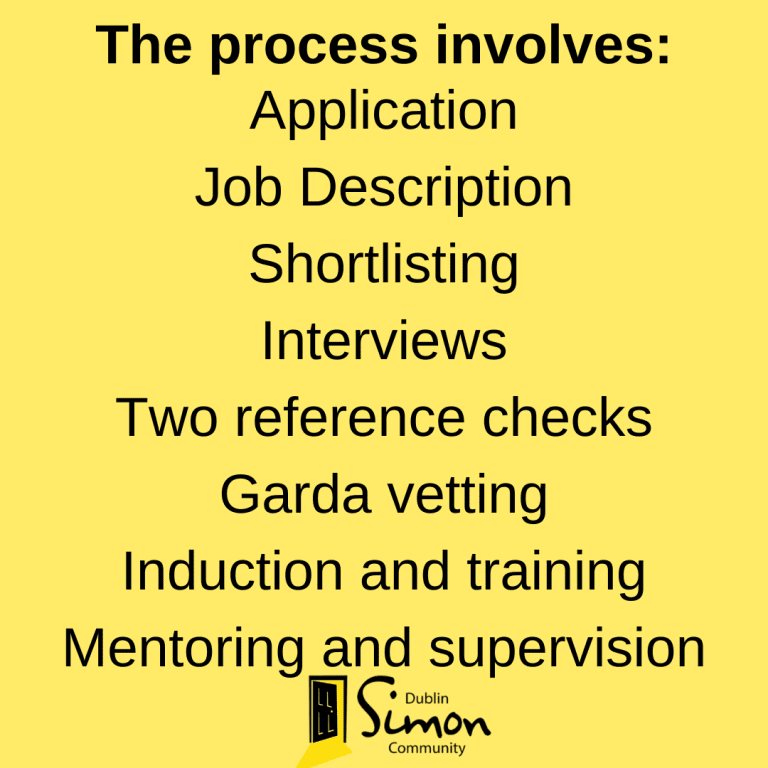 All volunteers are provided with induction and training on commencement of their roles with Dublin Simon Community. Further training is provided throughout the course of their volunteer placement to support volunteers in their duties.
Pat Greene, Head of Policy and Volunteering at Dublin Simon Community said:
"Volunteers have been central to Dublin Simon's story for over fifty years. The founding members of Dublin Simon Community, student volunteers, used a shed on the grounds of Trinity College. They cooked soup, made sandwiches and delivered sustenance and support to rough sleepers around Dublin on late night soup-runs.
What motivated our first volunteers from Trinity College and UCD to set out on that cold February night onto the streets of Dublin still continues to be the driving energy of our experienced trained volunteers and staff working across our services today.
We are grateful to all of our amazing volunteers for taking time out of their days and nights to help us in supporting those experiencing homelessness."
Here's a short video from one of our full-time volunteers.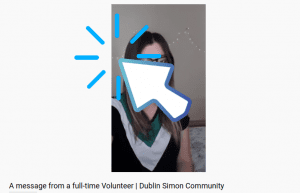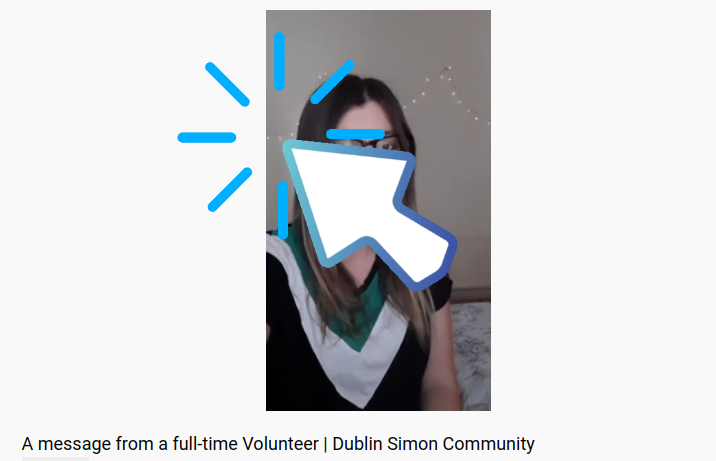 https://www.dubsimon.ie/wp-content/uploads/2020/03/hands2-scaled.jpg
1120
2048
Aisling Harmey
https://www.dubsimon.ie/wp-content/uploads/2023/01/CHY5963-9.png
Aisling Harmey
2021-10-13 16:10:13
2022-02-02 13:56:20
Volunteering at Dublin Simon Community