San Remo Celebrated It's One Year Anniversary Since Opening It's Doors to People Experiencing Homelessness
San Remo, one of Dublin Simon Community's Supported Temporary Accommodation (STA) services, celebrated its first birthday on 12th October 2021.  It has been an eventful year with many ups and downs.  We have had many amazing clients and staff come and go from the service over this period.  We have celebrated move on successes, when a client moves on to a permanent home,  and also grieved the loss of one client. 
The clients have great pride in the service and they all get involved in the upkeep of the service and have done great work in the gardens. 
From day 1 when the clients entered the building they had a massive smile on their faces and this has not decreased over time.
We had a party to celebrate the one year anniversary of San Remo opening its doors.  The clients decorated the service while the team organised the food. Clients and staff alike had a great time with loads of goodies and party games.
We are very proud of the service, the clients, the team and of all the achievements to date. 
Please see below some comments from clients and staff.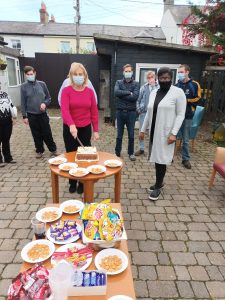 Client 1
It is a million times better than what we were used to.  We have our own room, tv, cooking facilities and laundry.   We get the opportunity to maintain the garden.  It is more comfortable and safer than sleeping rough.  It is relaxing.  The staff do what they do for residents.  They do their best to get what you need if there is a request.  There are a great bunch of residents and everyone gets on.  I have no complaints.
Client 2
Heaven compared to where I stayed last winter.  We have privacy, showers, proper beds, TV, washing facilities.   Staff are great and do the best they can.  Last Christmas was amazing, Santa Claus even came.  Staff make an effort to make residents feel comfortable.  There is no bullying and we have our own space.
Staff 1
I came into the service in the middle of the first lockdown. It was tougher than expected, there was nothing normal about these times for residents or staff. The covid panic and the unknown became our day to day so having something to look forward to gave residents and staff a lift that was desperately needed.  
Oct 11th arrived it was moving in day, driving into San Remo on the first night I was like "wow" lights on everywhere, a big bright entrance hall again I said "wow" only this time I was with other staff members that thought exactly the same as me.  I had a tour of the building and couldn't help but worry that it's going to take forever to get used to the rooms that have been allocated to our lads.  San Remo is a world away from the previous homeless service I worked in. It is spacious, bright, airy and welcoming.  The residents were busy exploring the building, in and out of the garden and decking area. Everyone was in great form, they seemed like little kids on Christmas morning. On reflection, I wonder when was the last time that our residents felt like that.  San Remo staff knew that this service was going to make a world of difference to their lives, as a member of staff this felt great and my reason for being here. We are lucky to have such a great place to work. Bray Seafront is less than a 5 minute walk and Bray Head, 10 minutes. Giving residents and staff the opportunity to get out, get some fresh air, exercise, down time perfect for mental health and well-being but more importantly they have a place to return to at the end of the day.  
San Remo is providing an essential service in Bray town and the wider Wicklow community. Homelessness services are extremely scarce in Wicklow and we are working towards resolving this problem in a small but vital way. One year on, some service users moved on and some moved in, residents and staff still working together to make our service work. 
Staff 2
Coming into San Remo as a new staff member during a pandemic I was quite unsure on what I would be met with. San Remo is an amazing essential service in an area that was in extreme need of a service of its kind. The first thing I noticed about this place is that it looks like a big home you would have always dreamed of as a kid. The building was welcoming, bright, clean, and the rooms are so big and well kept. I could sense within mere minutes the respect that all residents and staff had for the service and for each other, particularly during the pandemic in ensuring the safety of others through the wearing of masks and compliance with covid-19 regulations.
I found that in San Remo, each unique individual is grateful to be availing of such a service and they speak so highly of all staff and the support they receive from staff each day. San Remo is a short-term accommodation service but while here residents get to feel a sense of belonging and community. Which is so vitally important for many of them after spending periods of time prior to San Remo, rough sleeping. The team work hard everyday to provide support to the residents and to help them to successfully move on from San Remo. Residents show gratitude each day for this vitally important service and from day one made sure to welcome me to their community, making this place an amazing environment to work in and a great team to be apart of.