Dublin Simon Responds to August 2020 Dublin Homeless Figures
Single individuals are the fastest growing homeless cohort
Charity seeks dedicated accommodation focus & health funding for single homeless people ahead of Budget 2021
  Dublin, 25th September 2020: Dublin Simon Community has responded to the August 2020 Homelessness Report with a warning that single homelessness in Dublin will break 3,000 by Christmas.
Since the Covid-19 pandemic hit Ireland in March, emergency measures including a moratorium on evictions, cocooning and shielding homeless people using short term lettings and available hotels were introduced. These temporarily reversed the growing number of people in Dublin's emergency accommodation. The impact of these measures ceased in July, shortly before the eviction ban was replaced by the Residential Tenancies & Valuation Act.
While numbers related to Single adults are steadily rising, Dublin Simon notes a 13% decrease in total homelessness in Dublin when compared with the same period for 2019. Despite this drop overall, single homelessness has bucked the trend and has grown by 100% over the last four years, causing the charity to raise concern for this particularly exposed group who are now spending longer periods in Emergency Accommodation.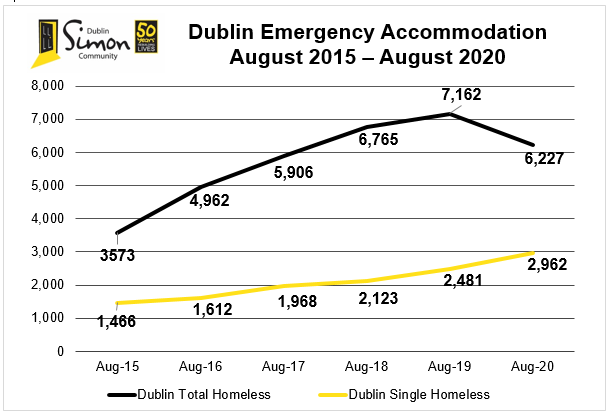 CEO of Dublin Simon Community, Sam McGuinness, said:
"Single people are the most vulnerable in the homeless population. Not only are they at increased risk of isolation, physical and mental health issues, they are also the group with the most inaccessible pool of long-term accommodation.
 "In four years, we have seen the number of single people in emergency accommodation increase by 100% while the number of housing solutions for these people has failed time and again to measure up, or dried up completely. It is nearly impossible for a single adult to afford the rent charged in Dublin for a one or two-bedroom apartment.
 "At Dublin Simon, single people account for the majority of our client group. For years, we have watched single people remain in our services for far longer than anticipated, lodged firmly in a bottlenecked system. Emergency accommodation is termed "emergency" for a reason, It is only intended for temporary residence until appropriate long-term accommodation is found. Many of our clients are now facing a second lockdown in the same emergency accommodation they found themselves in six months ago, where they expected to be only for a short while the first time around. 
 "Covid-19 has already decimated our social housing target for the year. With budget day fast approaching, we must create dedicated targets and funding for one- and two-bedroom units before our vulnerable singles mark another six months in crowded emergency accommodation facilities." 
According to the report:
6,227 people were recorded in emergency accommodation in Dublin during August 2020, a <1% increase from July 2020
4,204 total adults were recorded in emergency accommodation in Dublin during August 2020, a 0.3% increase from July 2020
2,962 single adults were recorded in emergency accommodation in Dublin during August 2020, a 1.5% increase from July 2020
856 families were recorded in emergency accommodation in Dublin during August 2020, a 0.7% decrease from July 2020
2,023 children were recorded in emergency accommodation in Dublin during August 2020, a 0.3% increase from July 2020
https://www.dubsimon.ie/wp-content/uploads/2020/04/제목을-입력해주세요._1-2.png
840
2000
Yoon Jeong Cho
https://www.dubsimon.ie/wp-content/uploads/2023/01/CHY5963-9.png
Yoon Jeong Cho
2020-09-25 14:50:59
2020-10-30 16:14:38
"More Than 3,000 Single Adults Will be Homeless in Dublin by Christmas"