Support Simon this Festive Season
Dublin Simon Community are calling on the public to support them in anyway possible over the Christmas period.
The leading homeless and housing charity has a whole host of ways that you can bring some festive cheer to your friends and family while helping those who are currently experiencing homelessness.
Give the gift of hope this Christmas by buying a Simon Star for your loved ones and help spread the festive spirit.
.
Send family and friends a Simon Christmas card this year. The artwork was created by clients of the Dublin Simon Community's services.
By making a donation you can have a lasting impact on our services, helping us to respond to the current crisis and ensuring people have the support they so vitally need over Christmas and into the new year.
Your support can Rebuild Lives this Christmas
Thanks to our supporters our clients will have our community kindness by their side from the minute they enter our service. Every story is different and together with their key worker, they can develop goals that are unique to them, addressing what they need to move forward.
You can help provide these vital services by making a donation.
For people like Michael, after experiencing homelessness for ten years, having a support team that encouraged him and believed in him meant everything as he started to rebuild his life. Read Michael's Story below.
Michael's Story
Michael* experienced homelessness for ten years. Following a family breakdown he sadly lost his home. Moving from place to place, Michael spent many nights sleeping on our city streets, isolated and alone. Because of the kindness and belief of people like you, our street outreach teams, together with our housing and education services, have helped Michael to rebuild his life and he now has a safe place to call home.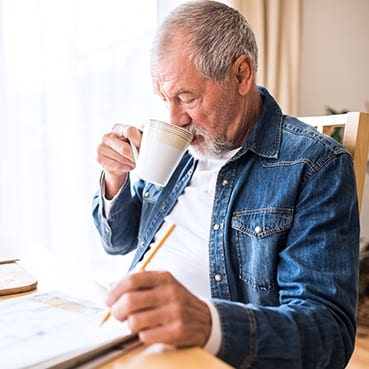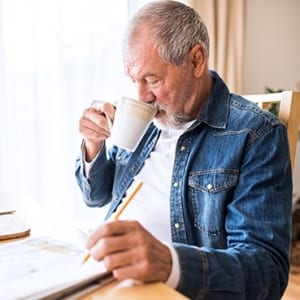 "I've done everything from couch surfing to sleeping in alleyways, the worst kind of nights you can imagine. You've nothing to do, you're literally walking the streets 24/7 with nowhere to go. I could easily have covered about 10 miles a day. It's so mundane and repetitive."
"Wintertime is horrible when you're sleeping on the streets. With the damp weather, the rain and the cold, it was pretty rough."
"I don't know how many times I've had hypothermia from sleeping out. When it starts coming on, you'd feel the shivers start but try to ignore them if you're trying to get to sleep. When your body does start responding and tries to start moving, you start to spasm so much. That's just your muscles trying to get energy going again. It's a horrible feeling."
Michael first linked in with the Simon Community through our nightly Soup Run. Our dedicated teams of volunteers are out 365 nights of the year, providing hot soup, sandwiches and a listening ear to people like Michael who are rough sleeping around the city. Volunteers work alongside our street outreach team to help people access the supports that they need.
"The Simon Community Soup Run was a lifeline. They'd turn up at very regular times in different parts of the city. If you weren't in those areas they'd do the rounds in different places and come and find you. You wouldn't even have to ask, whatever they had they would give to you, clothing, some food or a hot drink."
Thanks to the kindness of people like you, Michael has now left homelessness behind and is currently living in one of our supported housing services. Each resident has a key worker and receives support with day-to-day life skills, health, welfare, education and training.
"I've gone through homelessness and I've come out the other end of it. I'm living in housing provided by the Simon Community now. My apartment is amazing and there's a lovely garden. I've got a bed and a roof over my head. There's privacy and mutual respect among all the residents. My health is back to normal."
"I've done extremely well, but places like the Simon Community are crucial, without a doubt."
"I have always had a huge interest in art since I was a child, I've always had a very big imagination. It wasn't even a consideration to continue my art while I was going through homelessness. Even the most basic things in an ordinary life are impossible. It was just to get by, survive, a literal horrible existence.
"I'm back working as an artist again. It means so much to have a purpose back in my day. I'm constantly busy and working on my next project. Karen from Simon's Participation and Development team also arranged for me to teach art classes in other services. I love teaching what I've learnt and everyone really enjoyed it.
"If you see someone on the streets, you can see where they are presently but not what they can do and everything else about them. It's actually something I love when I meet people now; finding out who they are, what they do or are capable of."
Thanks to you, Michael is now safe and secure and has started working again, however many more people are still facing an uncertain future and have nowhere safe that they can call home.
Please support vital services like our street outreach and housing teams this winter by donating whatever you can afford. You can help by calling 01 472 2150 or visiting www.dubsimon.ie/donate. We will ensure your generosity will be put to work where it is needed most.
You can read more about our Emergency and Outreach services by clicking here.
Leave our clients a message of support this Christmas by emailing us at fundraising@dubsimon.ie. We will then share your messages of joy and hope throughout our services.
© 2020 Dublin Simon Community | Charity Registration: No. 20009892 | Charity Number: CHY 5963